The Best First Bra Stories
First bra stories - We've asked friends, customers, and family members for their first bras, and their adventures shopping for teen lingerie and intimate apparel.
Some embarrassing bra stories (we all have those!) are funny, some are off the wall and most are heartwarming.
Here are a few of our favorites...
First Bra Stories

"My aunt took me shopping for a training bra. She's a lingerie designer and made it a fun experience.
We found some nice Vanity Fair bras that were pretty and had a great afternoon. She told me about the different styles. I'll always remember my first one - it was a teen sports bra with lace... she also bought me the matching panties..."

"I remember in grade five, one of the girls had one of those front closure sports bras in her knapsack. One of the boys in class found it and ran around with it on his head. Poor girl didn't come back to class for a week..."

"Mum took me to the lingerie department of the local department store when I was about 11. One of the sales ladies explained it was important to get the right bra size.
I didn't have a clue how bras fit, much less how to find one. It was all realllllly new to me! She could tell I was embarrassed and really shy. To get me to relax she explained how the sizes work, and the different types of bras. I think I ended up choosing a pretty one and matching underwear in blue."

More First Bra Stories
"I remember feeling like I was all grown up and the world had suddenly changed when I put on my girls first bra ...I think I was 10, lol..."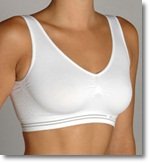 "I really didn't want to wear a brassiere, but needed one. So, mum came up with the clever idea of buying me a bra camisole. It was a pretty microfiber with lace number and I loved it...wore it till it finally wore out!..."
"My father and mother split up, and dad took me. I was so embarrassed I told him to stay outside, so he sat there reading a newspaper. I met my girlfriend and I ended up getting a purple brassiere just like hers..."


"omg i remember when i got my first bra. i was going to middle school when suddenly in gym class i saw this girl with smaller boobs then me.
...and i almost had nothing. but she had like only and inch of boob.
Then when she took her shirt, she was wearing a REAL bra.
I'm like gurl mines r bigger than urs and i dont even have a real bra."


"First bra stories ? ...well one day i got my first crop top and it was really embarrassing we were in target and i said hey mum can i get a crop top for under my school shirt, its kinda see through (just an excuse to get one) and mum got my shirt and said ohh is that see through and then she went from shop to shop trying to find the cheapest!"


.."once i was wearing a halter top and u could see my straps. I pulled it down a little and my bra snapped off."



"...I remember some guy snapped my bra!! He broke the straps!!"


"I was a late bloomer, as far as puberty is concerned, so I was 15 by the time I started getting boobs.
Up to that point I'd been wearing, and stuffing, an A cup bra I'd bought while I was at school and then taking it off before I got home, as I knew my parents wouldn't approve. Somehow I got away with it for 3 years.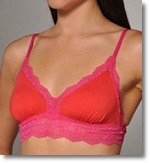 When I finally started to show properly my Mum took me to get a training bra and, just my luck, we bumped into two of the girls in my year in the store.
My Mum happily discussed how 'we've just been buying Lucy her first bra' and their eyes kept flicking to my chest.
They didn't say anything then but it was all over school the next day and the teasing persisted until I left school. I've made peace with my AAs today though."



Share Your First Bra Stories
Don't worry -- your e-mail address is totally secure.
I promise not to share it with any third parties.