*FTC Disclosure - If you make a purchase through a link on this site, we may receive a small commission on the transaction - at no extra cost to you.*
The Busy Women's Guide To Chantelle Bra Shopping
Chantelle Bra - For most women the words French lingerie conjures the thought of delicate lace bras and matching panties, expensive garter belts and lingerie far beyond their means. However, nothing could be further from the truth.
Chantelle lingerie, though not as well known as popular North American brands like Bali bras and Warner bras is a French lingerie line that offers the elegance styling of European lingerie at mid-range pricing.
Since its introduction more than 100 years ago the Chantelle bra has grown in popularity with a devoted fan base that often spans several generations of women in the same family.
So, why do some women prefer Chantelle over other types of bras ? Let's take a quick look...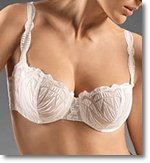 Chantelle Bra Styles

Bra styles all over the world are as unique as the regions they come from.
And, while North American lingerie like Calvin Klein bras, Playtex bras and Maidenform bras are celebrated for their practicality and simple styling, European bras and intimate apparel are well known for their French eye to detail that so many of us know as that certain "je ne sais quoi."
Lace bras and matching panties combine the best of old world elegance and modern femininity that appeal to women of the world with sophisticated tastes.
Though lingerie and bra styles may change from season to season, Chantelle lingerie has several core styles that continue to remain popular.

Fete Bra
---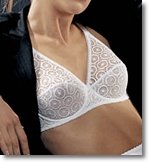 SHOP NOW
Fete Bra - popular since the 1970's this rigid Calais lace underwire bra has a semi-pointed cup design that is reminiscent of the bullet bras of the 1950's.
Wider than average side boning and good structured support make this brassiere a good choice for C, DD, and DDD cups.

Rive Gauche Bra
---


Rive Gauche Bra - this soft lace underwire bra has more flexibility with seamed bra cups that offer fuller support.
A great option for heavier busted women, particularly those with wider set breasts.

Fascination Bra
---


Fascination Bra - this sheer lace and nylon overlay bra is a classic underwire.
Deeper than average constructed cups and a wider bra band make this brassiere a good option for women with longer breasts.
More Bra Sizes
---
While most French lingerie lines cater to smaller sized European women who are traditionally smaller busted, Chantelle bras include larger bra sizes for the larger North American market.
B cup bras, C bras, D bras, DD bras, E and even F are prevalent throughout the many types of bras that Chantelle offers, including:
lace bras
T shirt bras
soft cup bras
t back bras
...just to name a few. Keep in mind that although not every style is available in every bra size, there is an extensive range to suit most women

Bra Shopping Online
---
Shopping online for Chantelle bras, Chantelle lingerie and different types of bras has never been easier than it is on eBay clothing.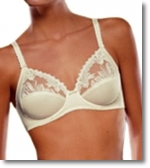 When you click on a link a new window will open and you'll see a sampling of what's currently available online.
Everything listed is available right now - so if you see something you like, hurry and place your bid.
Need help with bra sizes ? Check out our easy 3 step bra size calculator for sizing tips and finding the right bra size.
Want to continue lingerie or bra shopping ? Just follow the view all items link at the end of the listings...