*FTC Disclosure - If you make a purchase through a link on this site, we receive a small commission at no extra cost to you.*
The Chantelle Bra - How To Choose The Perfect One

The Chantelle Bra - When it comes to French lingerie, Chantelle enjoys instant recognition. Known for beautiful styles, quality and comfort, it has an irresistible, je ne sais quoi.

But, with close to 500 different styles, finding the ideal Chantelle bras that cater to your needs and taste can sometimes feel a little overwhelming.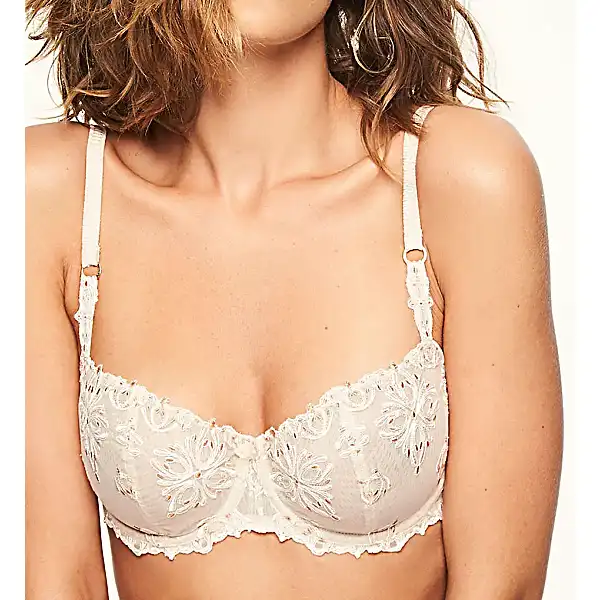 If you find yourself in this category or are simply looking for more information, you've come to the right place.
In this guide, we'll take a closer look into the essentials to consider when choosing a Chantelle bra, including some of their most popular styles, sizing tips and eye-catching fabrics.

Choosing A Chantelle Bra

One of the nice things about Chantelle is the surprisingly large range of bra styles they have to suit different needs and body types.
From practical to special occasion, knowing what each style has to offer will help you find the bra and the look that you want.  Here are a few of their most popular Chantelle bras - 
T Shirt Bras
A great everyday and dressy wear style, the T shirt bra is designed as a lightweight and comfortable favorite.

With seamless cups and a smooth low profile finish, it's ideal for sheer tops, knitwear, dresses and fitted clothing.
Chantelle offers several styles of T shirt bras that include full coverage, plunge, and demi styles. A through I cup sizes.
Full Coverage Bras
Looking for a style that gives you maximum cup coverage and good support for everyday wear?
A full coverage bra is an excellent option that offers a more secure fit than regular bras, and is ideal for fuller busts.
Full bras come in a variety of styles including minimizer, T shirt, sports, etc., up to an I cup.

Sports Bras
This type of bra is one of the best styles for breathability and moisture-wicking properties, making it a flexible choice for working out and daily wear.
Chantelle's sports bras in underwire and wirefree styles offer full coverage.
They are designed for maximum comfort and minimal bounce during high and low impact activities, and are available up to an H cup.

Plunge Bras
Wonder which style can be worn under very low-cut tops and dresses? 

Designed for deep V-necklines, a plunge bra virtually disappears under clothing.

It has angled cups and is often lightly padded for seriously sexy cleavage.

Chantelle has a variety of plunge bras - in contour, T shirt, and convertible styles - that are available up to an H cup.
Demi Bras
In the mood for flirty and fabulous? Demi bras (the word demi is French and means half) are a sexy favorite!
Designed to show off the top part of the breasts, a demi bra provide less coverage than full bras and is ideal for low-cut and square necklines.
This bra style is available in A through G cups.
Did You Know?
Chantelle is committeed to sustainability and innovation. In 2021 they developed the first 100% recyclable bra, the Chantelle One.

Chantelle Bra Materials And More
While rarely thought of, the choice of fabrics, findings (the details that go into making a bra, like straps, underwires, fasteners, etc.), and manufacturing methods are the key to a bra's comfort, support, and look and feel.
What makes Chantelle lingerie shine? They use superior materials and modern techniques to create stylish bras and lingerie that reflect the wants and needs of their customers. 
Constant innovation and quality control are also key. Chantelle has full control over design and fabrication with production in their own factories and with trusted partners.
By keeping things in-house, they are able to ensure their bras and intimate apparel are made with care and provide exceptional comfort and support.
A few of their signature fabrics include:
Lace

- Lace is all about elegance and femininity.  It can be rigid or stretchy. All over lace bras have a deluxe look and feel. Bras with lace detailing provide a touch of understated glam
Microfiber - Microfiber is smooth and sleek. It is soft and breathable and offers a seamless finish. Microfiber bras have a cool and sophisticated appearance with an easy-stretch silky feel
Mesh - Mesh is see through and lightweight. It is commonly a stretchy fabric and has great breathability. Mesh has a low profile and offers a hint of a stylishly risque look 
Fun Facts
Chantelle is home to six stylish lingerie brands - 
Chantelle
Chantelle X
Passionata by Chantelle


Femilet by Chantelle
Darjeeling Lingerie
Livera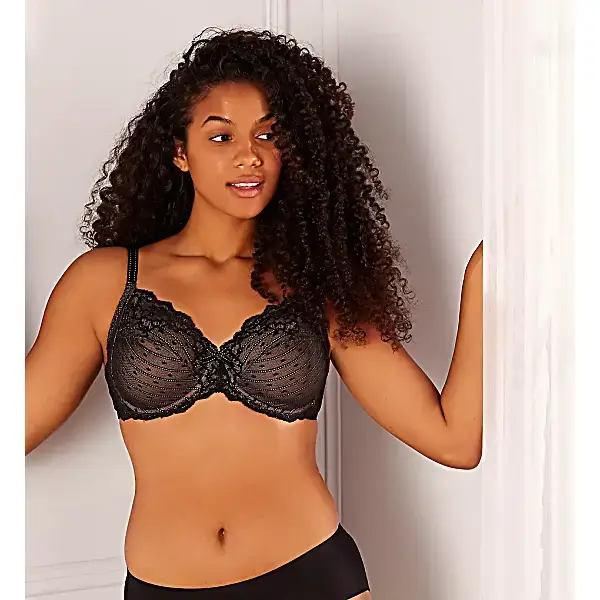 What About Bra Sizes?
Choosing a bra that feels amazing matters. A lot. Bras that don't fit well can chafe and irritate, and even affect your posture - in a word, they're F-R-U-S-T-R-A-T-I-N-G.

Worse still, they usually end up at the back of your lingerie drawer - which is a waste.

That's why it's a good idea to know your estimated bra size before you shop.
And, here's the important part to remember - bra sizes are never cast in stone. Styles, sizes, brands and even fabrics are never standard. They can and do vary a lot.
To measure yourself, you'll need to take two measurements. A soft measuring tape works best -
Measure just under your bust below the breasts, making sure the tape is comfortably snug but not too tight
For the bust measurement, wrap the tape around the fullest part of your breasts, again without pulling too tightly
Once you've taken these measurements, this bra size calculator can help you find your approximate size
If you're still not sure about your size or find it difficult to measure yourself, you may want to consider discussing it a professional bra fitter.

They can be found in specialty lingerie boutiques and department stores, and have years of experience in determining the correct size. Best of all, they can offer suggestions based on your shape and tastes.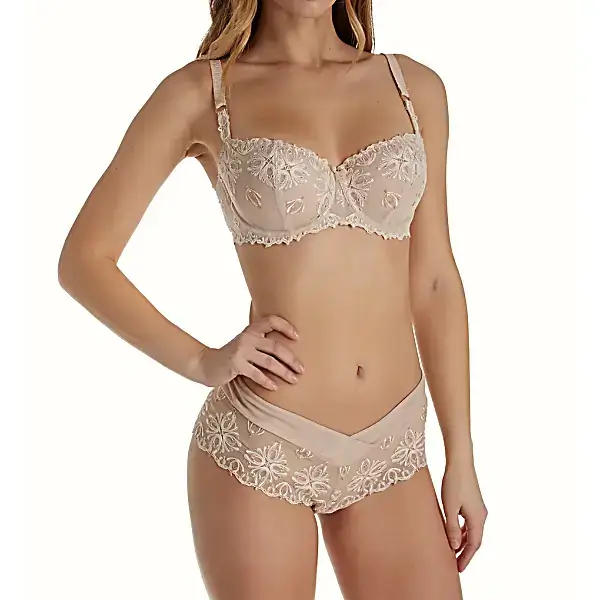 Tips For A Comfy Fit

When trying on a bra, pay attention to how it feels
The bra band should be comfortably snug and provide support without digging into your skin
The cups should fully contain your breasts without any spillage or gaps
The straps should be adjustable and stay in place without slipping off your shoulders or digging in
Note that different bra styles will vary in fit and feel. For example, plunge bras vs full bras vs sports bras are all very different

Wonder whether a style fits on the small (or generous) side? Read through the fitter's tips and customer reviews to get a better idea

Chantelle Bras And Lingerie FAQs
---
Who owns Chantelle bras?
The Groupe Chantelle is a privately held family business that is owned by the Kretz family.
Headquartered in Paris, France, Chantelle has been in business for close to 150 years and has approximately 4000 staff.
Are Chantelle bras made in France?

Chantelle bras and lingerie are designed in France and manufactured in workshops owned by Chantelle and with dedicated long-term partners.

Is Chantelle a European brand?

Yes, Chantelle is one of the most popular European lingerie brands, with more than 8 million customers around the globe.

---
Created with the help of OpenAI. (2023). ChatGPT (May 24 version).