*FTC Disclosure - If you make a purchase through a link on this site, we may receive a small commission on the transaction - at no extra cost to you.*
Bridal Bra - How To Get The Perfect One
Bridal Bra - On your wedding day, it's your turn to shine as you walk up the aisle to all the oohs and ahhs in the dress of your dreams.

And, no matter what your bust shape, size or style of dress, finding the perfect bra and undergarments is easier than you think.
Whether your dress is a stunning strapless ballgown, a beautiful A-line or sleek sheath, one of the essentials to looking and feeling fantastic is the right foundation wear. 
The best bridal bras are like an invisible friend - lifting, pushing, smoothing and supporting your silhouette for a stunning look that celebrates you as a beautiful bride. 

Below, we keep it simple with tips and tricks for choosing the best bridal bra for your silhouette - starting with the basics and then getting into the specifics for popular shapes.

Find The Perfect Bridal Bra Fit

Whatever size you are, an ill-fitting bra sets you up for fashion failure right from the start and can turn a happy day into a disaster.
Look your most beautiful on your big day in a bra that fits like a glove and gives you the most flattering figure possible.
For the best possible results, it's better to seek the help of a lingerie professional to do a proper bra fitting.
Carmen's Tip
The right bra will support your bust from below, front, and back. If you're after a strapless style you'll want to ensure extra lift from below the bust to create the curves you want.
PARFAIT
Make Bridal Lingerie Invisible
Showing bra straps or any part of an exposed bra is a major problem and a big no-no in any wedding dress.
To avoid this, bring along photos of your wedding gown when you're shopping for a bridal bra and show it to the lingerie professionals.
They'll help you to find the right styles that work with your dress, neckline, fabric, and cut, so that your bust gets the boost that it needs without the risk of your bra making a surprise appearance.
VANITY FAIR
Did You Know?
A skin-tone lingerie undergarment is a great color choice as it virtually disappears under bright white gowns.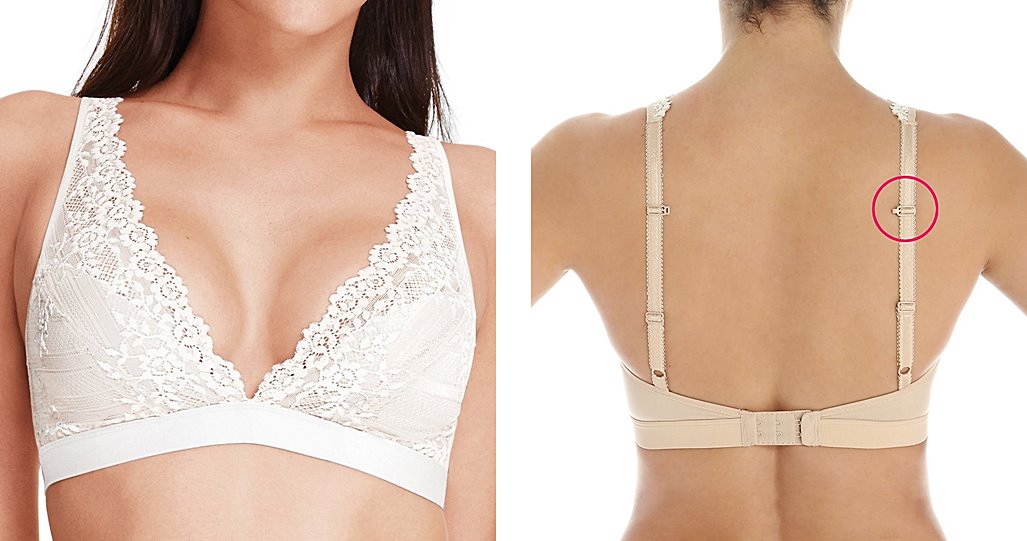 WACOAL
Bride Lingerie - Keep It Classy
Your wedding day is a chance to look stunning and elegant, so it's best to avoid bridal bras that create too much cleavage.
Your bust should be flattered and cleavage hinted at, not over the top or in your face.
You want to create an overall beautiful figure, not one where your breasts take centre stage and steal your spotlight on this special day.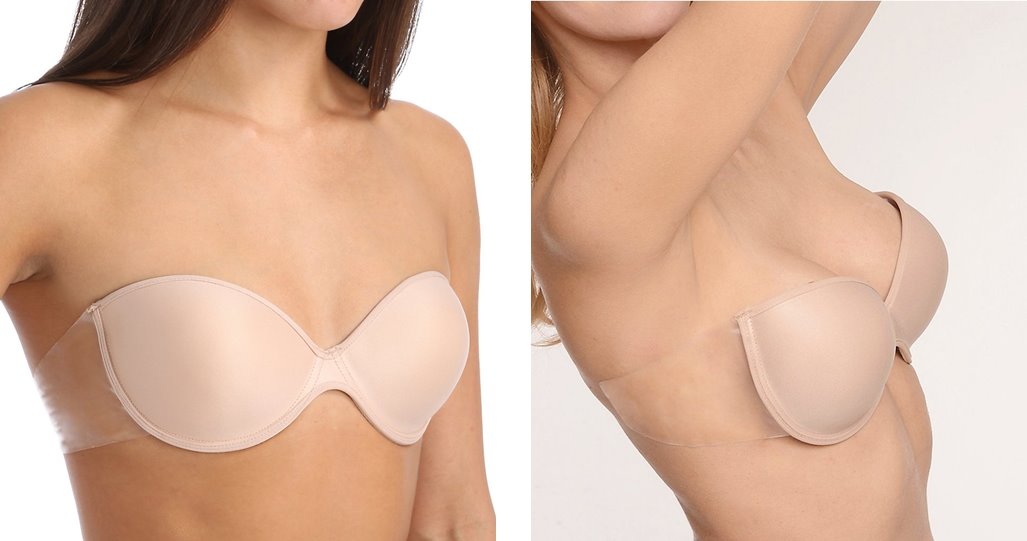 BRAZA
Beautiful Lingerie Tips For Petites
Smaller busts often struggle to fill out the tops of their dresses, and cups with a gap, pucker or wrinkle are a major no-no on your wedding day.
Look for a bras, bustiers and corsets with enough padding to give you the oomph that you need to fill your dress and create just enough décolletage.
Demi bras and balconette bras with padding along the bottom of the cups will lift your breasts without giving you a look that's too bulky from the top.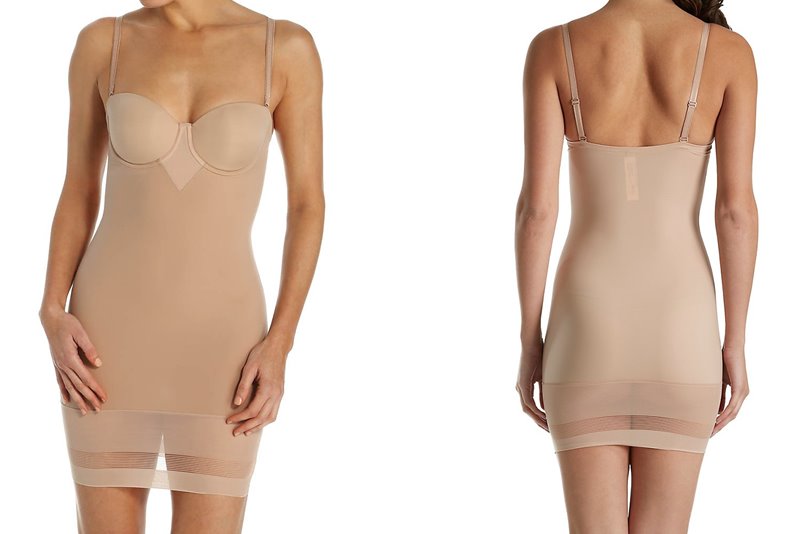 TRIUMPH
Tips For Fuller Busts
Well endowed brides need lift and support, especially when it comes to gowns with plunging necklines or low cut backs -
Choose bustier style bras to support from below the bust when straps aren't an option
Choose backless styles that are structured with molded cups, side boning, and a wide band that's cut low on the back

You want to maximize coverage and lift without interfering with delicate skin baring details on your dress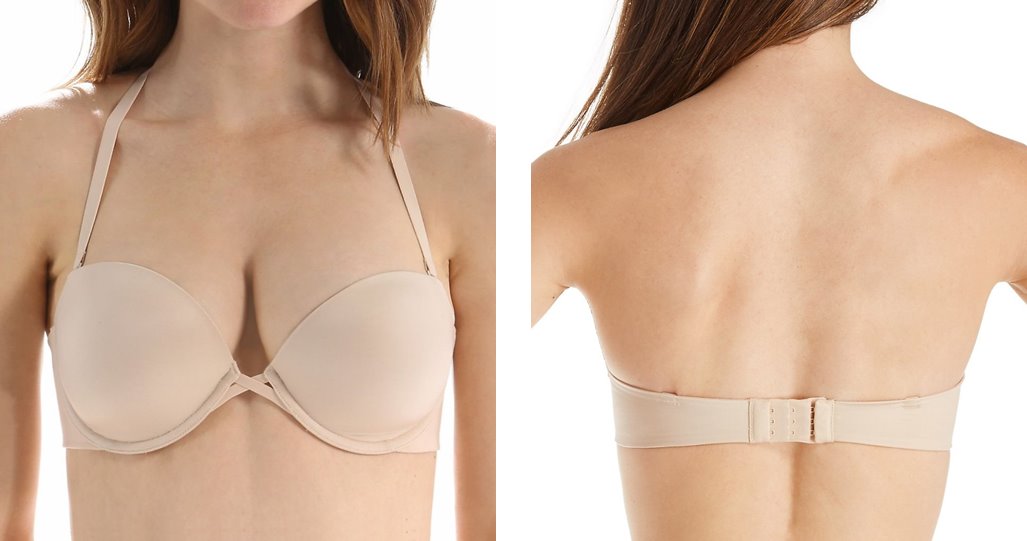 Shapewear For Curvy Silhouettes
Bridal underwear with attached shapewear are the best bet for full figured brides who want to combine a great bra with body sculpting benefits.
Structured bras with molded cups and attached shapewear slips or bodysuits are great options for creating a sleek and supported silhouette from head to toe.
FELINA