*FTC Disclosure - If you make a purchase through a link on this site, we receive a small commission at no extra cost to you.*
Wrapping of Lingerie - Easy Insider Tips To Get It Right

Wrapping of Lingerie - Ok, so you've just bought your sweetheart the most beautiful lingerie and you can't wait to give it to them.  Did you know the presentation is almost as important as the gift itself?
Whether it's a beautiful bra and panty set for a special occasion like an anniversary, a luxurious lace chemise for St Valentines Day, or the ever popular Christmas nightgown and matching robe for your sweetie, you can never underestimate the impact of beautifully wrapped lingerie.
Want to trade ordinary for amazing? No worries - you're almost there.
From choosing the best wrapping to adding your own creative twist to beautiful lingerie, we share how to make it a magical moment your sweetie will brag about for years to come.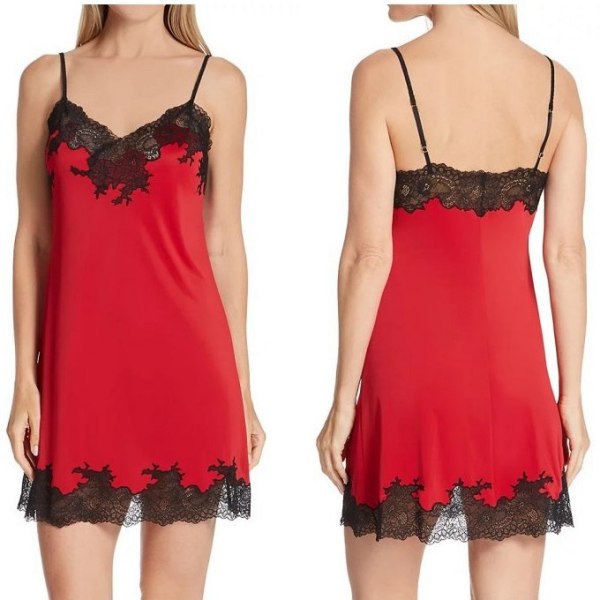 NATORI

Wrapping of Lingerie - What to Avoid

While bland and boring wrapping paper technically gets the job done it's not remotely fun and definitely fails the yummy test. For starters, here are the things to avoid:
wrapping of lingerie in anything plain or basic like a grocery bag
wrapping paper left over from your child's birthday party
the plastic bag that it came in
an old shoebox
a brown paper lunch bag
duct tape under any circumstances
no wrapping

Carmen's Tip
Never use gift wrap that has been previously used or recycled! It might seem like a good idea to you at the time, but it isn't - especially when it comes to intimate apparel.
The Wrapping Basics

Ok, so far so good - we've covered the basics on what to avoid. Now, on to the fun ways to gussy up a gorgeous gift.
If you're more of a traditionalist when it comes to wrapping or you simply don't have a lot of time to spare, tissue paper is a quick and easy way to make beautiful lingerie look magical.
Tissue usually comes in generous and inexpensive pre-packs of virtually every color and print that you can possibly imagine, so don't be shy about using it.
Opt for their favorite color (they'll notice), or a shade that complements the lingerie. Line the box or bag with plenty of paper for a decadent look.
Wrapping Tip

Gifting sleepwear? Here's a great tip. Arrange it in a pretty manner...then fold the excess tissue paper over it. A gold or silver foil sticker, or a pretty ribbon is a nice finishing touch and a great way to zhuzh up a classic chemise nightgown.

SHIRLEY OF HOLLYWOOD
More insider tips:
Want a glamorous look? Opt for gold, silver, or pearlized tissue, boxes, bags, and wrapping for a look that says luxurious
Choose wrapping paper with a feminine theme...a soft pretty floral gift wrap, or paper in her favorite color is best
Traditional feminine wrapping of lingerie colors include lilac and lavender, pale pink, baby blue, and pale silver
Want something special? Consider one of the classics, like two-tone black with white or coffee colored lace long silk nightgowns - a timeless look that never goes out of style

LA PERLA
Wrapping of Lingerie 101 - How To Add Something Special

When it comes to making a gift truly memorable, the best wrapping of lingerie ideas take a bit of imagination, a dash of ingenuity, and a whole lot of heart.
How?  Think outside the box and don't be afraid to add some whimsy to the gift. Draw some inspiration from these creative ideas and make it your own creation:
Include a matching pair or two of pretty lace panties with a chemise or nightie
Add a romantic card or their favorite poem
Slip in a few of their favorite candies or some yummy chocolate truffles
Include a small stuffed animal or music box with their favorite romantic music

Add a gift certificate for a day at a luxury spa
La Pièce De Resistance (The Masterpiece)

If you really want to kick it up a notch, add a piece of jewelry (every girl loves a bracelet, pendant or earrings), or her favorite perfume, bath soap, bubble bath, or body lotion nestled in a beautiful lace bra and panty set.

The Ultimate Romantic Gestures

If you're a diehard romantic who loves extravagant grand gestures and want to impress your sweetheart on this most romantic of days, the sky is the limit.  Feel free to make use of these ideas and customize them as your own:

Add a simple note inviting your honey on a romantic weekend getaway to a luxurious B&B that they've always admired

Include 2 tickets to a sold out theatrical production - in New York, London, or Toronto. The possibilities are endless
Place a bottle of champagne and two crystal champagne glasses next to a silk negligee set or a matching lace bra and bikini panty
Blow your loved one's mind with the ultimate luxury gift add on - two tickets to the south of France, the beaches of Tahiti, or some other romantic place you've both been dreaming of
Tuck the tickets in the box under some beautiful lace lingerie, so when your sweetie unfolds it the tickets fall out.  The look on their face will be - priceless!
AUBADE