Best Tips For Wrapping of Lingerie
The wrapping of lingerie and its presentation is almost as important as the gift itself.
Even if it's pretty Christmas lingerie or last minute Valentine gifts for your honey, never underestimate the power of a beautifully wrapped gift.
Women adore beautiful lingerie as gifts. Whether it's pajamas and loungewear, chemise sleepwear, sheer risque lingerie, or even sexy lingerie, the wrapping is just as important as the gift!
Wrapping of Lingerie - Things To Avoid
---
Avoid wrapping a gift in anything plain or basic like grocery or plastic bags, or old gift wrapping paper left over from your children's fifth birthday party.
Nix the brown paper lunch bag idea too. Duct tape under any circumstance, even if there is nothing else available is never acceptable.
Never - use gift wrap that has been previously used or recycled! It might seem like a good idea to you at the time, but it isn't.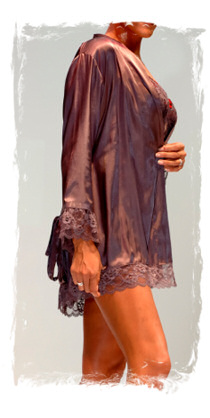 So far so good... If you decide to go with traditional wrapping, make sure you line the box or bag with plenty of pretty tissue paper...don't skimp on it!
Arrange the lingerie, whether it's a chemise in stretch lace an open bust teddy, a sexy corset and bustiers, long silk nightgowns, or a bra and and panty set in a pretty manner...then fold the excess tissue paper over it.
A dainty gold or silver foil sticker, or a pretty ribbon to close the tissue is always a nice touch.
Choose wrapping paper with a feminine theme...a soft pretty floral gift wrap, or paper in her favorite color is best.
Traditional feminine wrapping of lingerie colors include lilac and lavender, pale pink, baby blue, pale silver, and gold.
If your sweetheart loves bold colors (take a peek in her wardrobe for ideas), then don't be afraid to go bold and choose richer tones like deep velvet red or yummy royal purple.

Being Creative
---
Creative wrapping of lingerie is not difficult...it just takes a bit more imagination plus a side order of ingenuity.
You can use almost anything to wrap her gift, it all depends on how you choose to make your presentation a bit more inviting...
Creative wrapping of lingerie suggestions....
To make any womans lingerie gift truly memorable, add some whimsical sweet nothings to the box next to, or under the lingerie.
For instance, pretty camisoles and cami sets or a matching pair or two of lace lingerie undergarment panties always appreciated.
A romantic card signed with love from you...a book of her favorite poetry, or perhaps a book on one thousand romantic beaches... her favorite candies or some yummy chocolate truffles delicately wrapped...a small stuffed animal that she has always admired, a romantic music CD...etc.
If you really want to kick it up a notch, add a piece of jewelry (every girl loves a bracelet, pendant or earrings), or her favorite perfume, bath soap, bubble bath, or body lotion to the lingerie gift...
If your gift is a lingerie garter belt, don't forget to add lace top stockings, or matching thongs and a sexy bra...
How about a gift certificate for a pampering day at the spa?
Another great romantic wrapping of lingerie suggestion is a to add a note inviting her on a romantic weekend away at a B&B she's always wanted to visit...2 tickets to a theatrical production she's been wanting to see...the possibilities are endless.
Add a beautiful bottle of champagne and two champagne glasses to her lingerie gift...how about a bra and bikini panty nestled between the wine glasses?
Or, the ultimate luxury lingerie gift add on...two tickets to the south of France, or the beaches of Tahiti, or some other romantic place you've both been dreaming of. Tuck the tickets in the box under the lingerie, so when she unfolds it the tickets fall out...
The look on her face...Mastercard commercials say it best - priceless...