Women Sleepwear
For Plus Sizes
FTC Disclosure - If you make a purchase by clicking a link on this page, we receive a small commission. There is no cost to you, and this does not influence our content. 

---
Women Sleepwear ...From short and sassy to long and elegant, there are a multitude of lingerie styles that are very flattering to the plus-size figure.
An increase in the number of plus size lingerie and intimate apparel styles, combined with more and more boutiques catering to plus-sized clientele, mean that today's zaftig and Rubenesque women have an almost unlimited number of options when it comes to daywear such as plus size bras and ladies sleepwear for the boudoir.

Which Women Sleepwear Shape Are You?

Before buying any womens sleepwear, know your body type and shape, and which features you want to emphasize, and which you would rather conceal.
So, for example, if you have a "pear" shape, which is to say that you have a small bust and stomach but larger hips, thighs, and buttocks, opt for night gowns that float over the larger areas and emphasizes the bust.
These night gowns and sleepwear have sculpted, bra cups (often with padding to increase cleavage), and a princess waist that ends in floaty chiffon or satin that glides over the areas you want to conceal.
If you're feeling a bit daring, consider a nightie  with sheer fabric below the waist, and pair the gown with a matching thong or g string panties.
If you carry excess weight around your midsection, consider a nightgown or womens pajamas that helps create the visual impression of a shapely waist.


Feminine Womens Robes
---
Vertically-striped patterns create the impression of height and slimness, and belted satin robes help nip in the waist.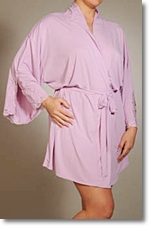 Of course, a corset and bustiers are also options; many women sleepwear styles have built in corset bodices. These can be quite useful for seduction, but may be uncomfortable to sleep in because of their restrictive nature.
Remember that any excess weight in the arms can easily be covered up with a womens robe.
Consider a matching chemise and wrap robe set in a dark satin; black is always slimming, and satin and silk robes in jewel tones are another excellent option and are universally flattering.
Be sure to choose ladies robes that are the same color as the women sleepwear styles you've chosen, to avoid breaking up the visual line. And, of course try everything on before purchase to ensure that it fits.
Pay particular attention to the arm area; the sleeves should float over the entire arm with no binding or snugness, which will only call attention to excess weight in that area of the body.
Women Sleepwear: Long Robes vs Short Robes

---
Truly flattering womens nightgowns are neither too long, nor too short. If your purchase is floor-length, and it's a bit too long for you, have it taken up by a tailor or do it yourself if you know how.


Long robes that drag on the floor are a safety hazard, and look sloppy. The reverse is also true with short robes; hemlines that are too short are unflattering to chubby legs and will visually add weight to the wearer.
Consider a gown that falls just below the knees, and has a small "walking slit" up one leg. Wearing a pair of heels (or heeled bedroom slippers) will visually lengthen your legs and make them appear slimmer than they are.

Womens plus lingerie is no longer limited to wearing unflattering mu-mus and "tents." With just a little searching, you can treat yourself to beautiful bedroom lingerie undergarment styles that are both flattering and fun to wear!
Leave women sleepwear and return to exotic lingerie