Wedding Underwear To Love!
Wedding Underwear To Love - Choosing the proper wedding lingerie to wear can have a hugely positive impact on your comfort and appearance during your wedding day.
Bride lingerie and bridal bras are intended to support and shape your figure, and provide the most beautiful and shapely silhouette beneath your wedding dress.
So, it is important to choose wisely!
If possible, purchase your bridal undergarments from the same boutique from which you purchase your gown.
The sales staff there will be intimately familiar with the dress you've purchased, and can make knowledgeable intimate apparel recommendations based on the dress and your body type, as well as the look you hope to achieve on your wedding day.

Wedding Underwear
Wedding Underwear To Love

There are several bridal undergarments to consider. For most women, the bridal bra is the single most important piece of wedding lingerie.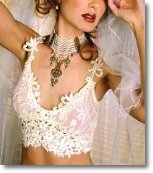 The types of bras to consider when bra shopping will depend almost entirely on the neckline, sleeves, and overall style of your wedding gown.
Brides whose gowns have sleeves or wide bra straps are often able to wear the same bra style that they wear every day.
Color is also a very important consideration. Choose a fabric that is as close to your skin tone as possible; this will ensure that the bra is not visible beneath your gown. This is especially true if you are wearing a sheer gown.
Brides who have more revealing gowns must be more careful in the selection of their bridal bras and bridal panties.
Strapless Bras
---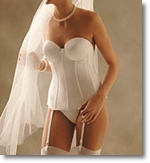 Many of today's modern wedding gowns are strapless, necessitating a strapless bra beneath.
Many women already have a strapless bra in their wardrobe; however, many of these do not fit very well, or are the wrong color.

Strapless bras are intended to fit differently than brassieres that have bra straps; they are usually tighter, because they do not have straps to help support the breasts.
The bra sizes used in strapless bras is also often different, so be sure to try on several and decide which you like.
All of the wedding underwear that you intend to wear under your wedding dress must be comfortable enough over the course of the lengthy wedding day and celebrations.
Since wedding dresses are so carefully altered to fit the contours of the body, any wedding underwear that you choose should be worn to every dress fitting to ensure the best possible fit.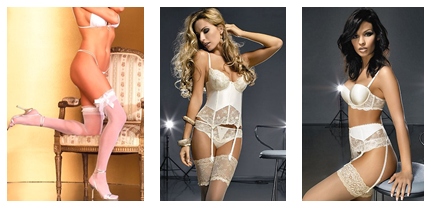 Wedding Shoes
---
The same principle applies to the bridal shoes.
Wearing higher heels on the day of the wedding will result in a dress that may look comically short; wearing shoes with a shorter heel will result in a dress that pools bizarrely on the floor and presents a potentially serious tripping hazard.
If isn't possible to try on your wedding lingerie before purchasing it, try to choose a vendor that has a generous return policy.
Most will accept returns as long as you have kept your undergarments on while trying on the new underwear. Really take the time to try on several styles of underwear, and don't settle until you find something you love!

Leave wedding underwear to love and return to bridal bras

Return to beautiful lingerie