Insiders Guide To
Wedding Undergarments
Wedding Undergarments - For every bride, wedding lingerie is a very important part of her wedding day ensemble. There are two parts:
the foundation undergarments, such as the bridal bras, and ladies underwear worn under the wedding gown
the provocative sexy lingerie worn on the wedding night itself.
Luckily, for the bride, lingerie worn beneath the wedding dress does not have to be the same erotic lingerie and intimate apparel worn after the reception is over.
Wedding undergarments worn during the wedding by the bride ( bridal bustiers, panties, thigh high stockings, garter belt, etc.) are designed to create the most flattering silhouette possible under a wedding dress.

Wedding Undergarments: Colors

Bridal lingerie is traditionally white; however, it is a wise idea to also consider skin-toned, natural or neutral colored bride lingerie, particularly if the wedding dress is made from a thin or finer material with any hint of translucency or transparency.
It is surprising how visible white bridal undergarments can be under sheer bridal gowns and outfits. Definitely not a look you want on your wedding day!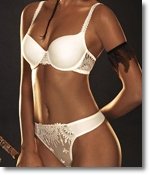 Brides should also carefully think about stockings or pantyhose.
The idea of wearing a lingerie garter belt and white stockings is attractive, but many budget minded brides wind up wearing much simpler pantyhose and saving the elaborate garter belt and stockings for the wedding night.
For both the groom and the bride, wedding lingerie may play an important role in the events of the wedding night, as well.
Even couples who have not waited until marriage to consummate their relationship often look forward to the special joy of their first night together as husband and wife.
Honeymoon Lingerie
---
Brides have an extensive array of intimate apparel options for the wedding night and honeymoon.
Again, white is the obvious color choice, although the bride should also take her new husband's tastes and her own personal taste into consideration when selecting wedding night lingerie.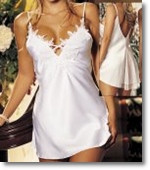 Many brides choose a classic revealing lingerie ensemble that includes a white bra, white panties, white garter belt, and white stockings with high heels.
Sometimes these brides will wear their wedding veil with this ensemble, creating a look many men find incredibly erotic.
Other brides may choose a simple satin nightgown or satin slip, or silk sleepwear. Others will simply opt for a pair of matching bras and panties.
It is important that the bride and groom discuss their hopes and desires for their wedding night before the actual day of the wedding; this can help ensure that nobody is disappointed and that all of the expectations are on the table.

Where To Find Inspiration
---
Brides looking for wedding night lingerie inspiration should look no further than the Internet, which is a vast cornucopia of photographs of every lingerie style imaginable.
Salespeople at lingerie stores may also be a source of help and creativity.
Bear in mind, however, that most do work on commission and will try to sell the most expensive wedding undergarments they can.
When in doubt, bring some girlfriends along for camaraderie and agree not to purchase anything until you've taken a full day to think it over.