*FTC Disclosure - If you make a purchase through a link on this site, we receive a small commission at no extra cost to you.*
Why Victorian Nightgowns Are The Most Fantastic Gift
Victorian Nightgowns Are A Great Choice – delightfully exciting with a touch of whimsy, today's vintage nightgowns bring together the best of both worlds - women's sleepwear styles from a glamorous era of luxurious lace, ribbons, and frivolity with modern flare.
Whether you're shopping for your mom, sister, best friend, or wife, these beautiful nightgowns are a fantastic sleep wear favorite that can be enjoyed for years to come.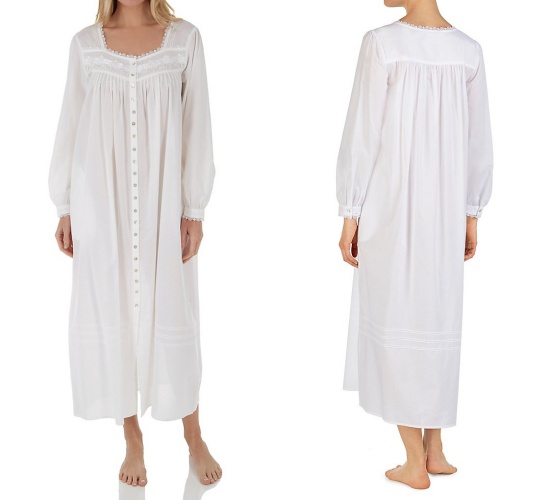 Victorian Nightgowns Are A Favorite Gift

These Nightgowns Are Unique
Definitely splurge-worthy, the best gifts to give (and receive) are the ones that a person normally wouldn't buy for themselves, and the Victorian nightgown is the perfect example.
When shopping for themselves, most women tend to avoid luxury sleepwear, and instead opt for plain and practical everyday sleepwear basics like simple cotton pajamas, flannel nightgowns or even night shirts that are functional but don't offer much in the way of luxury or pizzazz.
It's not often that they'll indulge in sleepwear that's unique and special, which makes Victorian style nightgowns such a great gift.
From sensational short nightgowns in easy breezy lightweight cotton to luxurious long nightgowns in the softest coziest flannel, this ladies sleepwear is traditionally trimmed in a dizzying array of ribbons, bows, eyelet lace, and appliques that's hard to resist.
Cotton Sleepwear Is Among The Best
An eco-friendly choice that's breathable, cotton is soft and sumptuous, making this natural nightwear a popular choice with lingerie divas and newbies alike.
What should you look for? 100% cotton is more comfortable than polyester blends that tend to hold the heat and don't wear as well.
If high-end luxury sleepwear is your preference, consider Egyptian cotton, which some consider the best in the world. Prefer unprocessed, organic cotton nightgowns?
Look for fabrics that are Oeko-Tex Standard 100 certified, and guaranteed free of harmful substances.
Not sure which fabric to get? When it comes to nightgowns and sleepwear, touch is super important, so take your time in the sleepwear department, and opt for the softest material available.

Cotton Nightgowns With Fantastic Attention To Detail
Refined attention to detail and gorgeous organic fabrics place Victorian nightgowns in a class of their own.
From
elegant floor-sweeping Victorian style nightgowns

embroidered necklines
full flounced sleeves
traditional pin tucking

to
classic sleeveless gowns

classic shapes trimmed with scalloped lace
delicate ruching along the bodice
an easy comfortable fit
Victorian nightgowns are filled with with old world charm, and come in a range of styles that are just as perfect for as they are to lounge in.
Luxuriously feminine subtle colors like crisp winter white, tiny and delicate pretty floral prints, and the palest shades of pink and baby blue make it difficult to choose just one nightgown.
Victorian Nightgowns Are Luxurious

At the end of a long day when it's time to relax, many of us reach for the same humdrum sleepwear that we've grown accustomed to.
It's easy and dependable - a favorite sleepshirt, a cotton nighty that's a little tired looking, or perhaps a pair of mismatched pajamas that are well-worn.
While everyday faves are plain and practical, there's nothing quite like the fantastic feeling of indulging in a little luxury.
Slipping into a sensational Victorian nightgown styled with gorgeous lace trim and attention to detail is a wonderful way to tap into the whimsical world of classic romantic sleepwear à la Bridgerton.
Elegant and grand, with a soft and feminine feel, these beautiful womens cotton nightgowns are a comfortable way to add a little luxury to your evening repertoire.