Why Victorian Nightgowns
Are A Favorite
FTC Disclosure - If you make a purchase by clicking a link on this page, we receive a small commission. There is no cost to you, and this does not influence our content. 

---
Victorian nightgowns are perhaps one of the most enduring and romantic ladies sleepwear styles in existence today.
And, women who enjoy feminine and whimsical womens sleepwear will love the dreamy sense of romance that these night gowns and lingerie will evoke. There are several lingerie and intimate apparel manufacturers that currently make these cotton nightgowns at very affordable prices.
Victorian Nightgowns Are Romantic

And, thanks to the wonders of the world wide web and online shopping, there is an amazing variety both on the Internet and at traditional brick and mortar stores.
One of the most well-known manufacturers of Victorian nightgowns is April Cornell.
This company produces a huge array of clothing for women and girls, and they offer an extensive of womens and childrens sleepwear that includes several styles of Victorian sleepwear.
Most women envision a Victorian nightgown as crisp white cotton nightgowns and April Cornell does not disappoint.
Many of this company's women sleepwear and Victorian nightgowns are styles are available in beautiful shades of white and cream that float over the body as they recall a bygone era of the romantic novels of Jane Austen and novels such as Pride and Prejudice.
Victorian Sleepwear
Thistledown Nightgowns is another manufacturer of Victorian sleepwear and nightgowns.
Their most popular style of cotton nightdress is the Satin Rose, which is a pure cotton lawn night gown with a wide front yoke edged in broad lace with satin ribbons.
The sleeves are long, with elastic ruffles at the cuff; there is also a wide ruffle at the bottom, although the gown can also be ordered without it.
Another popular womens sleepwear style offered by Thistledown is the Traditional Nightgown, which is also offered in pure white cotton. This Victorian nightgown has a high, buttoned collar.
The yoke has an elaborate pin-tuck detailing and beading, and the entire gown is edged in romantic French lace. Also with this style, the front buttons are made from real Mother-of-Pearl, and there is a wide bottom ruffle.
Victorian Classics is another reputable vendor of Victorian nightgowns.
This company offers styles that are sleeveless in addition to the well known long sleeved styles.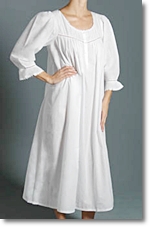 Their sleeveless gowns have modest rounded necks with feminine pin-tucking on the yoke, and are a great intimate apparel choice for hot weather, particularly for women whose bedrooms are not air conditioned.
Suspence Designs, the design house of Linda Spence Watson, offers more elaborate long nightgowns.
These frequently feature puffed sleeves, imported lace, intricate hand-beading, and other details that come together to create true heirloom lingerie for women.
The Whisp-Hers of Lace style features traditional leg-o-mutton sleeves that billow romantically out from the bodice.
Stretch lace hugs the torso, and the full skirt sweeps dramatically out from the waist.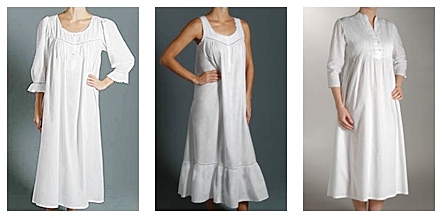 Suspence also offers several Victorian-inspired intimate apparel designs that are considerably more revealing and provocative.
These include the Sweet Denny and Sweet Innocence nightie styles, which are more low-cut and also do not descend below the knee.
Either style would be a fabulous choice for wedding night or honeymoon lingerie, as well as romantic loungewear. Victorian nightgowns are also available from national luxury retailers such as Neiman Marcus, Saks Fifth Avenue, Bergdorf Goodman, and Nordstrom.
They may also be found at garage and rummage sales. These undergarments are often true vintage nightgowns that can be purchased at extremely low prices.
However, take care when purchasing a nightgown that you cannot try on or return, especially because vintage lingerie sizes may be considerably different than the modern sizes to which we are accustomed today.


Return to bride lingerie

Leave Victorian nightgowns are popular
and return to beautiful lingerie