Valentine Gifts For Husbands
Valentine Gifts For Husbands - Looking for the perfect last minute Valentines gift for your sweetheart?
Fortunately, almost any kind of valentines lingerie, or exotic lingerie that you choose makes a wonderful Valentine's Day gift that both of you can continue to enjoy.
On our list of top 10 valentine gifts, it is the gift that truly keeps on giving long after February 14th...
Valentine Gifts For Husbands

When choosing Valentines gifts for husbands and Valentine day lingerie, consider your personality and individual taste.
Are you quiet and demure, or more on the wild side? Choose beautiful lingerie that you feel good in, and are comfortable wearing more than just once.
For such a romantic occasion as Valentines Day, steer clear of any intimate apparel that's too functional or considered "everyday".
This is a special occasion and you'll want to choose intimate apparel styles, like chemises, bras and panties that match.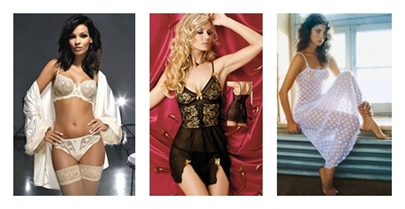 Look for romantic lingerie styles to splurge on, and always always always buy quality. Why?
Cheaply made lingerie will end up stuffed in the back of your drawer, never to be seen again.
Remember, if you are a woman who never wears sheer risque lingerie, chances are you are not going to feel comfortable in open crotch lingerie.
And the opposite is true, a woman who adores wearing an open thong or sheer bikini panties will not appreciate Victorian nightgowns, regardless of how pretty her honey thinks they are.
So, take into consideration your honey's preferences, and choose something you'll BOTH enjoy, for Valentines Day and beyond.
More Last Minute Valentine Gifts
---
Here are a few favorite Valentines lingerie styles...
Beautiful Lingerie

Chemises 
Nightgowns
What colors do you like to wear in intimate apparel? Do you prefer neutral colors like pale pinks, creams, nudes, and white? Or do you like rich jewel tones like fire engine red, hot pink (both great Valentine colors), emerald and royal blue?
Choose colors that suit your personality and intimate apparel style. If you're not sure which color to buy, opt for the ultimate in sexy, black!