*FTC Disclosure - If you make a purchase through a link on this site, we receive a small commission at no extra cost to you.*
Thigh Shape Wear - Everything You Need To Know
Thigh Shape Wear – The key to pulling off a slimmer silhouette? Great shapewear – it does what dieting and gym workouts don't always do: smooth and improve the areas you want.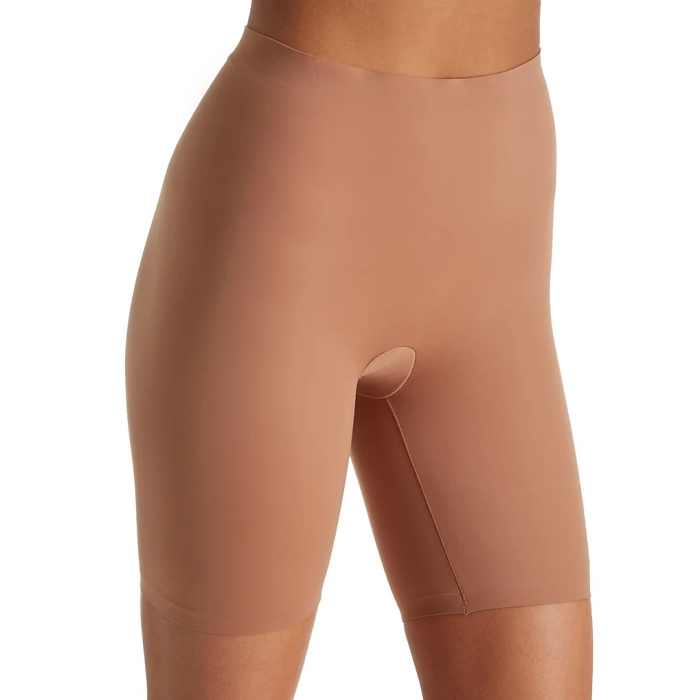 Too much tummy? Opt for shaper panties.
Hips a tad too well-rounded? Go for a bodysuit or shapewear slip.
Thighs too thick? Channel your inner supermodel and try shaper shorts.
The benefit of investing in a few key styles is that you can target just about any area, and achieve inspiring results.
Below, we share the ones that work beautifully to trim and slim the thighs (and other bits). Looking great never felt so easy!
---
  The Thigh Shape Wear Styles At A Glance

Control Shorts

- from waist to mid-thigh coverage

Shapewear Bodysuit

- from bra to mid-thigh and lower coverage

Long Leg Shapewear

- from waist to mid-calf and lower coverage

Shapewear Slip

- from top to mid-thigh coverage

---
Control Shorts
The quintessential thigh shape wear favorite that slims and contours, control shorts are a shaper style for below the waist.
Designed to smooth and minimize the thighs, while contouring the derriere, and pulling in the torso, these full coverage shorts bring together the best elements of brief panties and boy shorts in a mid-thigh length.
Available in a range of light, medium, firm and extra-firm control this easy thigh shape wear style is very versatile and can be worn with everything from svelte body con dresses and skirts, to pants, leggings and most any of your favorites.
---
Light support options are also great at minimizing bounce and jiggling as you go about your day. Here are a few tips to keep in mind -
Smooth, seamless styles with laser cut edges are one of the best ways to prevent VPL (visible panty lines) for an almost invisible profile.
A wider hem with silicone grippers along the inner edges of the shorts will help to minimize roll-up, and ensure that everything remains comfortably in place under your clothes.
Want additional tummy support? Check out a high-waisted style (with a build-in control panel) that extends higher than the natural waistline for a flatter and smoother middle.
---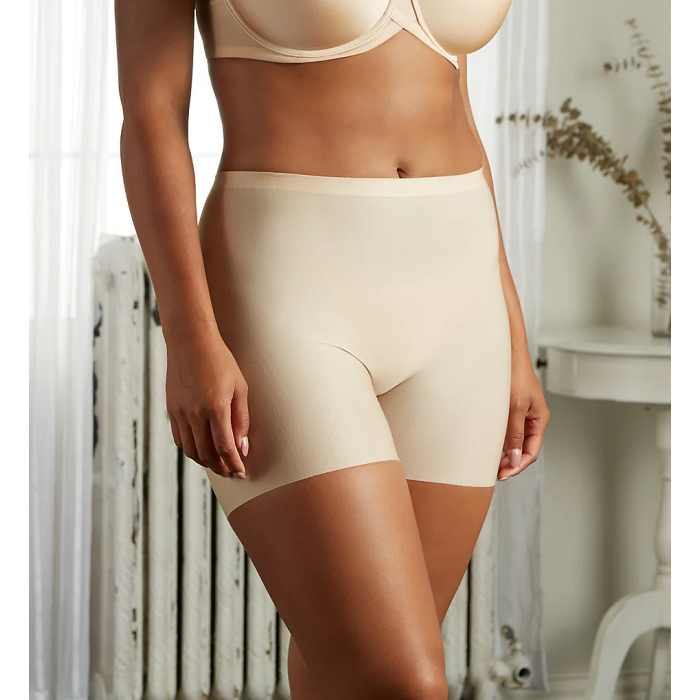 WACOAL
Shapewear Bodysuit
When you want a long and lean look that goes the extra mile and can be worn with dresses of any length, skirts, suits and more, check out a no fuss no muss shaper bodysuit.
Available in a range of styles that include built-in underwire bra cups or an open front (that lets you add your own bra), this popular all-in-one smooths and tones from top to tummy.
---
Mid to longer length legs shape the hips and thighs beautifully, making it a great "set it and forget it" thigh slimming favorite. Here are some helpful tips -
Looking for something a little more flexible that you can wear with your strapless and sleeveless dresses and tops? Opt for a strapless shapewear bodysuit. With convertible straps it can be worn with a multitude of flowing and curve hugging styles, and is super versatile.
Thigh shape wear styles with rear shaping control panels provide additional support and lift to bumpy or shapeless bottoms.
An overlapping crotch or snap closure allows for easier bathroom breaks.
Lightweight nylon / Spandex fabrics offer better support while keeping you cool and comfortable for the summer months and hotter climates
---
VA BIEN
Long Leg Shapewear

When it comes to thigh shape wear that delivers on concentrated contouring and support, long leg shapers are perhaps one of the best all-in-one choices.
With excellent coverage from waist to the legs, there are a variety of styles that focus on different areas - from slimming the hips and thighs to the derriere and legs.
Built-in thigh panels offer targeted shaping to prevent bumps and bulges along the thighs, and control inserts help flatten the tummy for a taut silhouette.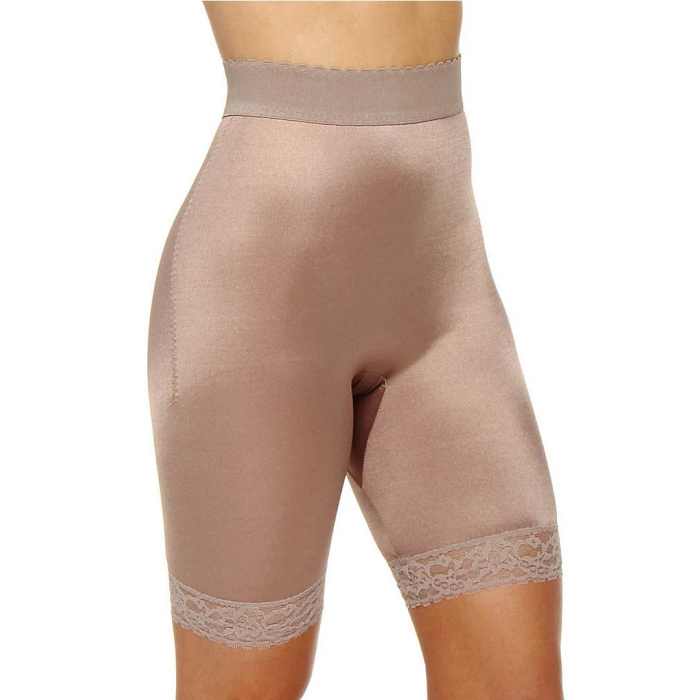 ---
Want a style that boosts and adjusts your bottom without padding? Look for panties with a shaper panel that lifts and supports.
Leg shapers can be worn under longer skirts and dresses, pants (slacks), and leggings. Things to keep in mind with leg shapers -
For slimmer waist and smoother lines, look for high-waisted styles with an easy-fitting hidden band.
Laser cut edges with silicone along the inner hem ensure a virtually invisible look and smoother fit that stays in place.
Styles with a center seam along the back of the panty offer an easy curve hugging fit.
Capri (mid-calf) and longer length shapers are more comfortable in softer lightweight nylon spandex blend fabrics for all day wear.
Looking for something warmer for winter? Longer leg styles are great as a liner to keep warm during the colder months.
Light weight styles tend to tone, but do not minimize; whereas firm and extra-firm control options with compression technology are more vigorous in sculpting and slimming the hips and highs.
---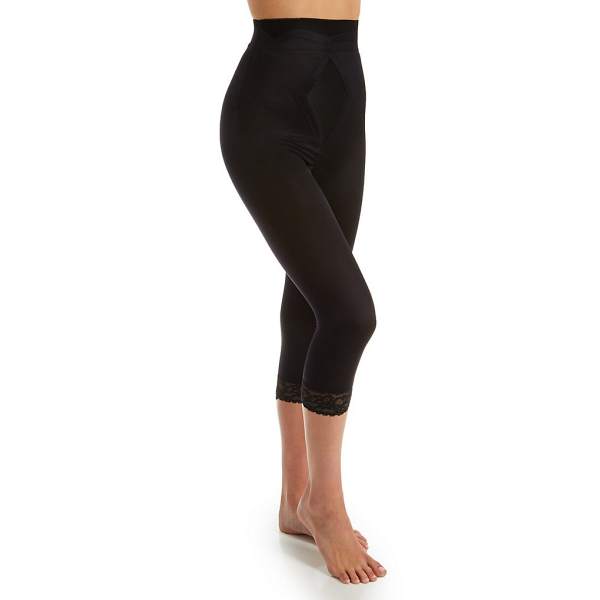 RAGO
Shape Wear Slip

As impressive as most thigh shape wear styles are, if you want to keep it simple, one of the best (and often overlooked) alternatives is a shapewear slip.
Designed for short pencil skirts and figure-hugging mini dresses and knits, half slips start at the waist and do a great job smoothing the thighs, hips and derriere.
---
Lightweight and perfect for everyday (and spring and summer) wear - when serious slimming is not the goal – half slip shapewear styles are excellent for smoothing lines and bumps, and minimizing jiggle. Here's what to keep in mind -
Soft knit fabrics with four way stretch are more comfortable for all-day wear.
A silicone gripper along the inner edge of the hem helps keep the slip in place.
For slips with attached panties – a cotton crotch lining is more comfortable.
Not sure which colors work best? Go for the colors and shades that are closest to your natural skin tone – you'll be able to wear them under sheer fabrics without worrying about show-through.
---
COMMANDO