The Training Bra Guide
FTC Disclosure - If you make a purchase by clicking a link on this page, we receive a small commission. There is no cost to you, and this does not influence our content. 

---
The Training Bra Guide - Buying a first bra or starter bra may seem like a quick and easy decision, but it's not as easy as you would think.
There are plenty of first bras and preteen lingerie choices available, and it can be confusing unless you have a checklist.
Let me show you how...First, you need to know your correct bra size.

Training bras or brassieres that fit well are a must for posture and comfort during puberty and teen years while your body continues to grow.
I always recommend being fitted by a professional bra fitter about twice a year, or after a noticeable growth phase.
If you're not comfortable, or shy about being measured for a training bra you can always use our easy bra size calculator, which gives you step by step instructions on determining bra size.

It's important to remember that this size guide is to be used as a guideline.

Bra sizes can vary a lot, different manufacturers, different styles and fabrics, etc., and are never cast in stone.
You should always wear the training bra that feels most comfortable for you.

Cotton Bras
The Training Bra Guide

Once you've found the right first bra size, you need to consider the different
types of bras. What do you need it for? Everyday wear to school? Physical education? After school sports? Or, do you need it for support?
Preteen bras and lingerie for young teens comes in many different styles, fabrics and fits, to fit a variety of shapes, lifestyles, and fashions.
You'll probably want to start out with one or two different styles of training bras, then gradually add more as you need or want.

The Training Bra Styles
---
Teen Sports Bra - Girls sports bra styles are an excellent choice for
first bras, and the most popular for growing teens. Why?
First, because they are usually made of cotton with a touch of lycra and quite stretchy and very comfortable.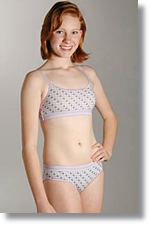 Also, young girls in sports bras find they have better support than regular brassieres.
It's important to remember that maturing breast tissue is soft and delicate and needs to be properly supported during high impact activities, such as running, basketball, volleyball, tennis, etc.
Even girls with smaller breasts who would typically wear a small bra should invest in one or two cotton sports bras or high impact sports bras, especially if they take physical education class or are active in sports.



First Bras
Cotton Bras - Cotton bra styles are very popular with young girls, and are good for most all sizes. Cotton bras are less restrictive and far more comfortable than traditional nylon brassieres.
Cotton is a natural fabric that is soft and comfortable, and I recommend choosing a cotton preteen bra with a bit of lycra which gives them a nice stretch and better fit.
These teen lingerie bras are available in both wirefree and underwire styles, and come in both unpadded and padded varieties, depending on your preferences.

Check out our information guides on training bra styles and preteen lingerie for intimate apparel tips and advice.