*FTC Disclosure - If you make a purchase through a link on this site, we receive a small commission at no extra cost to you.*
The Girls In Training Bras Guide -  How To Overcome Their Panic

The Girls In Training Bras Guide - Parents with daughters can agree - when tweens and teens begin shopping for training bras, the new experience of it all teamed with fluctuating hormones can be a recipe for a melt down.
Fortunately, with a few simple tips and tricks it is easy to avert a full-fledged freak-out and turn a heavy moment into a happy one.
From helping your tween pick the best styles they'll want to wear to calming the situation, we walk you through the techniques that make the grade.

The Girls In Training Bras Fundamentals

Let tweens choose what they want to wear. As they begin to mature, tweens and teen girls alike start to look forward to expressing themselves, especially when it comes to what they wear and making their own decisions; two things that go hand in hand with growing up.
So, it's important to encourage them when they show interest in clothing and how they present themselves.
Take them shopping to stores that carry age appropriate tween and teen lingerie.  Suggest a few styles, then narrow the selection to ones that you both like, getting input from them along the way.
Put the final decision in their hands, letting them pick out which tween bras they take home.
The Girls In Training Bras Guide: Tip
Letting tweens know that you support their decision making ability and their choices will help them feel less stressed and more confident in themselves.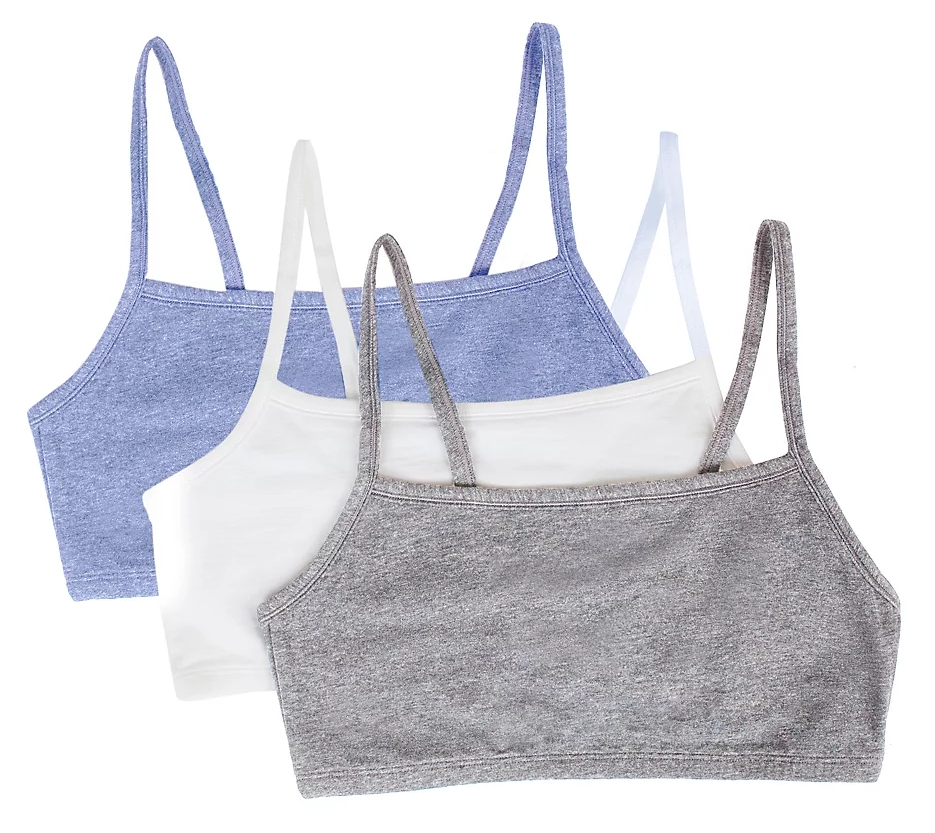 Give them control of shopping. When it comes to tweens and shopping for first bras, laying the foundation for success is key.
Let them call the shots when shopping and make a fun day of it – they can pick the date and time, whether they want to bring their best friend along, and what stores they would like to go to.
It might be tempting to streamline the experience by doing things your way; however, by releasing the reins and letting your tween decide how and when they want to shop for training bras will make it easier and help prevent a possible backlash that can sometimes crop up in a flash if they feel like they have no input.
The Girls In Training Bras Guide: Tip

While it's natural for tweens to be apprehensive, every so often the topsy turvy world of puberty may be a bit stronger than anticipated. How to handle it? Patience, patience, patience.

Share your experience about tween bras. If your tween is panicking over the thought of wearing a training bra, chances are that they're feeling overwhelmed and maybe a bit insecure.
One of the simplest ways to help ease any stress and calm the moment is to share your story.
Walk them through your own experience about shopping for tween bras, how you felt, and what it was like to wear a bra for the very first time.
Tweens on the verge of adolescence often feel like adults don't understand what they are going through.
Sharing with them shows that you can empathize what it's like to be in their shoes, and will help them to feel more at ease and comfortable.
The Girls In Training Bras Tip

When sharing your experiences about wearing a bra, keep it positive with a smile and a little bit of humor - it will help everyone relax.

Skip the sales assistance. Getting help when bra shopping is usually a fantastic idea, especially when it comes to short listing training bra sizes and styles, but if your tween is super sensitive or shy, it might be better to minimize or even bypass help from a lingerie sales associate.
Tweens, more often than not, are fiercely protective of their privacy and talking to a stranger, albeit one who is a lingerie professional, about their developing bodies may be really uncomfortable for them.
With straightforward x-small, small, medium, large and x-large tween bra sizes, and an easy step by step guide on how to fit a bra, you can suss out several options that your tween will be able to try in private.
They'll appreciate the discreet and quiet shopping experience more than you know.