Teenage Bra Guide
FTC Disclosure - If you make a purchase by clicking a link on this page, we receive a small commission. There is no cost to you, and this does not influence our content. 

---
Teenage Bra - Also known as a training bra, it's basically a preteen lingerie brassiere made for young girls who are starting to develop breasts and whose bodies are maturing.
Training bras, preteen bras and teen bras are quite different from regular womens lingerie.
They don't really "train" anything, but are important because they are the first step in helping to familiarize young girls with wearing bras and intimate apparel on a regular basis.

Teenage Bra

Preteen lingerie comes in basic and practical styles that begin in much smaller than regular bra cup sizes, and are available in a rainbow of colors, patterns, and intimate apparel fabrics.
Because it is designed for smaller breasts, a first bra or preteen bra doesn't have the same type of support as regular bras and lingerie for mature women with average size breasts.
As a result, most teen bra styles do not have thick or wide shoulder straps, and many do not have the traditional underwire support.
When choosing a teenage bra, there are a few tips you will need to keep in mind for finding the right bra size.

Preteen Bras
---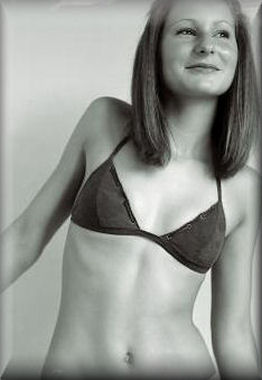 Training bras are brassieres for girls whose breasts are just beginning to develop.
These are petite bras that start at very small bra cup sizes and they usually do not have an under wire or padding.
Normally these brassiere sizes start at about a 28 AAA. Some starter bra styles are sized small, medium and large and xlarge.
These are usually cotton or nylon with lycra styles with very good stretch.
It's important to keep in mind that young girls mature at different ages.
Some start developing as young as age 9 while others do not start until they are 14 or 15.

Lingerie for teenagers should be comfortable and not restricting or tight. Nor does it have to be traditional color of white.
There are many colors, fabrics and styles available that will help ease your daughter into the wonderful world of lingerie and intimate apparel.
Beautiful Lingerie  >  Training Bra