Sports Bra Teen: 5 Things You Need To Know

FTC Disclosure - If you make a purchase by clicking a link on this page, we receive a small commission. There is no cost to you, and this does not influence our content. 

---
Sports Bra Teen - Welcome to the world of teen bras and lingerie. When it comes to teens and underpinnings it's important that they learn the fundamentals right from the start to get girls well on their way to womanhood.
Sports bras share many of the same characteristics of the perfect fit as regular bras do, and they also have a few unique factors for teens to consider. Here are 5 things to know about teen sports bras.

Sports Bras
Sports Bra Teen - Even The Smallest Sizes Can Benefit

No matter if a teen has a large bust or is the smallest size available, she needs a sport bra if she lives an active life.
Breast tissue is very delicate and even at a young age girls need support. Any kind of high impact sports like running, volleyball, or dance need a bra and girls can even benefit from a properly fitting sports bra when doing things like yoga or golf.
This also teaches girls the basics of wearing the right bra for their bodies, right from a young age.
Do A Bra Fitting Test In The Fitting Room

Teens probably don't know the tricks of the trade like women do, who have years of experience buying bras.
Teach your teen how to properly try a sports bra on: by jumping up a down a few times in the fitting room, raising your arms above your head, and leaning forward.
This ensures that a bra provides the right level of support, won't ride up, and that there won't be any spillage out of the top.
These factors are even more important when buying a sports bra because girls will need a piece that accommodates a wide range of motion.
Lingerie Performance Fabrics Are The Best

Leave lace and satin to regular bras and look for high performance microfiber fabrics when it comes to sports bras.
Teens will want sports bras in materials that wick sweat away from the body so they can stay cool and dry, no matter what they're doing.
High tech fabrics have the ability to absorb sweat and keep the wearer comfy so they can focus on their activities instead of feeling sweaty in their bra.

You Need Multiple Sports Bras

It's great to have a couple of regular bras in your drawer so you can rotate through them and sports bras are no exception.
Once you find a style that she loves make sure to buy at least two of them. You'll always have one available when the other is in the wash, or when she need to change in between one activity to the next.
Teen Bras Are Not All About Performance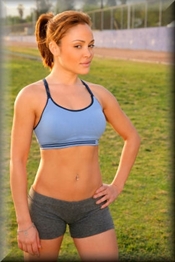 First and foremost a sports bra needs to be able to perform under intense conditions, but this doesn't mean that teens can't have a little fun with them too.
There are so many cute styles, colors, and prints available today that she'll never have to be stuck with a bland bra.
Look for a bright neon color, a graphic print, or cool crisscross straps for a look that's fun and makes her feel great wearing it.
Beautiful Lingerie  >  Training Bra  >  Sports Bra Teen