*FTC Disclosure - If you make a purchase through a link on this site, we receive a small commission at no extra cost to you.*
Sleepwear Chemise Plus Size - The 411 on the Best Styles

Sleepwear Chemise Plus Size - Like treating yourself to an irresistible dessert that's as enticing to look at as it is to taste, a beautiful chemise is sensational no matter which one you choose.

Consistently stylish and flattering, the best chemises deliver on demand whenever and whatever the occasion.
Whether it's sleek and simple styles that can be worn under dresses, suits and day wear, or casual cotton slips that are perfect for weekend lounging and Sunday smoothies, these lingerie favorites look and feel fantastic no matter how they are paired.

Below, we take a closer look at four Love of Lingerie chemise options.
From stylish silk and curve-hugging shape wear to classic lace and cotton chemises - because looking great and feeling fab is what beautiful lingerie is all about.
---
Silk Sleepwear Chemise Plus Size

A saucy little spaghetti strap here, a plunging V neckline there, in sumptuous colors for a touch of luxury – when you want to make an impression that says wow, nothing outshines a luxurious chemise that celebrates a gorgeous curvy silhouette.
From classic minimalist A line shapes to popular fit and flare options, this stunning silk lingerie style is just as nice to wear as a slip as it is for sleepwear.
Want to dress it up for an altogether different look?
Add a chic robe in a similar shade for an exciting set, or mix and match with your lingerie drawer favorites for a sensational new slant that's fresh and exciting.
---
BABYDOLLS & CHEMISES
Womens Shapewear That Fits Your Curves
There are of course the classics that we rely on and love. And, then there are the amazingly cozy, where-have-you-been-all-my-life styles that are game changers. They hug you in all the right places and make the day so much more comfortable.
In exciting buttery-soft fabrics like bamboo and microfiber, these popular plus size lingerie picks have an amazingly huggy fit that feels akin to the skin on a grape.
Designed with a smooth and silky finish, they have an amazing way of camouflaging tiny imperfections for an incredibly flattering and feminine finish.
Lightweight and wonderfully stretchy, these stunning slips are perfect for the hot summer months and for year round sleepwear.
Attention to detail? Kick-it-up-a-notch with scalloped lace edges, sheer inserts and pretty bows – with so many choices, they're virtually impossible to resist.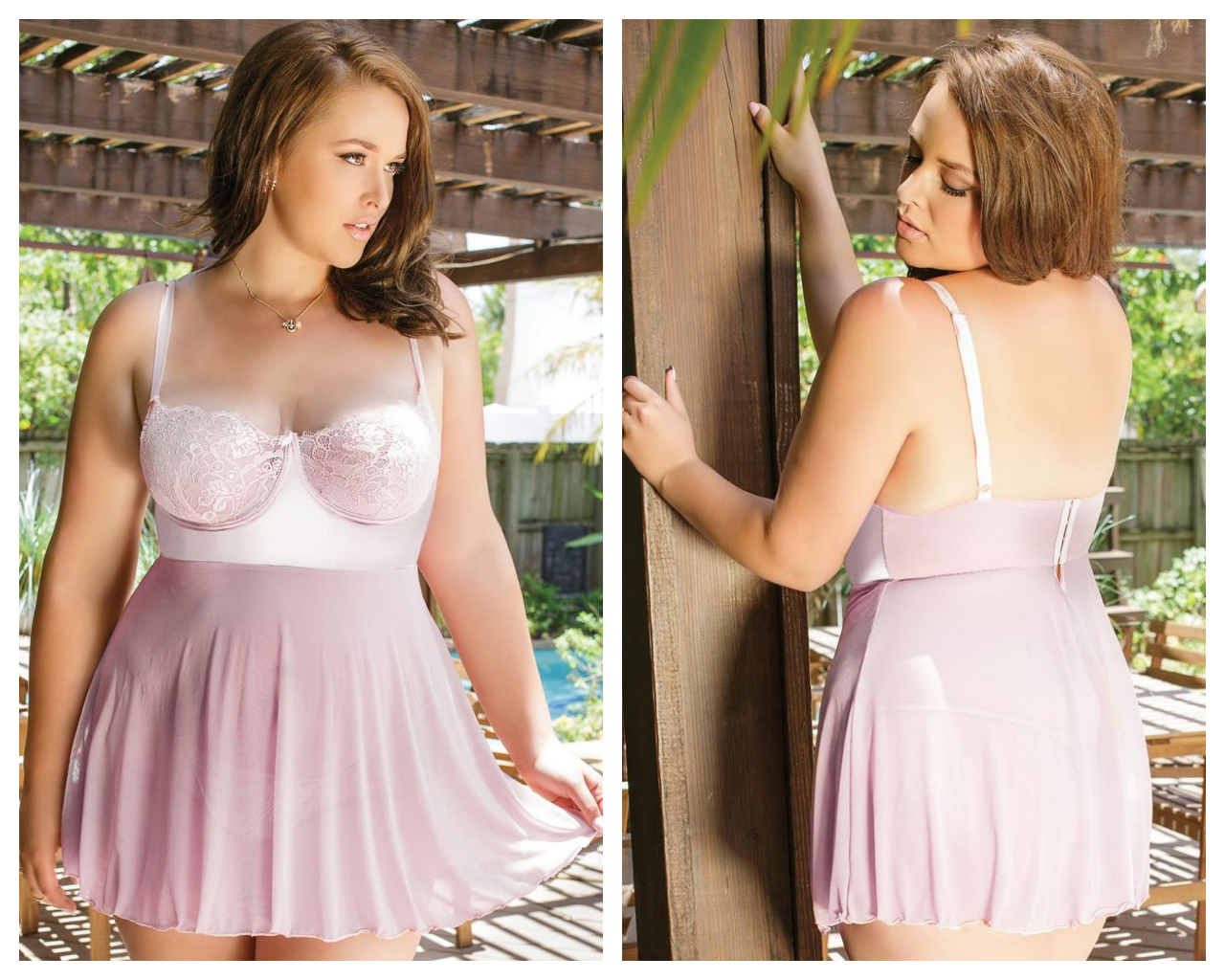 PLUS SIZES
The Classic Lace Chemises

Undeniably, when it comes to classics, a sleepwear chemise plus size is one of the most well-recognized and desirable styles that you can invest in.
Best described as a closet chameleon that is the essence of chic, this form fitting beautiful lingerie favorite can be worn a multitude of ways.
Exciting with an irresistible peekaboo look, it can be worn as a slip by day (with a sliver of lace peeking through your blouse, dress or sweater).
Looking for more ways to enjoy it? Twirl around your kitchen and lounge fashionably for a romantic look by night. With a daring neckline or a side slit thrown in for fun – it's hard to stop at just one sleepwear chemise plus size.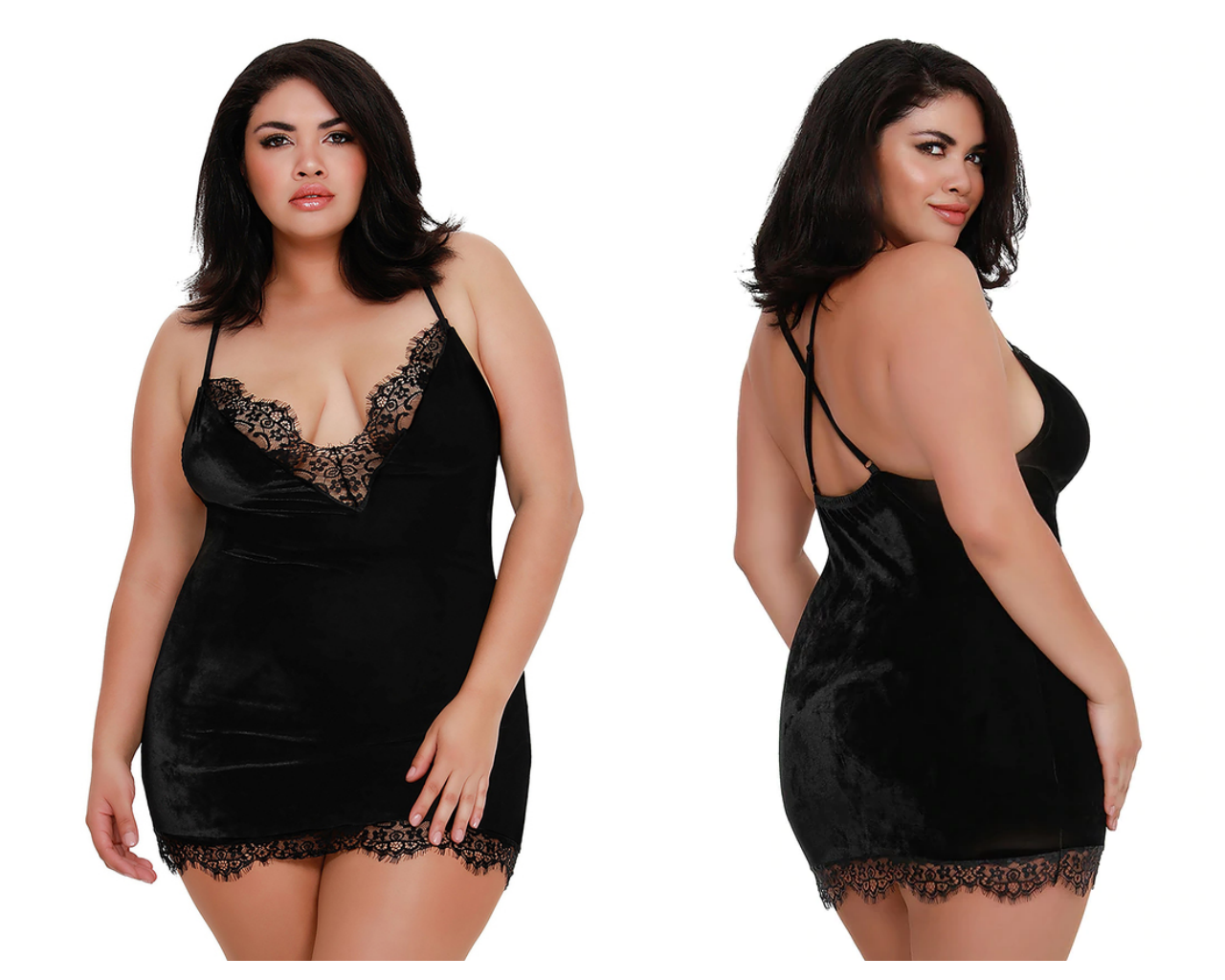 SLEEPWEAR
Sleepwear Chemise Plus Size:  Cool Cotton Classics

The behind the scenes secret to this top ten favorite - there's never not a great time for cool, comfy cotton. In fact, these sensational slips are one of the essential can't-live-without pieces of any great intimate apparel wardrobe.
Perfect for stay-home-and-binge-watch your favorite episodes of Game of Thrones, relaxing with Sunday morning newspapers and coffee, soft cotton nighties in knit, batiste and jersey blends are one of easy essentials to carry you stylishly AND comfortably throughout the year.
Try a simple lightweight chemise with embroidered detailing, spaghetti straps and a scalloped hem for a fresh-just-off-the beach feel.
Or, a loose-fitting sleeveless cotton lawn with a flutter floral border for a pretty look that's quintessentially feminine, and an easy travel choice.
GOWNS & PEIGNOIRS