*FTC Disclosure - If you make a purchase through a link on this site, we may receive a small commission on the transaction - at no extra cost to you.*
Secrets of Shapewear Lingerie
Shapewear Lingerie - How to look 20 lbs thinner? As a lingerie designer it's one of the most frequent questions I hear. And, my answer is always shapewear. The right shape wear can tame any curves.
Whether you're petite or plus sized, there is something for everyone.
The choices are many, with brands like Flexees, Wacoal, Bali, Vassarette, and Felina.
And, of course the current reigning favorite who sits at the top of the heap - Spanx by Sara Blakely.
Celebrities from Oprah and Katy Perry to Lady Gaga and Kim Kardashian sing the praises of Spanx shapewear, and judging by how great they look on the red carpet, the phenomenal reputation that Spanx enjoys is well deserved.
Shapewear Lingerie
Shapewear Lingerie

So, where to start? It's easier than you think. Shapewear lingerie is divided into three easy categories – light, moderate and firm control.
And, in each of these categories there are a number of panties, girdles, camisoles, tanks, bodysuits, body briefers and waist cinchers that offer different levels of control.
In this lingerie guide we'll take a quick look at all 3 categories and what you need to know...

---
Light Control Shape Wear
Light shaping that minimizes lumps and bumps, and a smooth look are the benefits of light control shape wear.
Camisole and panty styles such as a panty brief, bikini, or boyshorts are made of lightweight nylon / spandex, or microfiber fabrics that are very stretchy and comfortable, and do not have inner support panels.
These shapewear styles are ideal under pants, skirts, dresses, clingy knitwear and body hugging clothing.

Vassarette Smoothing Brief Panty
---
Medium Control Shape Wear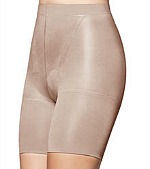 Coverage that extends a bit further to smooth over problem areas that need taming, like the tummy, hips, thighs, or arms.
Medium control shapewear styles such as body briefers, longer panty girdles, camis and tights are made of heavier nylon / spandex fabrics and usually include a built-in light support panel to the lingerie undergarment.
These shapewear styles are designed to wear under skirts, pants, jeans, suits, knitwear and dresses.

---
Firm Control Shape Wear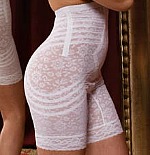 Maximum coverage and control that reins in bumps, bulges and spare tires.
Long leg shapers, higher girdles that cover from just under the bustline to past the thighs, waist nippers, cinchers and firm control bodysuits slenderize your shape.
Heavier nylon / spandex fabrics and compression panels are strategically sewn into the undergarment for a smooth fit and feel.
These firm body shaper styles are ideal for form fitted clothes such as tailored dresses, pants, and knitwear, as well as evening wear and bridal gowns.

Rago Long Leg Body Shaper
---
                                          Lingerie Tip
While the majority of women love shapewear to smooth, shape and slim their problem areas, many also love them for the great back support many styles offer.

---
Lingerie Shopping Online

Shopping online for your favorite shapewear lingerie, different types of bras, and even ladies sleepwear is easy on ebay clothing.

Popular foundation lingerie like Spanx undergarments, Nancy Ganz shapewear and firm control shapewear undergarments have never been more affordable or offered greater options.
Everything listed is available right now - so if you see something you like, hurry and place your bid.
When you click on a link a new window will open and you'll see a sampling of what's currently available online.
Want to continue lingerie shopping? Just follow the view all items link at the end of the listings...