*FTC Disclosure - If you make a purchase through a link on this site, we receive a small commission at no extra cost to you.*
Pushup Bra - How To Get A Great Look

Pushup Bra - The key to pulling off the appearance of a fuller bust with amazing cleavage is to opt for a bra that emphasizes what you already have and takes it to the next level. The best style? A push up bra. 
What is a pushup bra good for?  Just about everything in your closet.
Is it good for everyday use? Absolutely. Whether you want to to create killer curves or you're aiming for a more subtle look - a pushup is one of the best bras to have in your repertoire.  
Before you hit the stores, take a moment to read the 5 most frequently asked questions that will help you get the look you want. From body shape and budget to style and cleavage, it has never been easier to find the perfect bra.

What Is  Your Body Type?

Everyone has their own unique body type and shape and there's no point in trying to fight it. Work with your figure and choose push up bras that fit and flatter your frame.
It's easy to find lingerie that works for you when you understand what your body type is. Are you petite? Small busted? Average sized? Large busted? Plus size?
Know what you're working with ahead of time and keep your shape in mind as you look for bras. You can avoid intimate apparel that simply won't work for your figure and stick to what will suit you.
 What Are You Wearing?

A great lingerie collection consists of bras and panties for a multitude of situations.
So, before you go shopping for a push up bra, think about what kind of bra you're looking for and when you'll be wearing it.
Are you looking for a bra style that you can add to your every day lingerie rotation?
Or are you searching for a special piece that you can wear for dressier moments?
You can save a lot of time and energy by avoiding bras that don't fit with your needs and you can focus your attention on the pushups that are perfectly suited to what you're after.

Style Secrets

Some styles are lightly padded or even unpadded, but most push up bras come with permanent and/or removable water, gel, or foam inserts that are also known as petals or cookies.

 Your Pushup Bra Style

Just like clothing, there are bras to suit every woman's unique style.
Are you a minimalist? Athletic? Ultra feminine? Smoldering and sexy? Or perhaps you prefer classic and beautiful lingerie.
Whatever style you gravitate towards, you can find a pushup bra that stays true to the look you love.
Try:
cotton or mesh for a sporty look
push ups in smooth microfiber for a minimalist look
ruffles and bows for a girlie girl look
timeless silk for a classic look
risqué sheer inserts or black lace for a drop dead sexy look
 What Is Your Budget?

There's no shame in shopping on a budget, and any savvy woman knows that buying bras within your means lets you save your hard earned cash for other important things in life.
Before you get caught up in gorgeous displays or lingerie that's unattainable, take a quick look at how much you have to spend.
Then hit the stores with that number in mind and seek out steals and deals to find the pushup bra of your dreams at prices that won't break the bank or your wallet.
 How Much Cleavage Do You Want?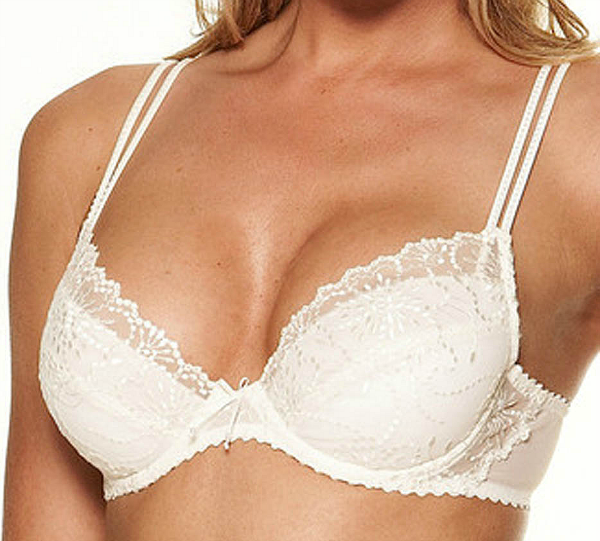 We've covered the basics of shopping for a push up, and now we're getting to the fun part: how much cleavage you want to create. Push ups have the power to offer a subtle oomph or add on entire cup sizes.
If you just want a small boost, look for lightly lined pieces with padding only at the sides or bottom of the cups to lift your natural curves.
If you're really going for the ultimate impact, choose a push up that's padded all over with extra padding along the sides of the cups to add major volume to your bust and create unforgettable cleavage.