*FTC Disclosure - If you make a purchase through a link on this site, we receive a small commission at no extra cost to you.*
Push Up Bustier - How To Look Simply Sensational

Push Up Bustier - We love lingerie for the way this beautiful lingerie style captures our various moods and represents our sense of style.
A bustier top is a perfect example of lingerie that can go from simple to sensational in a heartbeat, and the key is all in the details. Here we show you how easy it is to transform a simple bustier from basic to breathtaking.
 Push Up Bustier Tips And Tricks
Add Beautiful Lingerie Details

Go beyond basic when you add feminine detailing to a simple bustier. Look for styles that add a touch of beautiful lace, chiffon, or mesh along the edging.
Choose from allover satin, luxurious silk or microfiber styles, in classic silhouettes with boning on the bodice if you're more modest, or lace cups for a prettier look.
Giving a glimpse of what lies beneath your bustier is an easy way to dial the feminine factor way up.
Beautiful Lingerie Tip

Opt for strapless bustier styles with removable foam or gel push up pads / inserts called "cookies".
This allows you the option of adding or removing additional padding or cleavage depending on your clothing and the look that you want to achieve.
 Kick It Up A Notch

Most of us don't wear beaded lingerie, crystal encrusted bras, shimmering chiffon, or ruffle adorned intimate apparel on a daily basis.
Our everyday lingerie and undies tend to be sleeker and simpler than sexy push up bras and flirty lingerie that tend to be more for special occasions and romantic weekend getaways.
For a more glam look, opt for detailing like ribbons, pearls, bows, crisscross straps (this makes it super versatile), leather trim, velvet, or any other beautiful trims that will take a plain bustier to the next level.
Opt For A Pretty Fabric

It's easy to go from simple to spectacular when you shop for push up bustiers in prettier fabrics.
Opt for lace over cotton, or silk over nylon for a softer and sophisticated look that's anything but basic. 
Anything more opulent and luxe will instantly make you feel more daring and confident, and lingerie fabrics that are glamorous add a layer of femininity beyond everyday cotton and nylon.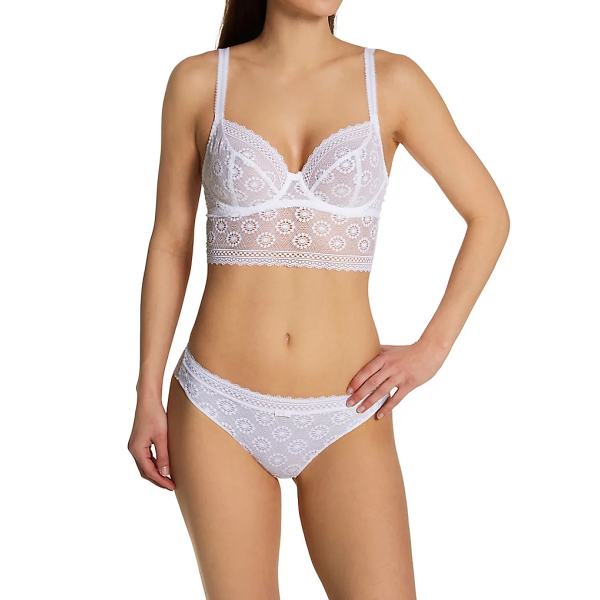 Switch Colors From Basic To Bold

The basic neutral shades of nude, stone grey, and white are great every day colors for your lingerie undergarments.
If, you want to take your push up bustier into the spectacularly sweet territory, try a style in teal, deep crimson, black, plum, emerald, or any other deep and sultry shade.
These colors are bold and beautiful, and fun to wear. And, they add a sense of daring and whimsy to any occasion.

Don't be afraid of trying colors that push the boundaries of your lingerie collection basics.
Create A Beautiful Bustier And Panty Set

Your push up bustier instantly becomes something more special when it's part of a set.
Choose a piece with matching panties, a thong, or boyshorts for a look that looks luxurious and has a prettier vibe than just a bustier or corset on it's own.
If there is one thing that I've learned over the years, it's that beautiful lingerie is magical. It can make you feel more feminine and confident than you've ever felt before.
When you're wearing a lingerie set, whether it's a chemise and panties, bra and panties or yes, a bustier or corset and matching panties, it's easy to instantly feel more feminine and self-assured, which increases a woman's self-confidence. And that is irresistible!
 Mix And Match Your Lingerie Favorites

While shopping for new bustiers is fun, you can also transform basic ones that you already own.
Take a simple push up corset from your existing lingerie collection, and glam it up with a garter belt, silk stockings, and a satin or silk kimono.
Suddenly you're wearing a head to toe look that's feminine and classy, all without buying a new bustier.
Take a quick look through your lingerie drawer and turn any bustier into a multi-tasker by adding beautiful extras that elevate a simple style into a gorgeous look.