*FTC Disclosure - If you make a purchase through a link on this site, we may receive a small commission on the transaction - at no extra cost to you.*
5 Push Up Bra Mistakes And How To Fix Them

A great push up bra is a must have for any lingerie collection, and mastering the perfect fit is easy when you can avoid the 5 most common mistakes that women often make. We'll show you the easy style and size solutions that work best for your body.
So go ahead and celebrate your curves, as you learn how to fix those pesky push up problems and ace this beautiful look:
Bra Bulges

No woman wants bugling or rolls on her back or at the underarms, and if this is happening to you it's a sign that your bra band is too tight.
How do you fix this? Try going up one size in the band and you should instantly feel better and see a sleeker silhouette.
You'll love wearing a push up that creates a smooth figure so that the attention can be front and centre on your bust.
 Lumpy Breasts

If your bra cups are too small, they'll dig into your breasts and give you a lumpy bustline that is anything but flattering.
How can you avoid this issue? By choosing a larger cup size, or looking for a style that offers slightly more coverage to keep your bust contained but still gives you the decolletage that you love.
You'll feel more feminine and beautiful when you can wear a bra with confidence and flaunt your figure instead of trying to cover up an uneven silhouette.
Style Secret

When bra shopping for this popular style, it's important to consider the clothing that you'll be wearing it with.
Is it form fitting? If so, you'll want to skip the lace bras and opt for a smooth seamless push up bra that won't show through.
 Gaping Push Up Bra Cups

A padded bra works best when the cups hug your breasts and push your cleavage upward and together.
If your cups are too big you'll fall victim to the not-so-nice problem of gaping bra cups. Your breasts will be lost in a brassiere that's too big and the baggy fit won't create any cleavage.
How do you solve this problem? Try opting for a smaller bra cup and you will be amazed at how it boosts your bust and creates killer cleavage, even with the smallest sizes.
Sagging Bust

We love the way pushup bras are designed to lift the bust and give you a perkier shape, but if your bra leaves you with a sagging bust line, there's a good chance that your bra straps may very well be a tad too loose.
Often forgotten, straps are an integral part of the perfect bra fit, so cinch them up for the proper support and boost that you want - but remember to keep it comfortable.
The advantage? Lifting your breasts upward will make you appear taller and thinner, and the focus will be a beautiful shape, not an unflattering silhouette.
Bra Shopping 101

Which lingerie brands sell push up bras?  A number of lingerie brands offer a variety of styles for every occasion. Here are a few of our favorites:

Calvin Klein Bras

Bali Bras
Wacoal Bras
Lily of France Bras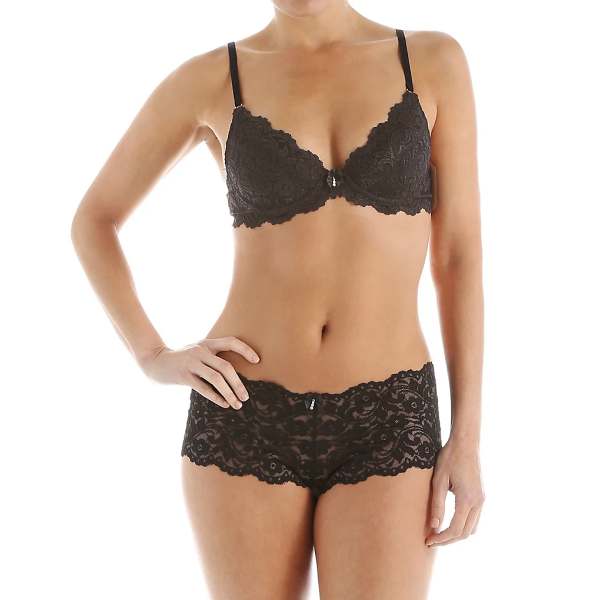 A Bra That Rides Up

Try this test when trying on push up bras: raise your arms up above your head and clasp your hands together.  Does your bra remain in place or ride up?
If it rides up it means your band size is too loose, and that your straps may be too tight. Try a smaller band size, and ensure that it fits snugly (but comfortably) around your ribcage.
Loosen the straps slightly so they're not hiking your bra up too high.
You want to be able to move around comfortably without fear of it riding up or moving about during the day.