Preteen Lingerie Tips For Parents

FTC Disclosure - If you make a purchase by clicking a link on this page, we receive a small commission. There is no cost to you, and this does not influence our content. 

---
Preteen lingerie - Most mothers dread the entire training bra ritual because it means their little girl is maturing into a young woman.
So, when the moment finally comes to introduce your daughter to training bras (they're also called first bras) and more mature lingerie, the best advice we can give is to make it as enjoyable and pleasant for her as possible. Here are a few tips we've put together to help.


Preteen Lingerie Tips
Most stores carry an assortment of preteen bras, panties, camisoles and lingerie for young teens.  If your daughter sees a bra or panties that she likes, let her pick it out herself. This way she'll take more of an interest.
Avoid

sexy teen lingerie

styles like demi bras, push up bras, thongs, g strings and bikini panties (even if your preteen says her best friend wears them). These

sexy lingerie

styles aren't age appropriate for pre-teens and young girls. 



Cotton lingerie - cute first bras, training bras and panty sets in cotton, microfiber or nylon trimmed with lace are pretty and comfy for preteens.
Can't decide on a bra style? A teen sports bra makes a great first choice. It offers an easy fit, plus it's trendy and sporty.
Have a preteen or teen with sensitive skin? Opt for seamless bras in natural fabrics like cotton with a touch of lycra. Seamless is a great all-round choice since it doesn't chafe on tender breast tissue that's still growing.
Carmen's Tip:
Try to think beyond the Tinkerbelle panties and Barbie underwear and make it a fun shopping trip that she'll remember fondly.
---
Fitting In With Friends

---
Most girls want a training bra and lingerie that is close to what their friends are wearing. Why? Because most girls are quite self-conscious and just want to fit in.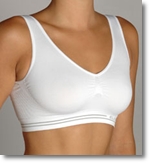 This is a difficult time for preteen and teen girls, and they don't want to feel as if they're not up on the latest intimate apparel fashions. The last thing teens want is feel embarrassed when they have to go to the gym and change in front of their friends for Physical Education class.
Teen girls want to be accepted, and it can potentially cause them extreme humiliation if their first bra or teen bras and intimate apparel are something totally different than what all of their girlfriends from school are wearing.
Make a few suggestions, then step back and let her pick out a few of her favorite colors and prints in bras and panties that match.
Take this into consideration and make preteen lingerie one of the best experiences of your daughter's life.
Pretty and age appropriate training bra styles and lingerie for teenagers will likely be found at just about any department store so if you and she do not find anything you like at one shop, try another.
She'll appreciate and remember it far longer than you realize!