*FTC Disclosure - If you make a purchase through a link on this site, we receive a small commission at no extra cost to you.*
Plus Size Nightgowns - How To Choose A Luxurious New Favorite

Plus Size Nightgowns - from Paris to New York, Miami to Milan, when nighttime falls, one of the best things about winding down at the end of the day is deciding what sleepwear you're going to slip on.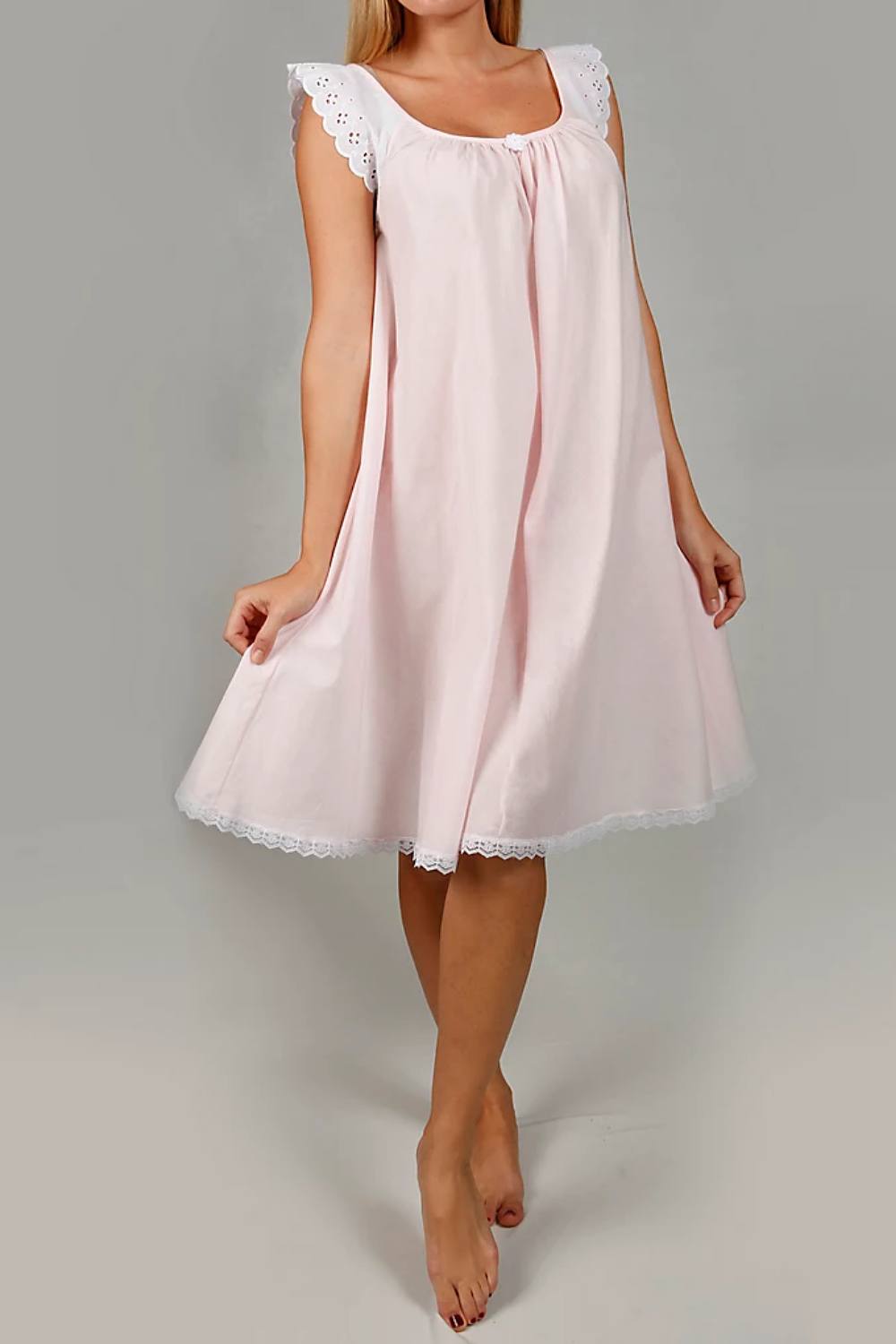 For many, the choice is simple - night gowns are the undeniable favorite.
They can make you feel glamorously sexy in silk or comfortably cozy in cotton - the options are deliciously endless.

From loose and comfortable to form-fitted and sleek, nightgowns are available in a wonderful range of sleeves, necklines and lengths for every inclination.

Attractive on their own or paired with a matching robe, beautiful long nightgowns, peignoirs and short nightgowns are popular styles that are hard to resist. Below, three luxurious Love of Lingerie favorites -

Plus Size Nightgowns In Soft And Easy Cotton

Cotton Nightgowns - whether you love stunning new styles or beautiful basics, cotton nightgowns are the perfect sleep wear essential for virtually any lingerie drawer.
With an amazing selection of lightweight cotton nightgowns in fabulous fresh florals trimmed in pretty lace for the spring and summer months, or thick and cozy flannel nightgowns in traditional tartan plaid for the colder winter months, cotton sleepwear offers a multitude of amazing choices for every season and preference.

The 411 on Cotton - A natural fabric that offers a multitude of knitted, woven and blended plus size nightgowns, cotton is a super comfortable option that's breathable, making it a great eco-friendly choice for those with sensitive skin.
Designed for maximum comfort and an easy fit in chic feminine styles, cotton night gowns are a beautiful thing.
Did You Know?
While today's specialty stores have a great selection, shopping online offers the best choice for plus size nightgowns sleepwear and lingerie for plus size women.
You can shop in the comfort of your own home at your leisure and pace...24/7 when the mood strikes...they are always open.
The Miracle of Microfiber Nightgowns
Microfiber Nightgowns - at first glance microfiber may seem like a plain and uninspired choice when it comes to nightwear for women with curves.
But, a closer look at this luxury sleepwear reveals why it has taken the intimate apparel world by storm, and why it has become a top ten list choice after just a few short years on the scene.
A firm favorite of lingerie aficionados and newcomers everywhere, super soft and stretchy microfibre gowns and matching robes are available in an astonishing array of shapes and sizes. that offer an easy and relaxed fit.
Classic tank style nightgowns, simple spaghetti strap chemises, and matching robes in gorgeous prints and vibrant patterns that dare to dazzle and delight

Microfibre Fundamentals - With a magical combination of supple nylon and spandex that's designed to wick away moisture while keeping you cool and comfortable, microfiber is a long wearing and easy care fabric with fantastic memory and stretch, making it one of the most popular nightwear options available.

Sensational Silk Nightgowns
Silk Nightgowns - let's face it, when it comes to nighttime favorites, who doesn't crave a little luxury from time to time.
The epitome of beautiful sleepwear that stirs thoughts of luxury vacations to exotic locales, private jets, and champagne, silk is a splurge worthy indulgence that everyone can enjoy.
With the timeless elegance of sensational silk nightwear, plus size nightgowns offer an easy flowing fit that drapes effortlessly and enhances the femininity of a curvy silhouette. Visually stunning smooth and ultra soft nightgowns are a pleasure to wear.

Lightweight and comfortable with a decidedly delicate feel, these luxurious nightgowns are available in exciting jewel tones and beautifully styled prints that make it hard to choose just one.
Pair a nightie with a beautiful robe for a stunning set, or mix and match with styles you already have. When it comes to silk sleepwear, it's almost impossible to go wrong.