How To Choose The Best
Plus Size Nightgown
FTC Disclosure - If you make a purchase by clicking a link on this page, we receive a small commission. There is no cost to you, and this does not influence our content. 

---
Plus Size Nightgown - when it comes to plus size sleepwear, more is definitely more.  Whether you're an enthusiast of classic long nightgowns or simple short nightgowns, curvy women can look amazing in any popular nightwear that strikes their fancy.
The secret?  Nightgowns and sleepwear favorites that compliment fit and function with a dash of sensational style.
Plus Size Nightgown - Mistakes To Avoid

Choosing Shapeless Nightgowns

Plus size women often feel that they should mask their figure by covering up in loose, shapeless, sack-like nightgowns.
Put the muumuu down and instead try a nightie with a darted bust, a fitted bodice, a ribbon belt at the waist, or a cinched in style that shows off your shape.
Wearing big, tent-like nightwear only makes you look big and hides you figure, whereas a nightgown with a fitted or emphasized waist celebrates your curves and shows them off.  Highlighting a curvy waist defines your shape and embraces your hourglass shape.
Choose to show off your natural waistline or opt for an empire style – either silhouette will be much more flattering on your body than a boxy style.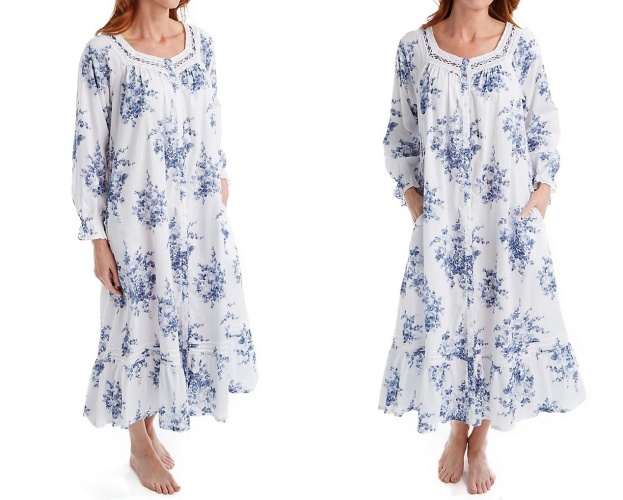 Opting For Sleepwear With Tiny Prints

When it comes to sleepwear for curvy silhouettes, there are all sorts of outdated style rules out there, and the idea that plus sizes should only wear small prints is one of them.
This misconception means you're missing out on some amazing patterned nightgown options that can look just as beautiful as tiny prints.
Opt for a nightie in a print that you love and don't worry about the size of the pattern. Florals, stripes, or whimsical print sleepwear, they're all fantastic.
Choosing Nightwear In Dark Colors

Wearing only dark colors is another out of date sleepwear idea.  Color is an exciting way to show off a curvy shape. 
It's time to come out of the shadows and lighten up with soft pastels, rich jewel tones, and bright hues that bring a smile to your face and show off your figure.
Celebrate your silhouette in sleepwear colors that you adore and that flatter your coloring, and you'll look and feel amazing.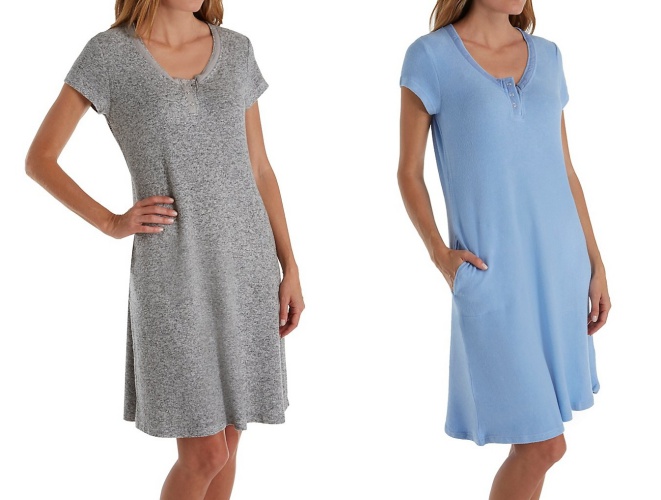 Keeping Covered In Full Coverage Night Gowns

It's time to let loose and dare to bare! Plus sized women have been hiding their bodies for too long, choosing floor length, full coverage nightgowns that only make them look big and frumpy.
Show a little skin with a thigh high slit, strappy sleeveless styles, a plunging bust, or low cut backs.
Revealing your curves, even just a little bit body breaks up the lines and compliments a plus size figure  - longer and leaner is nicer than a fully covered and overly modest style.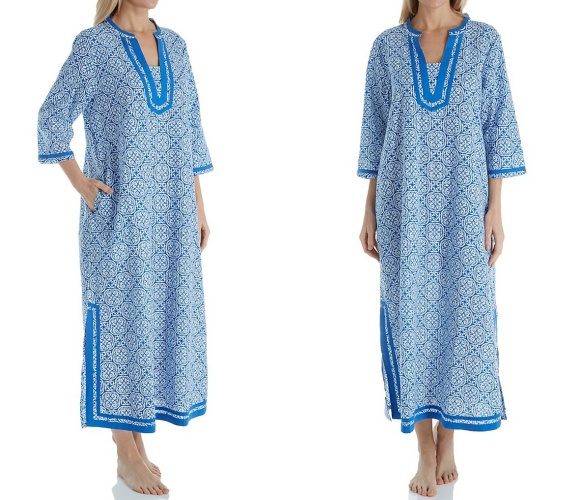 Choosing Sleepwear Based On Function

Function is definitely a considering in choosing sleepwear, but it shouldn't be the only factor you think of when choosing a plus size nightgown.
Buy something you love, something that makes you smile, a piece that's a pretty, sexy or just beautiful, and pick something that makes you feel pampered every time you put it on.
Curvy women look and feel gorgeous in nighties that fit and flatter their silhouette and simply make them feel good.
Sleepwear is the perfect way to indulge whatever styles you love and lavish yourself in luxury with striking colors, couture-like trims, and sumptuous fabrics.