Plus Size Intimate Apparel: What You Need To Know

FTC Disclosure - If you make a purchase by clicking a link on this page, we receive a small commission. There is no cost to you, and this does not influence our content. 

---
Plus size intimate apparel - More and more retailers have opened their eyes to the world of plus size lingerie by offering a variety of styles and products to more generously proportioned women.
Any woman wanting to purchase plus size lingerie should consider several things when choosing items for themselves. So, without further ado, let's take a quick look at what you need to know...


Plus Size Intimate Apparel

First and foremost is that you should be comfortable wearing your lingerie. Try on several sizes to ensure the fit is great.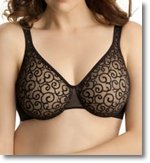 Try not to focus on the size on the tag as much as on how the garment fits and feels.
Sizing, especially when it comes to plus size bras is going to vary by manufacturer, so only trying on what you think is "your size" may limit your options greatly.
Also, some fabrics will drape differently against your body, altering the fit and feel. Make sure you can move, breathe and sit comfortably in the lingerie undergarment.

There is nothing sexy about tugging and pulling on your unmentionables when you are trying to be seductive. You want to feel comfortable wearing it and not preoccupied by pinches and pokes.
Enhancing Your Attributes
The next thing to determine is "What part of your body do you want to draw attention to?" Do you have great legs? A babydoll nightie is a great style to show them off.
If your cleavage is your best feature then you want to look for a plus size intimate apparel style like a plus size demi bra that highlights and supports your bosom.
Is your waist small? Consider something that has corset styling or laces up and enhances your waistline such as a bustier.
Every woman has best features that can be highlighted through thoughtful choice and consideration.
You also may want to consider if there is a part of your body you are less comfortable showing off and tailor your purchases to meet those criteria as well.
Some women dislike showing off their upper arms. In this case, they may want to opt for either a two piece set with a bed jacket, matching plus size robes or a style that has sheer sleeves to provide more coverage.
If your legs are less than their best, a longer plus size nightgown will provide the same additional coverage and can still be sexy. Remember, the goal is to feel fabulous wearing your lingerie, not self-conscious.
Lingerie Color Matters
---
Finally, choose a color suited to your skin tone and coloring. Some women are blessed with a complexion that looks good no matter what color they wear, but others need to choose more carefully.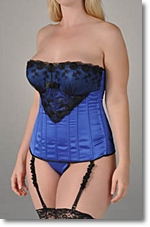 If you're not sure what colors work for you, try to remember if you get compliments every time you wear a particular shirt or dress and opt for your lingerie and intimate apparel in that same color family.
Most retail stores will also have personnel available who can assist you in choosing the best palette for your personal taste.
If you still can't decide on a color, a great choice for most women is the classic black gown. Whether long, short, sheer, solid, lace or satin, a black negligee is still a sexy stand-by. 

Online Shopping
---
The possibilities and selections available are many. No woman should feel limited in their choice of plus size intimate apparel if they are willing to take the time to research their opportunities.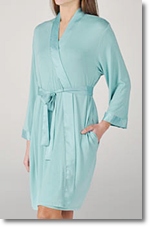 The internet has also helped make the entire experience easier for anyone who may feel embarrassed or shy about going into a brick and mortar store.
Some online plus size lingerie businesses have been created by women who filled a need they themselves had but could not satisfy through regular retail outlets.
They have firsthand knowledge of both their market and their customer. If you prefer, you can now shop from the privacy of your own home in a safe environment.
For many women the boon in the plus size lingerie business is long overdue but eagerly appreciated.