Guide To Plus Size Bridal Lingerie
Plus size bridal lingerie - Curvaceous women who wear plus size lingerie have a huge array of bridal lingerie currently available to them.
There are three principal kinds of bride lingerie to wear under a wedding dress - bridal bras such as:
bridal bustiers
plus size corsets
body shaper undergarments
womens thongs
low rise panties
...and a multitude of other beautiful bridal undergarments that help the bride look and feel her best on the wedding day.
Brides of all sizes should consider wearing functional body shaper undergarments beneath their wedding gowns, and changing into pretty bras and panties after the reception.
Plus Size Bridal Lingerie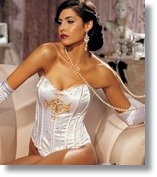 Plus size bridal lingerie that is most complimentary depends on the bride's shape or silhouette and the kind of wedding dress that she has chosen.
Most brides will select a bridal bra, plus size push up bra or plus size bustier that supports and lifts the breasts to create the most flattering bustline possible.


Minimizer bra styles, which compress the breasts and reduce the measurement of the bustline, may be very useful for wear beneath gowns with fitted busts.
These brassieres help create a smoother, more flattering silhouette, and keep the breasts cinched so they are not bouncing uncomfortably throughout the day.
Control underwear such as a waist cincher, panty girdles and well known Spanx undergarments are other important components of plus size bridal lingerie.
As the name suggests, the waist cincher reduces the circumference of the natural waist, and the control panty or panty girdle smoothes the tummy, upper legs, and buttocks.
Brides who elect to wear both types of control underwear and bridal bras are often drawn to an all-in-one intimate apparel undergarment that is a combined brassiere and control panty or girdle.
These slimming undergarments are typically made from a multi-directional elastic lingerie fabric that matches the color of the bride's skin.
This ensures that any control underwear or shapewear is not visible beneath the wedding dress.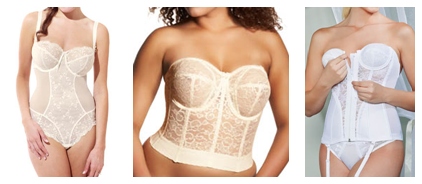 There are also many beautiful plus size bridal lingerie styles that are appropriate for wear on the wedding night. Sexy and feminine intimate apparel options are lace bras or a plus size demi bra and matching panties or a chemise in stretch lace.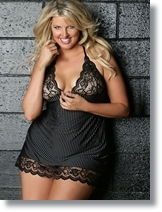 Since honeymoon lingerie undergarments are not intended to be worn beneath outer clothing, they may be purchased in any color or fabric without concern.
The most popular colors of sexy womens underwear are, of course, cream and white; however, many brides also purchase lingerie in red, black, and other popular colors.
The plus size babydoll style of lingerie is very popular with plus size brides. Plus size babydolls usually have molded bra cups that create fabulous cleavage while drawing the eye upward and away from a heavy tummy or thighs.
Sexy babydolls are commonly worn with matching skimpy g string bikinis or even peekaboo lingerie.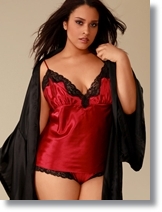 Women who are nervous about revealing too much skin should probably avoid risque panty styles like womens thongs, g string panties and open lingerie, and instead opt for a lingerie set with a fuller-cut bikini panty, tanga, or boyshorts.
These are available in a wide array of alluring intimate apparel fabrics, such as satin and lace. Other brides choose longer, chemise-style bridal nightgowns and may pair them with a matching womens robe in silk or satin.
Some of these longer plus size nightgowns have long slits up the front or one side, which shows a tantalizing bit of leg without uncovering too much.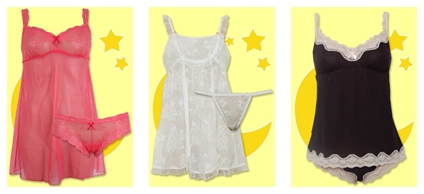 For a truly glamorous effect, pair these longer silk or satin nightgowns with a pair of boudoir slippers decorated with a pouf of faux fur.
Another excellent option for plus size bridal lingerie is the classic combination of a white lace bra and panties that match; these may be worn with the bridal veil and headpiece for the greatest effect.
Many brides enjoy the look of a lingerie garter belt and stockings to accompany this look; however, brides who are not used to wearing a garter belt may find that stockings with elastic tops are more comfortable to wear.