Plus Size Bridal Lingerie
*FTC Disclosure - If you make a purchase through a link on this site, we receive a small commission at no extra cost to you.*
Plus Size Bridal Lingerie - How To Get A Fantastic Fit

Plus Size Bridal Lingerie - Shopping for wedding lingerie should be a fun experience that gets you excited about looking and feeling your very best on this incredibly special day.
All too often though, women dread the search for bridal lingerie, and plus sizes in particular can have a difficult time navigating the selection and finding the right pieces.
Follow these easy tips and tricks for shopping success and acing a terrific fit in your bridal lingerie.
Plus Size Bridal Lingerie Fit Tips
Shop With Photos Of Your Wedding Dress
The key to choosing the perfect plus size bridal lingerie is to find styles that are invisible under your dress.
Take photos of your dress with you to the shops so can show the sales person the type of neckline you're working with and determine your needs are for shapewear, stockings, and so on.
Don't reply on trying to describe your dress when a picture says a thousand words and shows exactly what you'll need.
WOLFORD
Carmen's Tip
Brides should consider wearing functional bodyshapers under their wedding gowns, and changing into pretty bras and panties after the reception.
Try On Bridal Lingerie With Your Dress Well In Advance
After buying the plus size lingerie that you want to wear under your gown, make sure to actually try it on with the dress, and do this well ahead of time.
Bring your lingerie to your dress fittings and try it all on together to make sure you've found the right pieces and that they all work together.
If you leave yourself lots of time, and do this well in advance of your wedding, it gives you a little extra breathing room if you need to purchase any additional pieces.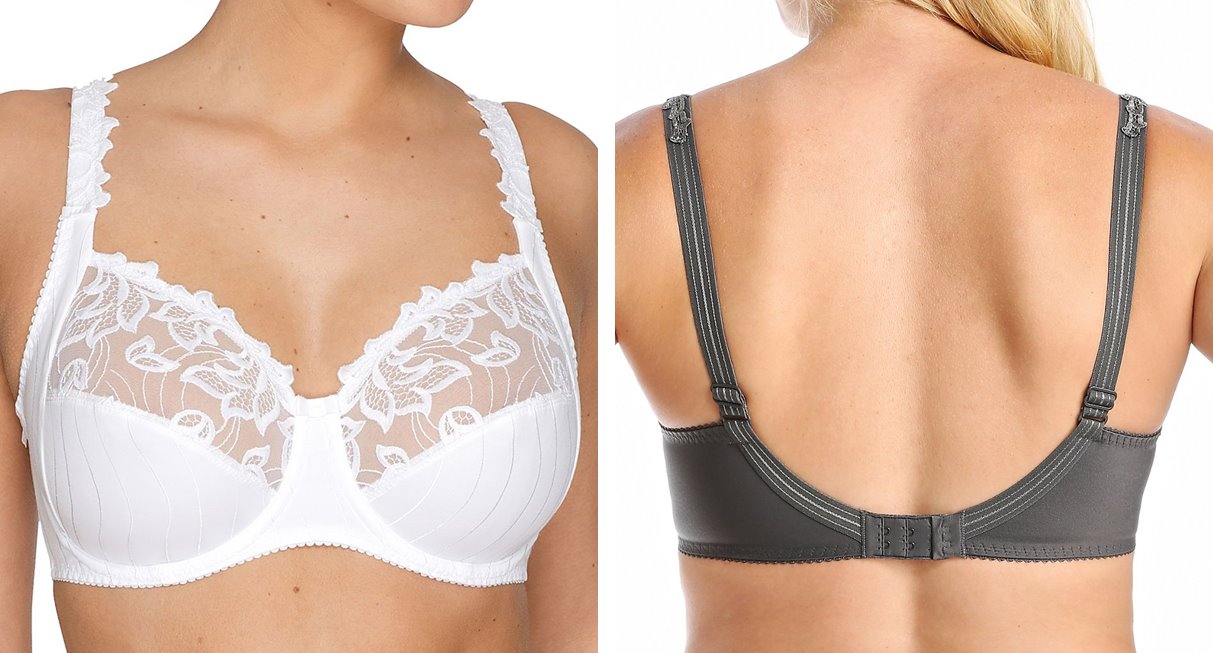 PRIMA DONNA
Examine All Angles To Assess Your Intimate Apparel Needs
Instead of focusing just on the front of your dress, make sure to check yourself out from every angle when trying your gown on in your fittings.
This will show you a full picture of what bridal lingerie you need.
Plus sizes may want to make sure their back is smooth and that they look sleek from head to toe, so consider all views to create a shopping list that covers all areas, from slips to stockings and everything in between.
WACOAL
Move Around In Your Bridal Underwear
A perfect fit means that your lingerie not only looks great but feels comfortable too. At your wedding you'll want to be able to move around – dancing with your new hubby, hugging your guests, and tossing your bouquet.
Make sure to move around in the fitting room when testing out any bridal lingerie so that it feels effortless on your big day.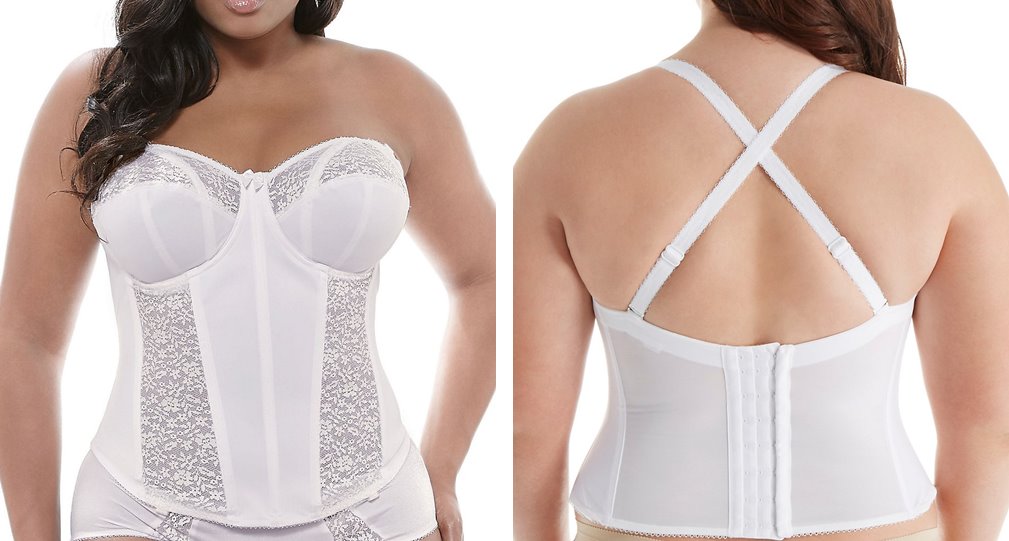 GODDESS
Try Several Bra Sizes
Not all bra sizes are the same. Don't make the mistake of assuming you know your size without trying out a few bras - especially if you're considering different brands and / or a specialty style (like a strapless or longline bra) that you've never worn before.
Bra sizes can be tricky. Based on our experience, you never can tell with bras until you actually try them on.
Best Tip
Sizing up or down in bridal lingerie can make the world of difference in how you look and feel on your special day. Always try plus size bridal lingerie before you buy.
For example, a 36DD may offer more generous sizing in one brand yet may be significantly smaller in another.
The solution? Take a couple of options into the fitting room when shopping for plus size bridal lingerie. If you do end up wearing the size you usually wear, PERFECT! If nothing else, it will give you the peace of mind that your usual size is just right.
Minimize Flaws And Maximize Assets With Wedding Lingerie
Think about which areas of your body you love, and which you'd like to mask, and consider which parts are most on display in your dress.
You might have a tiny waist that you can play up with a corset, while minimizing a plus size bust with a full support bra, or slimming your thighs with shapewear stockings.
Take attention away from problem spots with the right plus size lingerie and celebrate your best assets with pieces that help play them up.