*FTC Disclosure - If you make a purchase through a link on this site, we receive a small commission at no extra cost to you.*
Night Gowns That Look Great And Feel Sensational

Nightgowns That Will Look And Feel Great – from the cold winter months to the end of summer, no matter what the season, soft and cozy sleepwear is the perfect way to unwind and relax at the end of a long day.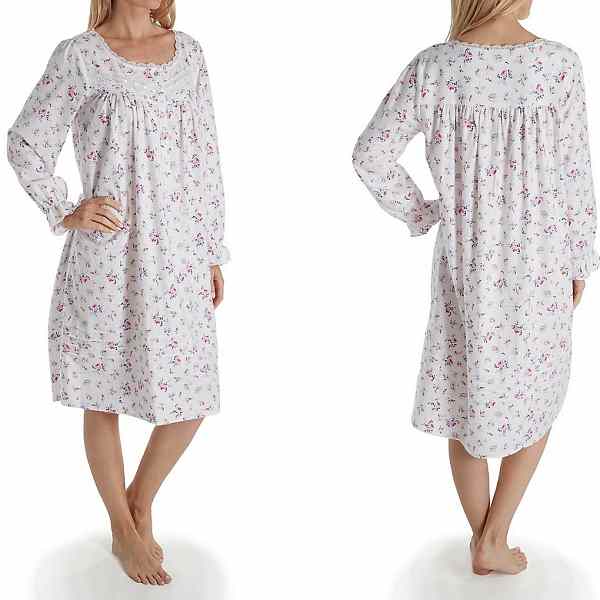 When it comes to easy to wear night gowns that look and feel amazing, the choices have never been better. Here, we've pulled together a list of 5 popular styles to consider for your sleep wear drawer - flannel nightgowns and cotton chemises, baby dolls, stretchy sleep shirts, and silk nightgowns.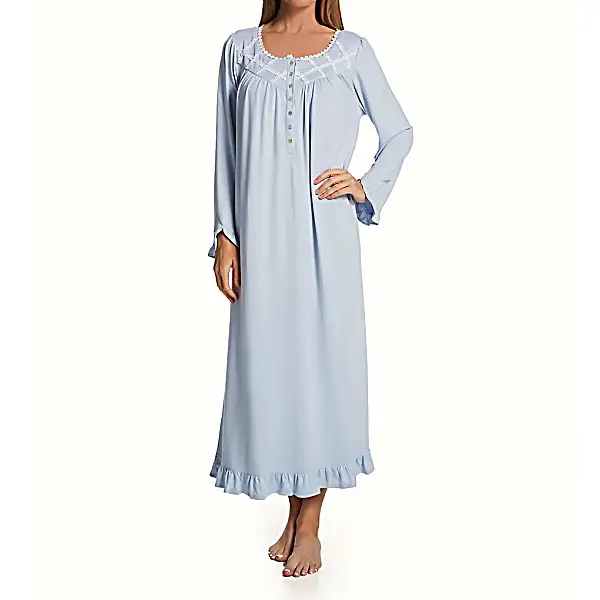 Night Gowns That Are Soft And Effortless

Cozy Flannel Nightgowns
Looking for a great style to keep  you warm through the long long winter months?  Full length flannel nightgowns are a cold-weather essential for anyone who longs for snuggle-worthy sleepwear on chilly winter nights.
Soft, plush, and thick, these popular nightgowns are one of the best options to keep you warm from head to toe AND comfortable, all in one easy pick.
Why is this ladies sleepwear a favorite?
Rather than wearing a skimpy nighty and layering on robes or sweaters to stay warm, it's easy peasy to slip into a flannel nightgown that quickly envelopes you in a warm and cozy hug without a fuss, making it an ultra comfy sleepwear style that's a great choice for lounging and sleeping.
Comfortable Cotton Chemises
Lightweight and versatile, a simple cotton chemise is one of the most popular lingerie styles available today.  With comfortable pull-over styling, this is a style that you'll reach for night after night because it's just so effortless and easy to wear.
Clean lines with minimal detailing are much more comfortable than complicated styles with lots of trim that feel like work to wear.
From trendy spaghetti strap chemises to popular sleeveless styles, a great chemise is a timeless investment that quickly become a go to piece and never go out of style.
Did You Know?
Cotton sleepwear and night gowns that include vertically-striped patterns create the impression of height?
Beautiful Baby Dolls
A sensational swinging baby doll style nightie is a sweet and sassy classic that women (and their partners!) have adored for decades.
What's not to love about these flirty fantastic night gowns that are designed to impress?  Fun, flattering, and amazingly comfortable, these short nightgowns (with matching panties) are effortless to wear and never frumpy. 
A beautiful lingerie favorite, baby dolls are ultra feminine, easy to wear, and the best part - they'll make you look like a Victoria's Secret lingerie model. 

Stretchy Sleep Shirts

When it comes to casual comfort, this sleepwear style is hard to beat – a cozy warm jersey sleep shirt feels like a second skin to wear and will have you in total lounge mode well into the next morning.
The stretch fabric and nightshirt style moves with your body, letting you stretch or sprawl however you like while you're sleeping without your nightgown holding you back.
The oversized t-shirt cut has a sporty, comfy vibe that's casual but cute when you opt for a style in a fun color or print that flatters.
Sensational Silk Nightgowns

Simply stunning and sensational, silk sleepwear does not disappoint.  When it comes to a touch of glamor, every woman deserves to splurge on at least one silk slip-dress nightgown for her lingerie drawer.
Beautiful and elegant, this intimate style is a timeless favorite that's ultra feminine, and always in style.
The best part - a simple spaghetti strap silk nightgown offers crossover flexibility and can do double duty as an lingerie undergarment under your dresses or skirts and blouses.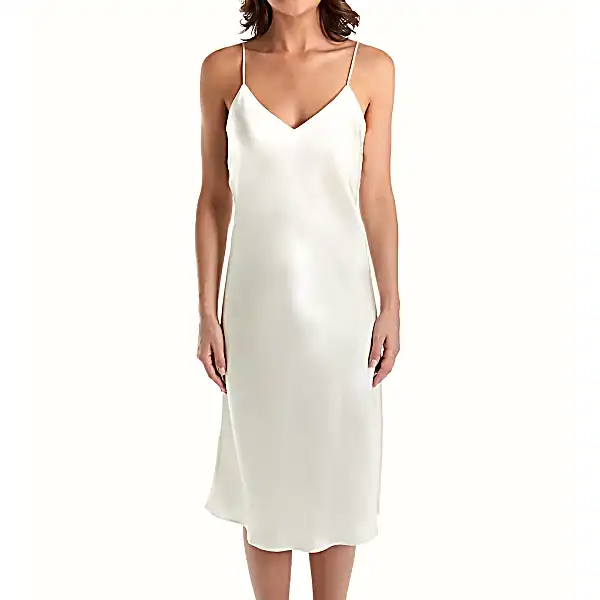 Choose black or nude for the most versatility and wearability under your favorite sheer dresses.
Whether it's for sleeping or lounging in style, silk is one of the nicest options that says you have arrived. 
Slip into a luxurious silk nightgown and enjoy the simplicity of the design and the sumptuousness of ultra soft silk on your skin.