Why Nightgowns Make Great Gifts
*FTC Disclosure - If you make a purchase through a link on this site, we may receive a small commission on the transaction - at no extra cost to you.*
Why Night Gowns Make Great Gifts
Womens sleepwear and night gowns make wonderful gifts for so many occasions. For birthdays, anniversaries, holidays, and special occasions, night gowns are a great choice; they are always appreciated and are often unexpected.
But it's important to remember that buying night gowns and sleepwear for another person can be filled with uncertainty and risk; the gift-giver needs to buy the correct size, and a style that the recipient will enjoy.
With a little planning and forethought, it really isn't as it's often made out to be.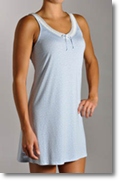 The first and most obvious issue is what style of womens nightgowns to buy.
If the gift is for a close friend, you might have access to their closet and be able to see which ladies sleepwear styles they normally choose for themselves.
If they're married or in a relationship, you might also be able to collaborate with their spouse or partner.
This can be really helpful if you live far away or don't normally have access to this person's lingerie drawer or closet.
Spouses and partners can also provide very valuable information with regards to the proper size of nightgowns and sleepwear to purchase.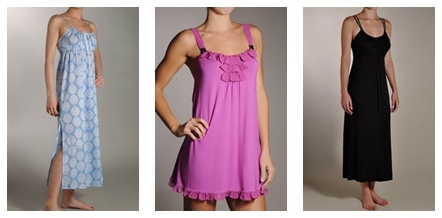 Night Gowns Make A Beautiful Gift

Purchasing the proper size nightgowns often gives gift-givers nervous tremors. It's often possible to "eyeball it," or sneak a peak at the sizes on some of a person's normal clothes.
For example, a woman who normally wears shirts that are a size large will probably also need a nightgown that is a size large.
Cover your bases by including a gift receipt with your sleepwear gown present; this will enable the recipient to make an exchange for size if she needs to.
Another option, albeit a far less creative one, is to simply give a gift card to a department store or lingerie retailer.
These gift cards can be purchased at the store itself, and many are also available at grocery stores and convenience stores who stock a huge selection of gift cards.
Such a present allows your recipient to purchase her own gift in a style she will definitely enjoy; this also saves her the potential embarrassment of having to return a gift that does not fit.
Night Gowns Make The Best Gifts, But...

There is, however, also a negative side to giving ladies sleepwear gift cards as Christmas presents. First, giving a gift card takes almost no time and is very un-creative.
While night gowns make great gifts, they may make the recipient feel as if you did not spend much time or thought selecting a gift for them.
The other drawback is that the recipient will automatically know exactly how much money you've spent on their gift, since it will be listed directly on the card.
This means that you might feel obligated to spend more money than you would have had you been able to find a beautiful gift that was on sale.
There is no "one size fits all" approach to giving night gowns for Christmas gifts. Consider the personality of the recipient, as well as the relationship you share with them and the nature of your friendship.
Also remember that the gift of a nightgown doesn't have to end there; if you want something more lavish, add a womens robe and a pair of slippers, and your recipient will think great thoughts about you throughout the year!