My First Bra Guide
My First Bra Guide - A question that just about every young girl asks is "when should I get my first training bra?"
The short answer is, there is no one particular or magical age.
Every girl is different, and preteen bras, training bras, intimate apparel and lingerie for teenagers are different for everyone.
There are of course a few generalizations that can be made.
Breasts usually start to grow around the age of 8, though some girls develop sooner, and some later, depending how how quickly a girl is developing.
My First Bra

Most young girls get their first bras (also called training bras) while they're in middle school, while others may wait until early high school.
It really is a personal choice when to start wearing the first bra and lingerie for teenagers, and I always recommend they get some help from a female relative (maybe mum or a favorite aunt) for the first bra or preteen lingerie shopping trip.
My First Bra Tips
---
The right fit for lingerie for teens is essential. While training bras are not "training" anything other than how to wear first bras, a comfortable bra fit will make a girl more likely to want to wear lingerie daily.
If she already has fully developed breasts, then perhaps it's time to go ahead to light support bras.
Sizes in smaller bras start at 28, with a cup size as small as triple A. For undeveloped girls, a training bra can be "Small, Medium, or Large", but once the breasts start developing, particular bra sizes are important.
My First Bra Tips
---
Finding a certified fitter can make finding the appropriate fit much quicker. As a young girl continues to develop, it is important to keep the first bra size current.

Teen sports bra styles make good first bras. They allow the breasts room to develop while still providing support and are usually made of a soft cotton/lycra fabric.
When a young teen is running and involved in sports, comfort is important. The discomfort of an ill-fitting brassiere and lingerie for teenagers can be avoided with a good purchase.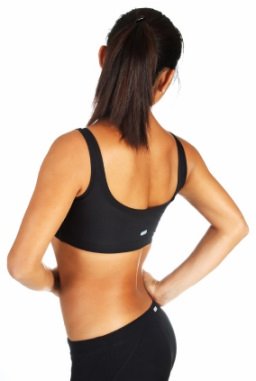 It's important to teach young girls how to wear their bras and lingerie for young teens comfortably.
If you are not sure, have a certified specialist show her how to adjust the straps of her first bras and how much tension is needed.
Good fitting bras and lingerie undergarment panties will help her avoid stretch marks and sagging later in life.
Preteen lingerie and teen bras are not something we often think of as adults, but ill fitting teens bras can surprisingly affect a girl's long term posture and self esteem.
A good fitting brassiere and lingerie for young teens can also slim, by lifting the breast up, improving her silhouette and also helping with her self-image.