*FTC Disclosure - If you make a purchase through a link on this site, we receive a small commission at no extra cost to you.*
Insiders Guide To Mens Nightshirts
In recent years, mens nightshirts and mens robes have made a resurgence in popularity. No longer are men restricted to the bedtime "uniform" of drawstring pants and a button-down pajama top or traditional matching pajamas and robe combination.
Mens Nightshirts

Particularly in hot and humid weather, a mens nightshirt is a wonderful choice; long enough to provide modesty but a great way to keep the legs free and cool.
Men's nightshirts and robes for men are available in such fabrics as cotton, linen, flannel, and satin.
Cotton and linen have excellent breathability and are great choices for wicking sweat away from the skin.
Both fabrics are thin and light; however, linen wrinkles very easily, and for this reason doesn't travel as well as cotton.
Cotton is much more resilient to wrinkling, and any wrinkles that do occur while the garment is packed in a suitcase can usually be removed by shaking the garment vigorously and hanging it up for a few hours before putting it on.
Satin and silk are the most luxurious choices for mens nightshirts and popular mens robes.
However, some men may feel uncomfortable wearing mens silk robes or nightshirts, since they may feel they too feminine.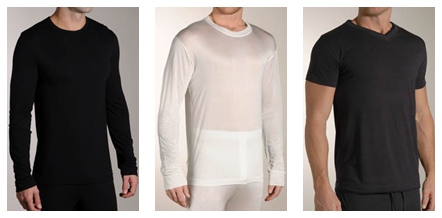 Mens Nightshirts
If, purchasing a gift for a boyfriend or husband, use care before choosing silk or satin.
Most men's nightshirts are slipped on over the head and fall to the knee or mid-calf; they may have short or long sleeves.
For extra modesty, a pair of boxers or boxer briefs may easily be worn beneath the nightshirt.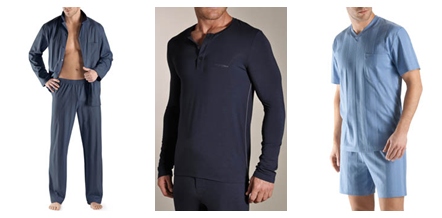 When selecting a nightshirt, choose light colors for hot weather and darker colors for cold weather.
Waffle-knit fabric is another wise choice for wear during fall and winter months, since its texture helps trap body heat and insulate against the cold.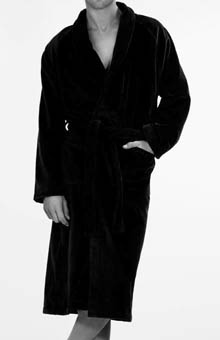 Customers with a love of the Victorian aesthetic might opt for nightshirts that fall to the floor and come with a matching sleep cap.
Such mens sleepwear garments are almost always long-sleeved; some have a buttoned neckline, while others have a neckline that can be easily adjusted.
Slippers are another option to consider. Since nightshirts leave the legs somewhat exposed, the feet and calves may grow chilly during the fall and winter.
A warm pair of slippers is a great solution to this problem, particularly if you would need to walk over a bare wooden or tiled floor to reach the bathroom in the middle of the night.
Fur-lined booties are another option.
In extreme cold, a nightshirt may be paired with a pair of long-john underwear, which are usually waffle-knit and designed for maximum heat retention.
A robe is another fantastic way to increase heat retention; these robes for men are often sold in pairs with the nightshirts and are crafted from the same fabric.
Of course, the warmest robes will be at least two layers of fabric so that body heat will become trapped between the layers.
Flannel sleepwear is one of the best choices for a sleep robe, since it is both tremendously warm and deliciously soft!