Longline Bras For Your Wedding Dress
Many brides turn to longline bras to provide support, shaping, and control beneath their wedding dress; these types of bras are particularly useful to brides who want to appear slimmer and more shapely without wearing a corset. Long line bras are actually a descendant of the bridal corset.
These bridal undergarments contain bra cups - usually demi cup bras that are attached to a long, boned bodice.
Some long line bras have a series of hook-and-eye closures in the front while others are pulled on over the head.
Both bra styles provide valuable shaping and control.
Before buying a long line bra, try on several different bridal bra styles and check carefully how visible the brassiere is under your wedding dress.
Longline bras that have hook-and-eye closures in the front usually have a series of plastic or metal bones that provide control to the lingerie undergarment.

Longline Bras

These bridal bras often provide a greater degree of shaping than unboned longline bras, but do not provide a silhouette that is as smooth.
This is not a problem for brides whose wedding gowns are made from stiff and thick intimate apparel fabrics.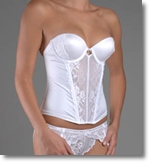 However, brides with thinner lingerie fabrics in the torso area of their dresses will need to stick with bride lingerie undergarments that are completely smooth on the exterior.
Spandex and other elastic lingerie fabrics are excellent options here.
Many cutting-edge fabrics stretch in multiple directions and can provide a high level of shaping without resorting to stiff and potentially uncomfortable boning.
Since longline bras cover such a large portion of the body, it is imperative that they remain invisible beneath the wedding gown.

A major factor in this is fabric color and texture. Regardless of the color of the wedding gown itself, it is always best to opt for wedding underwear and brassieres that match one's skin tone, rather than matching the lingerie color with the color of the dress.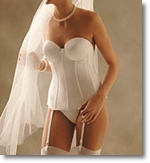 Many fine lingerie manufacturers offer a range of long line bra, bridal bustier, and even bridal corset styles in a variety of flesh tones that ensure that what is supposed to stay hidden remains that way.
Also consider the texture of the fabric.
Smooth, preferably seamless lingerie fabrics are more comfortable against the skin than those with a rough texture, and will not show beneath any type of dress fabric, no matter how thin or diaphanous.
Because all bridal lingerie that will be worn beneath the wedding gown must be worn to all of the wedding dress fitting sessions, it is imperative that it fits very well.

Purchase your bridal lingerie soon after buying your dress, if not on the same day, and take the opportunity to be professionally sized so that you are assured of the best fit possible.
Having your bra measurements taken is doubly important when considering long line bras, since these bras often fit a little differently than regular brassieres that you wear for everyday.
Because long line bras have no straps, it is often necessary to purchase a band size down from what one might normally wear, so that the brassiere does not twist and move uncomfortably between the skin and the wedding gown itself.
When in doubt, ask a professional; the sales staff at a bridal salon or a reputable lingerie retailer will be able to offer advice as to the best fit and style to wear beneath your wedding gown.

Leave longline bras and return to bridal bras
Return to beautiful lingerie