*FTC Disclosure - If you make a purchase through a link on this site, we may receive a small commission on the transaction. There is no extra cost to you, and this does not influence our content.*
Longline Bras - How To Get The Perfect One For Your Wedding Dress
Longline bras -  Enormously popular with brides who choose to wear sensational strapless wedding dresses, these bridal bras leave other styles in the dust when it comes to creating the retro hourglass shape that everyone loves.
Taking the fashion world by storm in the early 50s and 60s, the long line bra has played a major part in enhancing bodacious bombshells from Marilyn Monroe to  Elizabeth Taylor..

Modern versions of this amazing bra style still create the waist whittling, streamlined shape that today's brides love, with the added technology and comfort of today's hottest bras.
In this article we'll take a closer look at this popular bridal lingerie style, and share what you need to know for the perfect longline bra, plus how to look amazing on your wedding day.

Longline Bras - Familiarize Yourself With Different Styles

Don't expect to find one bra that works or "fits all" for every dress style that you're considering.
Also, decide if you're looking for a bra style that you'll be able to wear again after your wedding day, or if you're after a bridal bra that you'll wear only once.
Understand what you want your bra for and you'll be much better equipped to navigate the many choices when you start shopping for bridal lingerie.
Many brides turn to longline bras to provide support, shaping, and control beneath their wedding dress; these types of bras are particularly useful to brides who want to appear slimmer without wearing a corset.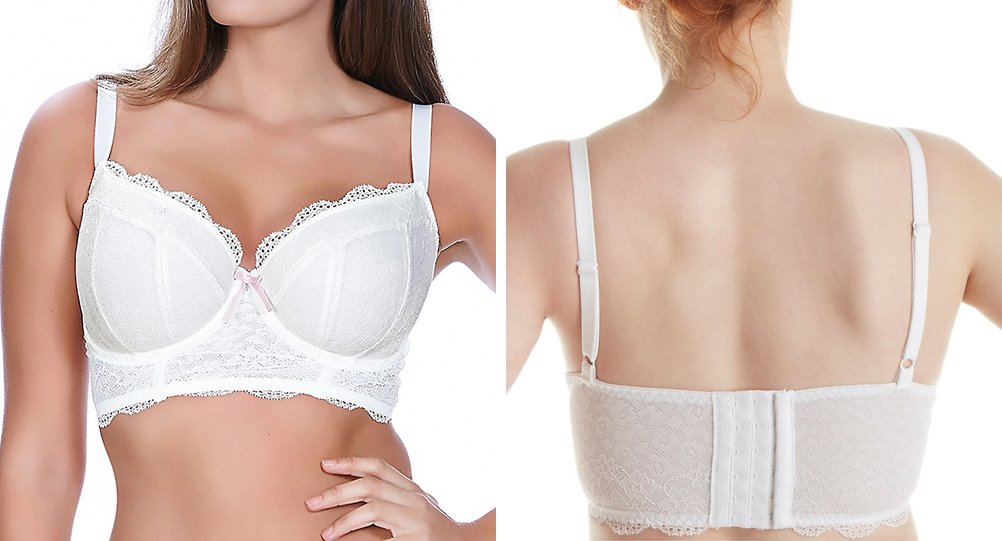 Make Sure Bridal Lingerie Works After The Wedding
While bridal bras may look great while you're standing in the fitting room, they also need to work while you move throughout what can be a very long day.
Try different types of bras on under your clothing to make sure you're getting a smooth and seamless silhouette.
Look at it from all angles using a 3 way mirror so you know that it looks equally good from the back and sides.
Snap a selfie or two so you can see what others will see for a flawless finish. Whatever your methods, make sure to put your longline bra to the test to make sure it works outside of the fitting room.
Be Sure Your Lingerie Undergarments Are Comfortable
Whether you're dashing into the church, posing for fabulous wedding photos or dancing the night away at your reception, bridal lingerie should be so comfortable that you forget you're even wearing it.
If it's restrictive, tight, scratchy, or too structured, you'll only be counting down until you can take your undergarments off at the end of the day.
Try on as many longline bras as you need, and don't stop until you find a style that keeps your bust supported and secure, while being comfortable and fitting like a second skin.

Find A Bridal Bra That Matches Your Style
Longline bras and their close cousins, bustiers and corsets all have retro roots, but that doesn't mean you have to channel Betty Boop or Mae West when wearing one.
There are loads of great styles by every type of designer – from classic, to sports inspired, to romantic, to minimal, or seductive.
Choose from frilly floral lace, timeless silk and satin, or sleek microfibers, depending on your own personal style preferences, and enjoy wearing beautiful lingerie that fits your unique lingerie personality.
                                       Did You Know?

Many cutting-edge fabrics stretch in multiple directions and can provide a high level of shaping without resorting to stiff and potentially uncomfortable boning.
Choose Versatile Types of Bras
Guarantee that your bridal bra holds a top spot in your lingerie rotation after the wedding by opting for a multi-tasking style that works in several ways.
Convertible bra styles can be worn strapless, one shoulder, halter, or crisscross in addition to the classic strap configuration, and a neutral color like nude, white, or black is a timeless choice that works with just about everything in your closet.
Close a bra that can take you from dawn, to dusk, and then dancing all night when you pick a bra that is as versatile as possible.