Lingerie Shopping Tips For Men
*FTC Disclosure - If you make a purchase through a link on this site, we receive a small commission at no extra cost to you.*
Lingerie Shopping Tips For Men That Will Surprise You

Lingerie shopping tips for men - It's a moment that every gift giver dreads.  Your sweetie opens their gift with excitement, pulls back the issue, and then there it is...the long pause, and the disappointed look followed by the polite, "oh gee honey, you shouldn't have."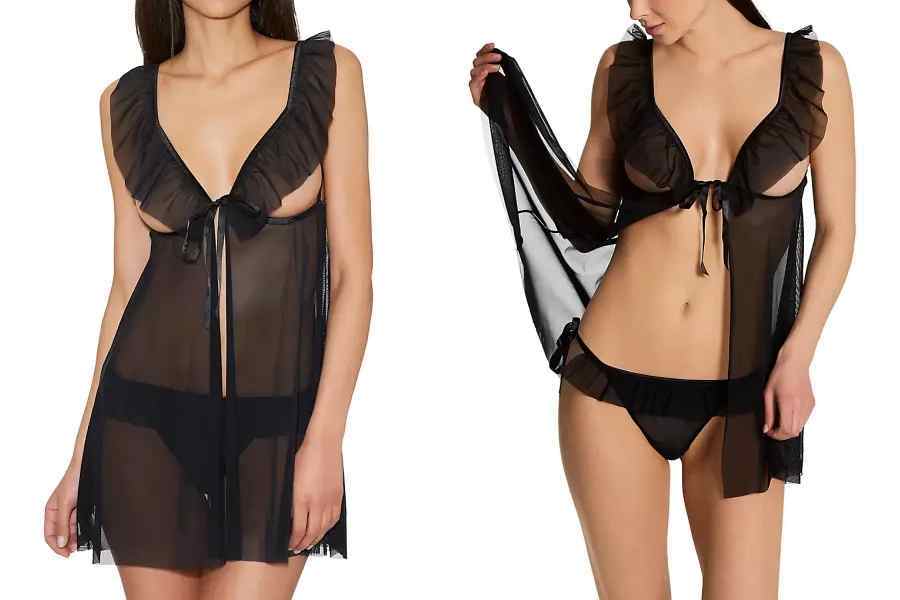 We've all been there at one point or another and if this scenario sounds familiar it may be time to ask yourself, do you always seem to end up giving last minute Valentine gifts that your honey hates?
If you find yourself answering yes, fear not, you've come to the right place. With a few quick and easy lingerie shopping tips for men, you can master shopping for beautiful lingerie and be on your way to glowing reviews from your sweetheart.
Lingerie Shopping Tips For Men - What To Bypass

When shopping for intimate apparel for everyday wear most women tend to choose basic cotton bras, panties, and camisoles over pretty chemises and silk peignoir sets. 
Special occasions are different and deserve something that stands out - either with a bit of extra style, a hint of luxury - luxury lingerie always goes over well - or both.
That said, once you've decided to get your sweetie something special for Valentine's Day, there are a few things that while they may seem like a good idea are really best to avoid -

fabrics that are coarse, rough, itchy or cheap
anything that's too small or skimpy
tacky, sleazy or super cheap lingerie

Carmen's Tip...
If you're not sure what kind of lingerie your sweetheart likes and need some ideas, a good place to start is by taking a quick look through their lingerie drawer and closet - while they're out of course. 
Note the bra and panty styles, sizes and colors that they prefer - this will give you some great ideas and inspiration.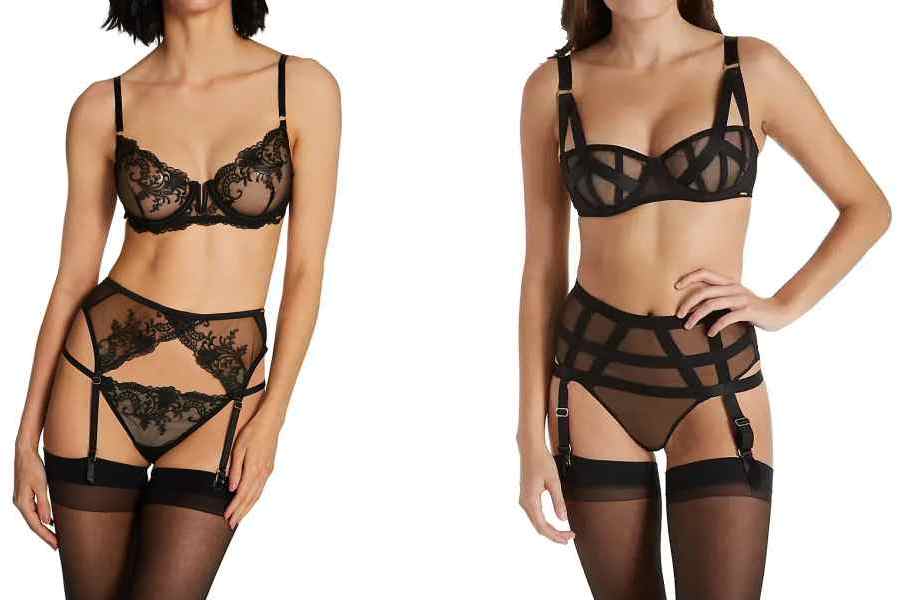 Lingerie Shopping Tips For Men - The 411 on Colors

When it comes to beautiful lingerie, there's an endless rainbow of colors, prints and patterns for every occasion and preference. Where to begin? Here are a few suggestions -

White and black are lingerie classics that look great on everyone
Red and black are bold colors that amazing on brunettes
Shell pink, cream, baby blue, and shimmering silver are exciting on blondes
Still not sure? No worries. Black lingerie - especially in sheer mesh or lace - looks great on everyone and is super sexy!
Lingerie Shopping Tips For Men - Beautiful Lingerie

"What should I get my sweetheart?" - This is one of the most frequent questions that men ask.
Think about her favorite things that she loves to wear again and again. Which part of her body does she think of as her best asset?  What does she love to show off?  Here we've listed a few questions (and suggestions) to get you started.
Does she have great legs? Show off long gams with -

A short, whispy satin, silk chemise (above the knee) or a babydoll in lightweight chiffon

A lace teddy or satin camisole and matching bikini panties 
Does she have gorgeous cleavage? Flaunt a gorgeous décolletage with -

A beautiful strapless bustier in silk and lace
A demi bra, matching panties and garter belt set
A sensational satin nightgown with a plunging neckline 
Does she have toned arms? Showcase them with - 
A pretty lace teddy with spaghetti straps
A strapless bra or corset

A silk or satin and lace trim camisole set with spaghetti straps
Fabric Facts
Did you know that soft, lightweight and yummy fabrics like silk, satin, stretch lace, and organic cotton are all great choices that are luxurious favorites that feel wonderful against the skin and very popular?
What Is Your Sweetie's Lingerie Personality?

Looking for style ideas and inspiration? A fun way to avoid disappointment and get a better handle on their intimate apparel favorites is to determine her style personality.
How? Ask yourself, which actresses, celebrities or supermodels does she admire? What's their style? Casual? Dressy? Here are a few to get you started -

Feminine - Is she a girly girl like Paris Hilton, Nicole Kidman, or Cameron Diaz who loves frills, lace, and delicate romantic chemises and long satin nightgowns?
Glamor - Is she a Sex In The City glamour gal like Sara Jessica Parker, Marilyn Monroe, or Jennifer Lopez who loves to be noticed in dramatic leather lingerie, rhinestone bras, chemises with tie sides, and sexy baby doll lingerie styles?
Girl Next Door - Is she the ultimate girl next door like Hayden Panetierre, Julia Roberts, or Audrey Hepburn who is more comfortable in crisp cotton sleepwear and romantic intimates with just a hint of lace?
Classic Beauty - Is she a classic beauty like Catherine Zeta Jones, Angelina Jolie, or Scarlett Johansson who favors sophisticated silk lingerie, satin nightgowns, and cashmere?
SHOP NOW