How To Choose Kids Robes
FTC Disclosure - If you make a purchase by clicking a link on this page, we may receive a small commission. There is no cost to you, and this does not influence our content. 

---
Kids robes often get swept under the fashion radar. Parents and caregivers often think of bathrobes as an adult only lingerie undergarment. However, these luxury robes can also provide fun, function, and comfort for even the littlest members of a family!
Terry cloth robes are a great way for kids to dry off after a bath or shower, and are also great for wearing around the house or patio after a swim.

Kids Robes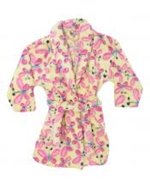 Think of kids and toddler bath robes like belted towels.
The thick cotton fabric absorbs moisture, and the belted design means that adults don't have to chase a wiggly child around with a towel for half an hour. Everyone wins!
Because children are typically active and boisterous, kids robes should be make from a sturdy fabric that can handle rough wear.
Terrycloth is the obvious choice, since it's thick, soft, and does an excellent job of absorbing water.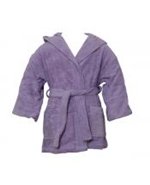 Just like popular womens robes terrycloth kids robes are also available in every color under the sun, and in a wide variety of fun prints and patterns.
While some parents prefer crisp and cool white, cream, and pastels, in an effort to avoid obvious wear and tear and stains opt for darker or even brighter colors.
Many children love wearing a wrap robe emblazoned with their favorite television and movie characters.
The next most popular fabric for children's robes is flannel.
Flannel is as warm as terrycloth; however, it tends to repel water rather than absorb it.

Flannel sleepwear and robes are soft, warm, fairly inexpensive and easy to care for.
However, since flannel is a synthetic intimate apparel fabric, any robe you consider must be treated with a flame retardant chemical to prevent the possibility of melting and burns during a fire.


To ensure proper fit of kids and toddler robes, read the sizing information thoroughly.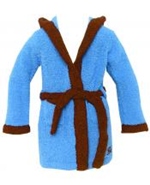 Since styles can vary, if possible, bring your child to the store to try on a robe or sleepwear before purchase.
If buying from a website, measure your child and compare those measurements with the website's size chart.

Long robes should not drag on the ground; a long robe is a big tripping hazard for children and even adults.
The sleeves should also not go past the wrists. Longer sleeves can easily become dirty, and also make it difficult for a child to pick up objects and open doors.
And of course children should always be supervised when wearing a belted robe to guard against choking.
Consider purchasing a robe with an attached belt.
These robes have the belt sewn into the back of the robe, leaving only the front ends free for tying. Plus, since the belt is attached, it is less likely to be lost.
While this does not completely eliminate the choking hazard, it reduces it greatly.