*FTC Disclosure - If you make a purchase through a link on this site, we receive a small commission at no extra cost to you.*
Girls Sleepwear - Popular Styles And Fabrics That Are Easy To Wear

Girls Sleepwear is without doubt, one of the hardest working, functional purchases that we make for our little ones.
Whether it's popular Disney princess nightgowns, pajama sets in their favorite movie characters or bathrobes with unicorns, horses, or other fun details, investing in sleep wear they look forward to putting on at bed time makes for a happy home.
Below, we take a closer look at popular style and fabric fundamentals.
Girls Sleepwear - The Style Fundamentals

Footed Pajamas
Uniquely designed with cozy comfort in mind, footsies or footed pjs are a cozy girls sleepwear option with long sleeves and long bottoms.
They have a front zip and non-skid soles designed to minimize slipping.
Available in warm, comfy materials like micro-fleece and flannel, they're a wonderful choice for keeping warm.
---
Tip – Footed pyjamas are fun for the whole family. Opt for bold bright colors and festive prints for every occasion from family photos and get togethers to the holidays and pajama parties.

---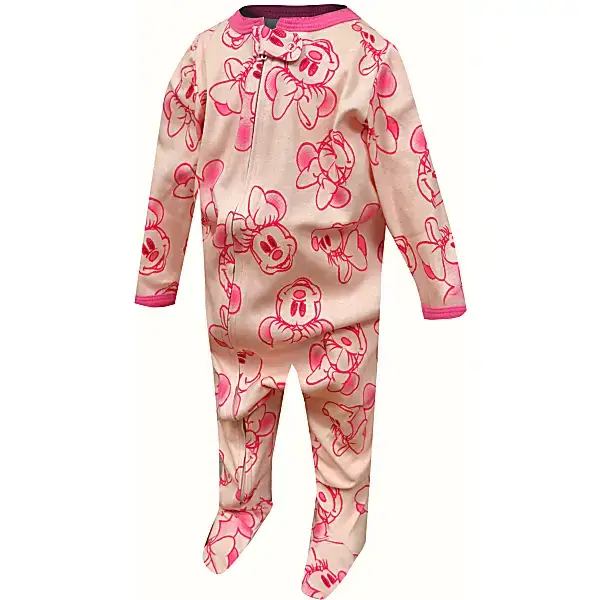 FOOTED PAJAMAS
Night gowns
A time-honored favorite, long and short nightgowns for girls are the go-to style for all ages.
Also known as a nighty or gown, this popular one-piece style resembles a large over-size shirt that covers the knees and is a more relaxed alternate to onesies and pyjamas.
Night gowns come in simple pull-over styles and are super easy to put on.
---
Tip – Lightweight fabrics like cottons and moisture wicking fabrics are ideal for summer wear.  Heavier fabrics such as micro-fleece, polyester and flannel are great for the winter months.
---
Pajamas
If adorability were a fashion contest, pyjamas—whether they're matching tops and pant sets or mix and match prints and patterned separates – would win the race every time.
Pjs come in classic, trendy and holiday styles to suit the seasons and every need, and are a wonderful pick for everything from sleeping and lounging to watching Saturday morning cartoons.
---
Tip – Looking for cool summer options? Try lightweight cotton pyjamas with short sleeves and matching shorts. For winter, long sleeve top and long pant sets in cosy materials like flannel and fleece make it easy to stay warm.
---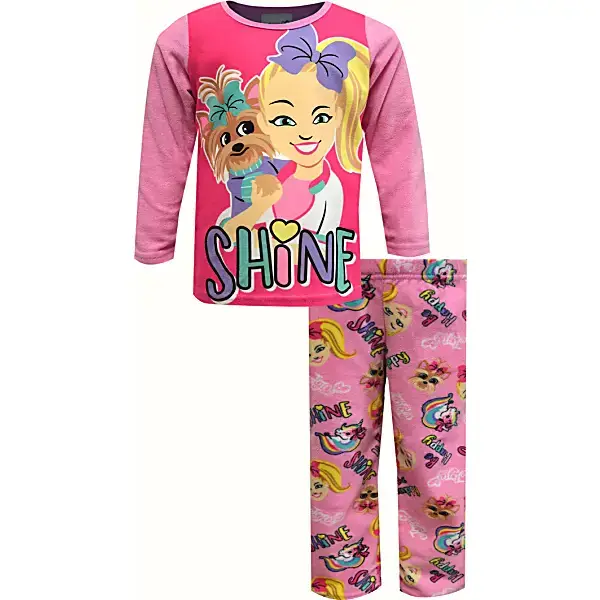 GIRLS PAJAMAS
Girls Sleepwear - The Fabrics
Cotton
The king of natural fabrics, cotton is one of the best options when it comes to breathable fabrics that are eco-friendly and comfy cozy.
Available in a wide range of choices – from organic cotton to polyester combinations, it is soft on the skin and lends itself to virtually every sleep wear style.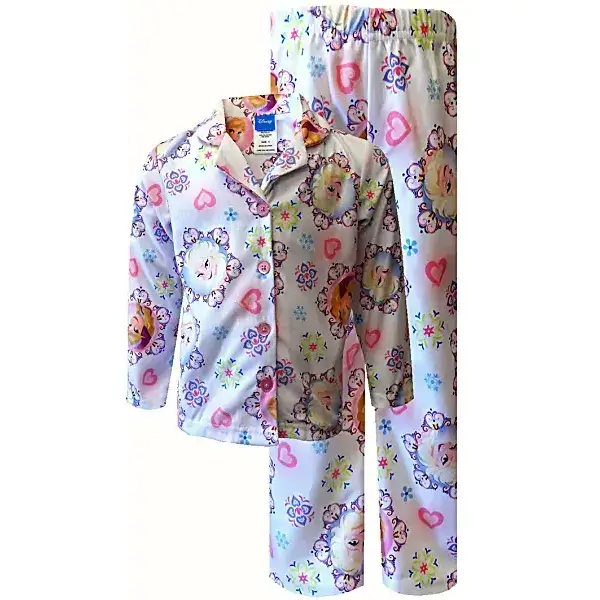 ---
Satin
A man-made tightly woven fabric that comes in shiny shimmering colors, satin offers a touch of pizzazz to sleep wear.
Wrinkle-resistant satin does not offer the breathability of natural fabrics and can be quite warm as it tends to hold heat.
---
PRINCESS NIGHTGOWN
Flannel
Flannel is a synthetic fabric and is well known for its colorful plaid and tartan patterns. It is a popular choice for the fall and winter months.
While cotton flannel is a thicker fabric that is designed for warmth and has a soft, cozy feel, it can be prone to shrinkage and pilling.
Polyester
With a reputation as wrinkle and stain resistant, polyester is a synthetic material that is widely used in girls sleepwear.
Available in a wide variety of fun prints, patterns and colors, it is quite durable and holds up well with minimal shrinkage.
Did You Know?

There are safety rules for children's sleepwear sizes greater than nine months. They must be flame resistant or tight fitting. 
The Dos And Dont's
Do – Dress your child for the season – Cotton pajamas, satin and charmeuse are ideal for summer and footsies, nightgowns and two-piece pajama sets are perfect for winter. Dress your child appropriately, while keeping the room temperature in mind.
---
Don't – Buy oversized pajamas – Kids grow fast and while it may be tempting to buy sleep wear that's a few sizes larger, avoid it as it can be unsafe for your child. Only buy fitting sleepwear and avoid anything that is too baggy.
---
---
Don't buy sleepwear with bows, large buttons or frilly flaps, or anything that looks potentially unsafe, especially if your child is still very small. Buy age appropriate sleepwear only. Avoid sleepwear that could pose a choking hazard.
---
Do – Make it fun – Kids love playing in their new sleepwear and may want to wear it all day. Make it fun for your daughter by choosing accessories that match the sleep wear theme, such as a great robe in the same color or slippers.
Animal themes are also very popular – buy a stuffed animal to go with nightgown or pajamas, or a matching nightie for her favorite doll.