*FTC Disclosure - If you make a purchase through a link on this site, we may receive a small commission on the transaction - at no extra cost to you.*
The Best Full Figure
Push Up Bra Secrets Exposed
Full Figure Push Up Bra - Hands down, in the world of lingerie and intimate apparel, there is nothing sweeter than a confident curvy woman who celebrates her shape in a pushup bra and matching panties.
Designed to enhance a fuller figure, this beautiful bra style is padded and cleverly angled for maximum cleavage and chic sophistication.

From getting the right bra fit to choosing the best padding and coverage, read on as we reveal the secrets of one of our favorite bra styles and how you can ace the push up bra for an amazing look designed to impress.
Full Figure Push Up Bra: Fit It Right
Many women make the mistake of thinking that in order to maximize the push up look they need to wear a bra that's super tight. That's simply not true.
Avoid the discomfort and fear of busting out of your bra when you choose a push up style that fits properly. The right fit means your bra should be flattering, comfortable, and still give you all the oomph you're looking for.
A bra that's too tight will cause unsightly lumps and bumps that you never knew existed, while a bra that's too big won't give you the support or boost that a full size bust needs.
Full Figure Push Up Bra Styles Are Flattering
Many types of bras have push up qualities, and knowing the different options will let you pick the right brassiere for your shape.
Balconette, or demi cup bras are flattering on just about any body, and they look beautiful on fuller busts.
The trick is finding the right bra style, which will be dictated by the clothing you intend to wear it with, as well as the amount of cleavage you want to show off.

Full Figure Push Up Bra Coverage Is Pretty
Style Secrets...
Most push up bras have discreet inserts made of foam, gel or even water that mimics the look and feel of natural breasts.
The advantage to inserts (called cookies or petals), is the flexibility to add or remove additional padding to your clothing, which means you can wear them with more than one outfit.
If you prefer a little more coverage with your bras, opt for a full cup style that provides the sophisticated push up look.
Many women often make the mistake of thinking that full coverage bras need to be frumpy or matronly, but this is no longer true.
Today, there is a fabulous selection of bra styles within the push up bra category that are tailor made for just about every need.

Look for bra cups that cover the sides and upper portion of your breasts but have a plunging cut centre that pushes the breasts together. These bra styles provide the support you want, with a luxurious look, without sacrificing comfort.
Opt For Padded Bras With Side Focus
Petites usually want bras that enhance the overall size of their bust. Full figures more often than not don't feel the need to make their breasts appear bigger than they are.
Strategically placed padded inserts along the sides will enhance a larger bustline with  the push up look they crave without adding to their cup size.
Look for styles with padding at the outer sides of the cups only. The rest of the cup should be lightly molded for a smooth and seamless look that makes the most of a curvy physique.
Push Up Bras
Opt For A Specialty Full Figure Push Up Bra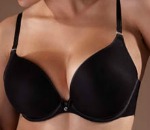 For a great full size push up bra that checks all the needs of a large bust, it's usually best to skip the mass retailers and head to specialty lingerie stores.
Chain stores generally don't cater to larger cup sizes, while lingerie boutiques carry more options and a greater range of bra sizes.
It's also a common assumption that specialty bras are more expensive, but this isn't necessarily true. Even high-end shops will often carry basic bra styles that are more affordable, which is perfect if you want a push up bra without breaking the bank.