Full Figure Bras For Women
FTC Disclosure - If you make a purchase by clicking a link on this page, we receive a small commission. There is no cost to you, and this does not influence our content. 

---
Full figure bras for full figured women can really make or break the look of an outfit. Many modern women are unknowingly wearing wrong bra sizes or the wrong types of bras for their body type and breast size.
Fixing these issues can instantly make clothes fit more attractively and comfortably. And, they can also improve a woman's posture and make the bust line appear firmer and higher.

Full figure bras are brassieres with full cups; they provide full coverage to the breasts.
Many women today purchase demi cup bras (those whose cups only cover the demi or bottom portion of the breast) because these bras are so frequently seen in advertisements.
But, even a bra that looks amazing on a plus size lingerie model isn't always the best choice for a woman with a different body type.
This is no insult aimed at the consumer: rather, it is an acknowledgment that women with different body types look best in different bra styles.

Plus Size Bras
Full Figure Bras For Every Shape

Many women may have problems wearing demi bras because the cut of the bra cups slices across breast tissue horizontally, creating a bumpy silhouette under clothing.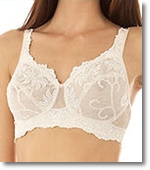 Full figure bras for fuller breasts correct this issue because they cover the entire breast; the silhouette under the shirt or dress is smooth, without the unattractive bumps that are often created by these half bras.
Many full bras are also available in the minimizer style. Minimizer bras fully cover each breast and compress the bust so that it appears up to one full cup size smaller.

Full bras can be worn by women with any size breasts; minimizer bras are specifically intended for very buxom women who may have trouble finding tops that fit correctly because of the size of their breasts.

Minimizer Bras
---
Wearing a minimizer bra can help button-up tops and blouses close properly (and stay closed!); these bras can also help avoid the unattractive horizontal stretch lines that can be seen across the bust of a stretchy shirt that is just slightly too small for the bust.

Full Bras
The minimizer bra provides a woman with a flattering, more shapely silhouette that brings the breasts more in proportion with the rest of the figure.
Most full figure bras for buxom women have underwire support for maximum uplift and control. However, certain manufacturers also put out full bras without underwire.
These brassieres usually have molded cups; some have no wires at all, while others eschew the metal in favor of plastic or other composite materials that are said to be more flexible and comfortable than the metal wires.

Full figured bras without underwire have long been the domain of small-breasted women, since these consumers typically require less support to keep their bustline looking firm and elevated.
In the past, large-breasted women have had to deal with uncomfortable plus size bras because that was all that was available in their size.
Thankfully, modern lingerie undergarment technology has made binding and uncomfortable brassieres a thing of the past; however, it is necessary to wear the correct bra size to enjoy the benefits.

Leave full figure bras for every shape
and return to beautiful lingerie