First Bras For Preteen And Teen Girls
First bras, which have become a favorite of young girls and their parents are known by several different names. The most well known and popular name is the training bra, starter bra or bralet.
Also known as a preteen bra, this brassiere for young girls has come to symbolize a new level of maturity in a young girl's life, as well as a new stage in her physical development.
As they begin to develop, most young ladies are very sensitive about being teased about their changing bodies and self image.
So, it's a very good idea (and a wise one too!) to save the embarrassing bra stories for a later date when your little girl is a little older and feeling more secure about herself.
Choosing the best bra to make young girls feel comfortable is an important step in encouraging a healthy body image and building self esteem, so it's important to take it seriously.
To make the bra shopping trip a little easier, we've included a few easy tips that show you what to concentrate on when you're navigating lingerie for teenagers and preteens.

First Bras

A young girl's first training bra is usually a lightweight and stretchy cotton bra with a bit of lace or satin trim, or a sporty number with a touch of lycra.
Pretty smooth and seamless satin bras are also a very good choice. Look for fabrics that are soft and comfortable. And, it's always nice to include a few matching preteen lingerie panties.

Matching panties are a great opportunity to show young girls the importance of coordinating their training bras with what they wear, and taking pride in themselves.
Matching womens boyshorts, tap panties, and lingerie bikinis are all good alternatives to plain cotton underwear.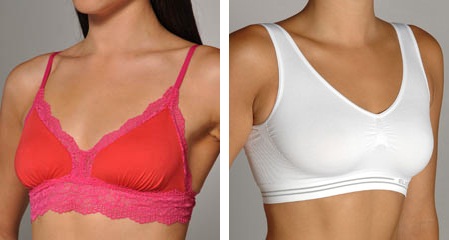 Bra Sizes
Figuring out how the different bra sizes work isn't as hard as it seems.
There are two parts to a brassiere size. The first part, A, B, C, D, DD, etc., represents the cup size.
The second part, numbers like 32, 34, 36, 38, etc., represents the band size.
For example, a 32a means the breasts are an A cup; the 32" band goes all the way around and hooks together.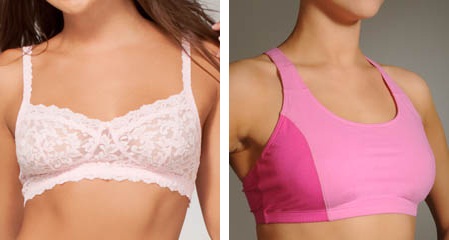 For more information and a full description on determining bra size, check out our comprehensive bra size calculator guide.