First Bra Insiders Guide
The first bra - also known as a training bra or starter bra is a big step for young girls, preteens and teens.
Training bras and preteen lingerie symbolize a new level of maturity for them, and a new stage in their physical development.
Helping your daughter choose a comfortable and stylish training bra is an important part in helping and encouraging a healthy body image and building long term self esteem.
Knowing how to put on a teenage bra is easy with a few quick tips. Here they are...

How To Put On A First Bra

- Step One -
Loosen the brassiere straps to their maximum length. Unhook the back of the brassiere. Slip both arms through straps.
Lean forward into the bra cups, then attach the hook at the back.
If this is too difficult, then fasten it from the front, and turn it around.
Be careful not to yank or strain the elastics and pull the straps over your shoulders.


- Step Two -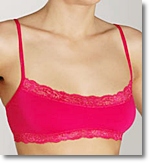 Lean forward into the brassiere and bring the band (for wirefree bras) or underwire (for underwire bras) to the chest and gently position each bra cup around the breast.
If need be, reach into each cup with the opposite hand and bring the breast into a comfortable position in the cup.
The center part or bridge should be firmly against the chest, and the cups should surround the breast tissue comfortably and not crush it.


Training Bras
- Step Three -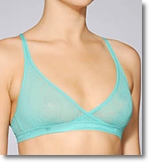 Attach or fasten the back closure. Most training bras have hook and eye closures.
Opt for a comfortable but snug position that allows the bra band to stay all the way around the rib cage.
If the band rides up it could be too loose or the material could be worn out.



- Step Four -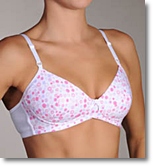 Adjust the shoulder straps to a comfortable position. The straps should keep the bra cups snug, not dig into the shoulders.
This is very important - do not over tighten!
If the back starts to ride up or show an indentation, loosen the straps to a more comfortable level.


Preteen Lingerie Links

The First Bra - This first bra guide offers plenty of great bra shopping ideas and helpful lingerie tips and advise for girls training bras, preteen and teen lingerie.

Lingerie For Teenagers - Depending on her personality, there are intimate apparel bras, panties, slips, and nightgowns for young teens that fit the sporty type (a teen sports bra is a great choice), the cheerleader type, the girly girl (look for preteen lingerie with a touch of lace), and so much more.

Preteen Bras - Preteen bras (also called training bras) are brassieres that cater to smaller bra cup sizes and are intended for use as lingerie for young teens.

Teen Lingerie - Whether you are shopping for yourself or for your daughter the teen lingerie guide can help you shop for training bras, preteen bras, teen panties and just about any type of teen lingerie.