First Bra Gallery
First Bra Gallery... When it's time for a young girl or preteen to buy the first bra, training bra or teen lingerie, it helps to have some valuable information before going on the first big shopping trip.
First Bra Gallery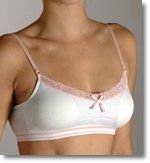 When a girl is ready for a training bra it can confusing and embarrassing for her.
Young girls can be ultra sensitive when it comes to the changes in their bodies developing and maturing, so it is important to be kind and most importantly, patient.
The first and most important thing to consider when looking at training bras and lingerie for young teens is fit.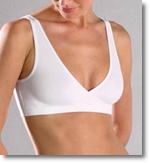 No matter what kind of fabric preteen lingerie or teen bras are made of, or how high quality they may seem to be, they will be quickly buried in the back of a girl's closet if they don't properly and comfortably.
Here's a quick preteen lingerie tip - teen bras that fit well can improve a young girl's posture enormously, and if it fits comfortably, you can bet they'll be more apt to wear it.


First Bra Gallery
---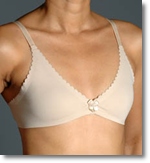 T-Shirt Bras - are great first bras because they do not have contours or seams on the cup. They have a smooth outline and are typically very comfortable.
This teen lingerie often comes with a bit of padding and can keep the nipples from showing, if this is something that you are concerned about.


---


Teen Sports Bra - are great bras for girls who are feeling a little shy or a little nervous about worrying about "real" training bras.
This preteen lingerie style is a great choice since they are generally made of soft fabrics with a lot of stretch and support to them.



---

Underwire Bra - is a brassiere with an underwire cup. This style works well for larger breasts and allows the brassiere to stay snuggled close to the body while offering a bit of definition and support.
This brassiere maintain its shape, but it may take a little practice to wear. Some girls find it uncomfortable, while others love the support it offers.


---

Beautiful Lingerie  >  The First Bra Guide