*FTC Disclosure - If you make a purchase through a link on this site, we may receive a small commission on the transaction - at no extra cost to you.*
3 Demi Bra Myths That Are  Surprising And Strange
Demi Bra - Don't let common myths and misconceptions scare you away from trying one of the most beautiful bra styles around – the demi cup bra. This bra is a must have for any lingerie wardrobe, and it's a great style that's much loved by both the wearer and the lucky viewer.
Demi cup bras (often called half cup bras or half bras) are beautiful, supportive, utterly feminine, and should be part of your bra collection if they aren't already.
We're here to set the record straight by giving you the truth behind these strange myths and will surprise you with how easy and versatile this half bra style is: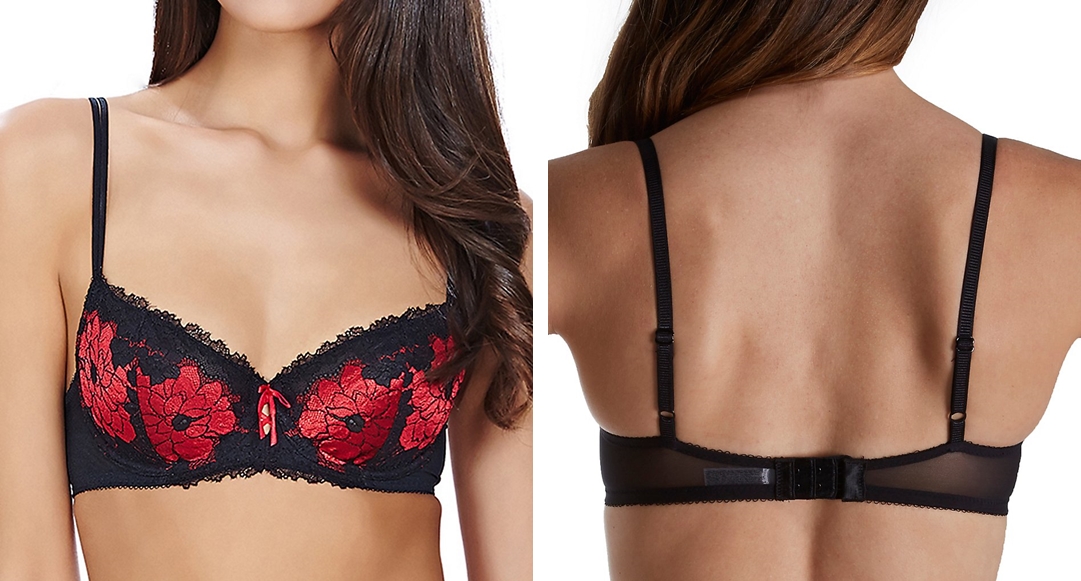 You Need To Have The Perfect Body For A Demi Bra

Get real! First of all, no woman has the perfect body, well not unless you're Elle Macpherson, and second of all, this myth simply isn't true.
Small busts will love the boost they get from demi bras, especially with strategically placed padding at the bottom of the bust to create even more cleavage.
Full figured sizes? No worries, they're perfectly supported by the underwire frame and structure from below the bust, and their curves are accentuated front and centre.

Average sizes love how the half bra fits and flatters their figure, creating just enough cleavage and a gorgeous shape.
No one needs to have a model's figure, fit into a specific size, or have the right body type to rock a demi cup bra.
 These Types of Bras Are Only For X Rated Looks

Sure, demi cup bras are famous for boosting the bust so that your cleavage takes a starring role, and they're a must-have style for a sexy luxe look. But, the half bra has more versatility than just working for sultry situations.
Choose a beautiful pastel shade in all over lace for a ladylike look, clean and simple jewel toned satin for classic feminine types, ultra soft cotton for sporty women who want a look that's a little more sassy, or printed half cup bras for those who favor a fun and flirty style.
These bras can work with any woman's personal style and are part of a complete lingerie wardrobe that works from everyday wear to an beautiful ensemble.
If you do want to increase the sweet sex appeal of a half bra, look for mesh or lace cups with more detailing, and pair with sexy panties and garters instead of everyday underwear.
The half bra's look can go whichever way you choose, depending on the style you choose and how you wear it with your other pieces.
Beautiful Lingerie Tip
Since these pretty bras are cut so low they're virtually invisible under clothing, especially when you opt for a seamless cup.
They often have supportive boning on the sides, underwires for lift, and light padding much like push up bras. And, they often come with wider set bra straps.
 This Bra Style Isn't Great Under Clothing

If you think demi bras are for the boudoir only, you're mistaken.
This common myth has women thinking that they need demi bras for romantic encounters, and separate bras for every day wear.

Half bras are perfect under any clothing, especially when you choose silky smooth microfiber bra cups that become invisible under any fabric.
The right fit means you'll have a sleek figure with just the right amount of cleavage to be tasteful for everyday situations.
Choose a style with convertible straps and pick neutral colors to take your half cup bra into ultimate versatility territory. Forget your notions that these gorgeous bras can't be worn daily, and make them a part of your favorite lingerie lineup.