*FTC Disclosure - If you make a purchase through a link on this site, we receive a small commission at no extra cost to you.*
Chantelle Bras For Your Needs - Picking The Best Ones
Chantelle bras for your shape - whether you're relaxing in your favorite summer dress or making an entrance in a stylish ballgown, it can't be overstated that one of the keys to looking and feeling fabulous is in choosing the best bras and lingerie that suit your needs.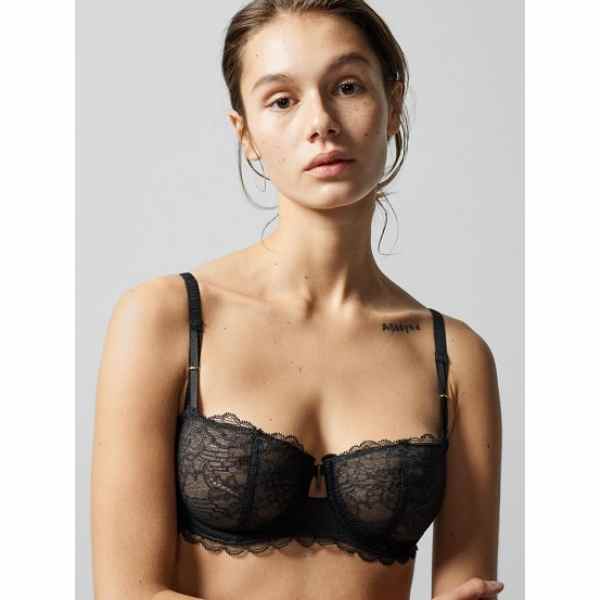 The secret to getting it right?
Knowing which lingerie brands offer a great selection of well-made bras with a comfortable fit.
Here, we take a closer look at several popular styles from one of the most respected brands in the world - the French lingerie favorite, Chantelle.

Chantelle Bras For Your Needs
Underwire Bras
Regardless if you are full busted or petite and want a supportive yet feminine brassiere that works for everything from casual everyday to formal wear, the underwire bra is the cornerstone of must-have styles.
Designed in France and manufactured 90% of the time in their own factories, Chantelle is the real deal when it comes to beautiful lingerie.
With a cornucopia of luxurious underwire bra options that offer a generous and supportive fit, Chantelle is known for that extra European panache that gives them a high-end look and feel.
As to styling and quality fabric? All of their bras go above and beyond the everyday ordinaire. From chic modern microfiber to luxurious lace, their bras are as timeless as they are flattering.
The best Chantelle bras for underwire style and comfort run the gamut from low cut to full coverage, addressing all bust types and preferences -
full coverage
t shirt
plunge
strapless
push up
minimizer
demi

plus size
sport
Curious about sizing? Dependent on the style, these types of bras are available in A, B, C, D, DD (E), DDD (F), DDDD (G), H and I (J) cup.
Fitter's Favorites include their C Magnifique, Rive Gauche, C Essential, and Basic Invisible collections.
Demi Bras

Are you looking for the perfect bra for a low cut top or dress, or maybe it's time to treat yourself to something pretty because it's your favorite day of the week?

Chantelle bras for any reason are a wonderful option designed to show off a fabulous décolletage while giving you the support that you need.
Did You Know?
The word "demi" is French in origin and translates to English as "half". It literally means half bra - the beautiful half of course - and is a Love of Lingerie favorite!
Worried that you don't have the right shape and / or size?  Most of us assume that a demi bra comes in just one style and is just petites, but this simply isn't true.
Demi bras can be worn by just about everyone from petites to plus sizes.
The trick to carrying off this beautiful bra is in knowing which demi style works for your silhouette.

You'll be surprised by the number of choices that Chantelle offers in demi bras that suit virtually every preference and silhouette, including -
unlined

lace

full

foam

seamless

When it comes to sizes, Chantelle bras do not disappoint. They offer a full range (depending on the style, of course) of sizes B, C, D, DD (E), DDD (F) and DDDD (G) cup.
Fitter's Favorites include their Champs Elysées, Manhattan, Walz, and Day to Night collections.
T Shirt Bras

If you are looking for a smooth, invisible look under your tops, shirts, sweaters and close-fitting clothing, T shirt bras are one of the best choices that you can make.
Do they work for every silhouette and size? Yes, that's part of the appeal of T shirt bras along with their functionality and practicality.
They're available in a variety of underwire and wirefree styles for every shape and are super versatile. Chantelle currently offers a T shirt bra selection of about 148, so there's lots of choice.
Since they are usually seamless, T shirt bras can be worn with just about everything in your closet, making them a go-to favorite to day to day wear.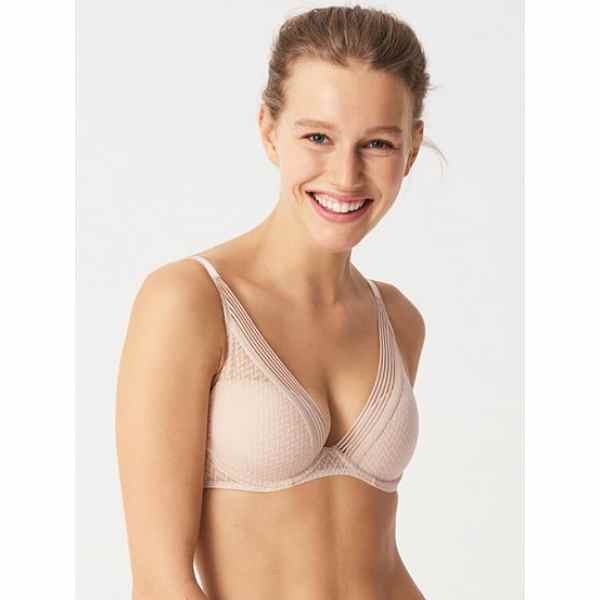 Chantelle bras for a stylish, comfortable fit and great support to consider? Here are a few suggestions -

seamless
front closure

back smoother
minimizer
spacer

full coverage
bralette
plunge
padded
Regarding sizing - one of the nicest things about Chantelle lingerie is that they are size inclusive.
Their T shirt bras are available (subject to the style) in A, B, C, D, DD (E), DDD (F), DDDD (G), H and I (J) cup.
Fitter's Favorites include their C Magnifique, C Idéal, and Basic Invisible collections.
Plus Size Bras
When it comes to the wants and needs of curvier and fuller-figures, Chantelle lingerie really shines.
With a focus on well-designed full coverage bras that provide excellent support and generous sizing, Chantelle takes it a step further with an extensive variety of styles that address the needs of shallow, average, full and harder to fit shapes.
How do they do this? 
Available in both underwire and wirefree bras, Chantelle bras for full figures and plus sizes are designed for a more comfortable fit with elements like multi-part cups, deeper underwires, easy-fit side panels and wider shoulder straps that help to minimize strap fatigue.
Want to know more? Glad you asked! Popular plus size styles offered by Chantelle include -
t shirt
spacer
minimizer
plunge

molded
sport
demi
padded
Chantelle DD+ and plus sizes (determined by the style) are available in DD (E), DDD (F), DDDD (G), H and I (J) Cup.
Fitter's Favorites include their C Magnifique, Rive Gauche and Basic Invisible collections.
With a fantastic range of beautiful styles, sizes, fabrics, and wonderfully French je ne sais quoi, there are Chantelle Bras for virtually every silhouette and occasion. 
Discover what French women have long known about beautiful lingerie - say goodbye to boring and live every day feeling sexy, fabulous and comfortable!