*FTC Disclosure - If you make a purchase through a link on this site, we receive a small commission at no extra cost to you.*
Why Chantelle Bras Are One Of The Most Popular Lingerie Brands

Chantelle bras are one of the most popular and beautiful lingerie brands on the market today. Loved by intimate apparel enthusiasts and newbies alike, there's a certain je ne sais quoi about this intimate apparel icon.
Why is it so popular?
Since 1876, when the company founder, M. Ganichon opened a tiny lingerie shop on the rue St Denis in Paris, Chantelle has become synonymous with elegant and quality French lingerie.

Starting small, the first types of bras were limited to sexy corsets, which were THE lingerie must have of the era.
In the late 1800's through the early 1900's corsets were the basic intimate apparel style that women wore.
Crushingly restrictive and uncomfortable, heavy corset lingerie fell out of favor and slowly gave way to lighter weight elastic girdles that in the beginning were made of uniquely designed elastic tubes.
This lightweight stretch nylon fabric allowed women greater freedom of movement.
Chantelle Bras Are Très Belle

Perfectly suited to the tapered clothing styles of the 1950's, Chantelle bras are a lingerie brand that became well known for their catchy advertisements that appeared on Paris subways and buses.
Pictures of beautiful French women wearing Chantelle panty girdles, promised, "La gaine ne remonte pas", which means "the girdle that never rides up" were everywhere. Women were hooked.
During the 1960's the world of fashion was evolving yet again, and women became fascinated with the uniquely French "pret-a-porter" or ready-to-wear fashion.
Paris was the epicentre of lingerie and intimate apparel style, and Chantelle bras were born. Intimate apparel silhouettes became softer and ultra feminine details were added to brassieres and girdles.
The 1970's brought a demand for practicality and comfort. Girdles became sleek and seamless, with simpler design.
Chantelle bras were changing to a close fitting natural look and supportive styles. It was during this period that Chantelle lingerie offered their most famous design to date, the best selling "fete" brassiere.
With its unforgettable and timeless circular lace pattern, the Chantelle fete bra has been one of those rare bras that has stood the test of time and is still one of their most popular bras today.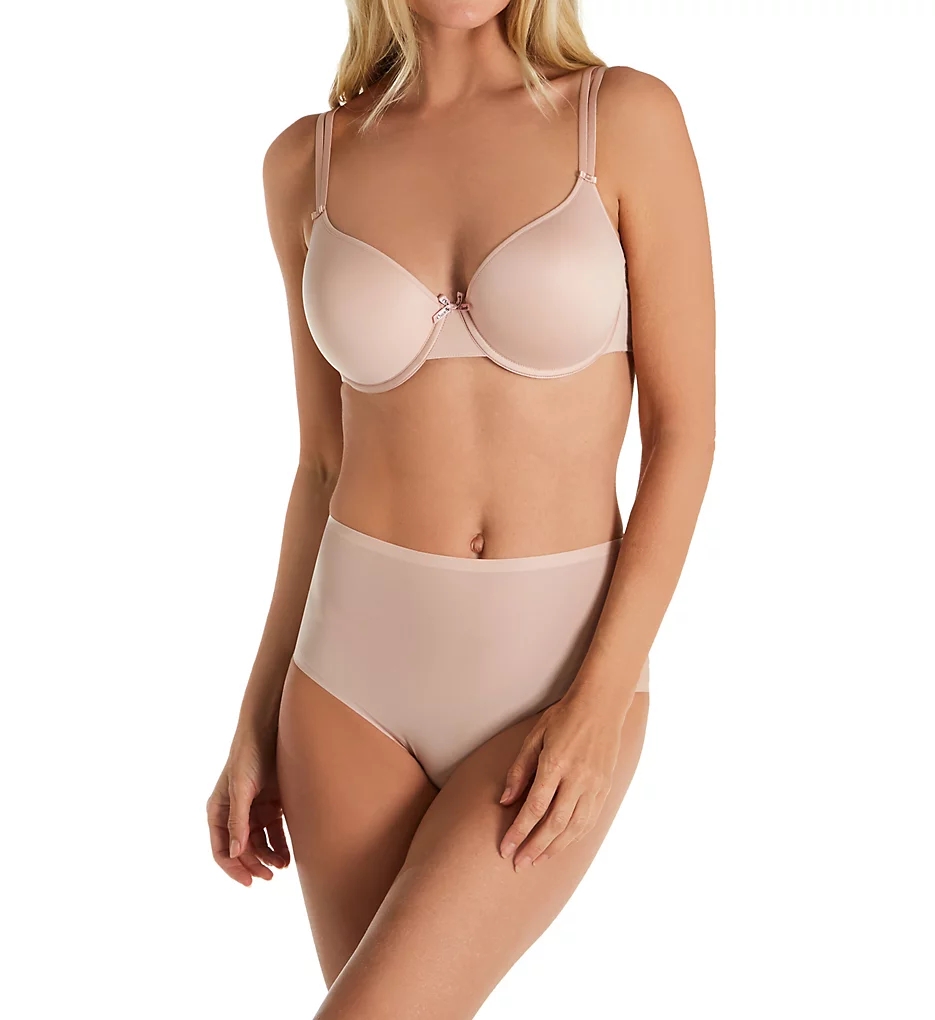 Chantelle Bras Are A Classic

The 1980's brought active women who worked out regularly and wanted luxury and a comfortable fit to show off their long hours in the gym.
Chantelle responded admirably with the range of "Les Cheris" that offered great support and sensual designs.
Sleek opaque and sheer bras and panties had flirtatious floral mesh insets that offered the best of both worlds. For women, it was finally ok to be strong while enjoying their femininity.
During the 1990's women entered the workplace in record numbers and the era became synonymous with the androgynous look.
Ultra sleek and sensual sheer lingerie fabrics pushed the boundaries of comfort and style, and microfiber was an instant hit with women everywhere.
The Essensia collection of bras and panties was designed to fit like "une seconde peau", or a second skin.
And, women who craved the lift of quality push up bras were introduced to the "Divine" collection, a sophisticated and feminine offering of innovative padded bras that women have come to love.
Today, bra shopping has never been easier. Fine lingerie retailers offer this beautiful French lingerie line in lingerie boutiques.
And, for those who know exactly what they want, Chantelle bras are also conveniently available online. And, as of 2007, Chantelle bras are also available in lingerie boutiques that carry the exclusive line.
From former supermodel IT girls like Stephanie Seymour to the everyday women who crave beautiful lingerie, Chantelle has come to epitomize the effortless elegance of French lingerie styling and quality.
With Chantelle lingerie, it's easy to love the intimate apparel you're in!