*FTC Disclosure - If you make a purchase through a link on this site, we may receive a small commission on the transaction - at no extra cost to you.*
Camisole Bra Expose - How To Look Amazing With 10 Easy Tips

Camisole Bra - We love love the double duty of a bra camisole and the way it fuses together two of the hardest working pieces of intimate apparel in your lingerie drawer.
It's easy to flaunt your best figure with these ten style secrets to guarantee an amazing look that has you covered, no matter what your size, shape, or needs are...
Camisole Bra Confidential: Don't Go Too Loose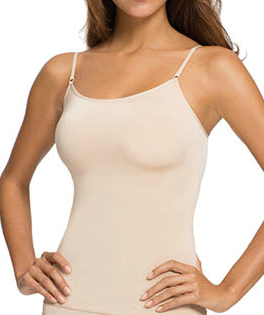 Choosing a camisole bra that's too baggy means it won't offer enough support to give you the lift and boost that your bust needs.
And, let's face it, a saggy look isn't flattering on anyone, no matter what your clothing or bra size is.
You'll instantly appear thinner and taller if you pick a camisole bra that fits properly and comfortably, particularly in the bra portion. Aim for a snug and smooth fit and you can't go wrong.
---
Don't Go Too Tight With A Camisole

And, the opposite is true too. Choosing a camisole bra that's too baggy means it won't offer enough support to give you the lift and boost that your bust needs.
A camisole that's too tight and too revealing does you no favors, particularly if you're wearing it to work. Avoid camis that pull or show unsightly lumps and bumps.
---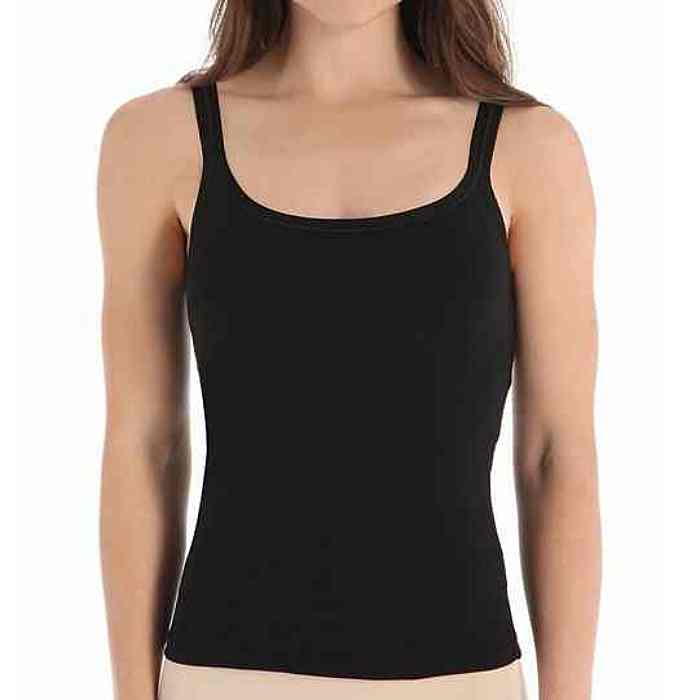 Elita Lingerie
Pick Supportive Cami Straps

Itty-bitty thin spaghetti straps are certainly pretty, but they do little to offer the support that most women need in a camisole bra, unless you're getting a boost from other elements of the bra. 
If, you have a larger breasts this can be a problem.  The solution?

Opt for cami straps that are cut a little wider (and softer) so they don't dig into your shoulders, and look for adjustable straps that won't slip out of place or loosen every time you move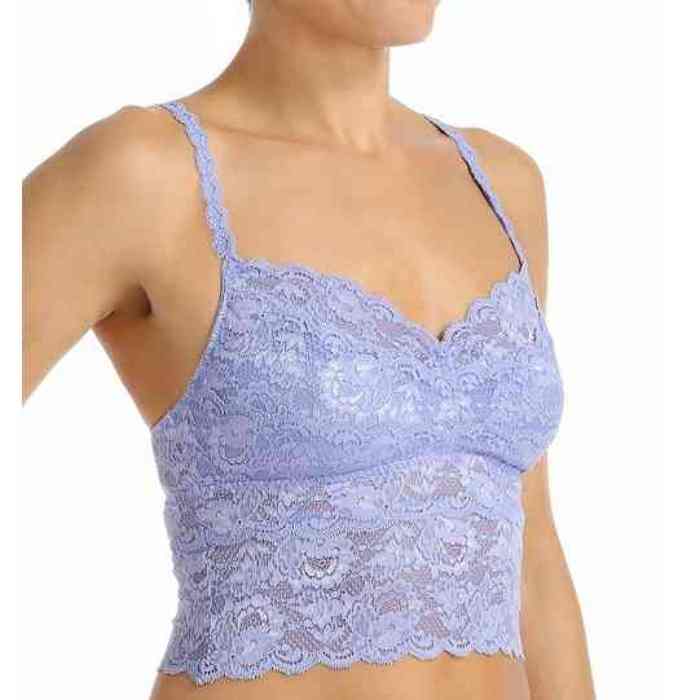 Cosabella Camis
---
Find A Flattering Beautiful Lingerie Bodice

If you want to mask a softer mid-section and avoid a camisole with a too-tight bodice, your first reaction may be to size up when you buy. But as we've seen, a loose fit doesn't do your figure any favors.
Choose a properly fitting cami and look for a flowy a-line cut, one with a corset style bodice, or an empire waist that helps hide a tummy.
Taller ladies should look for longer cuts to keep their torsos covered, while petites can choose shorter camis that won't hang out of the bottom of their clothing or cut off their proportions.
---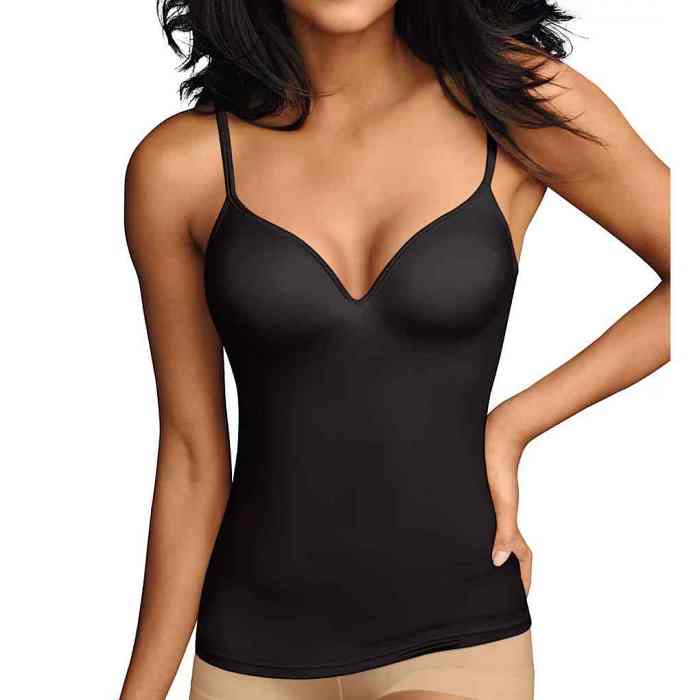 Choose A Slimming Lingerie Texture

   Carmen's Tip...

Having a variety of camisole lingerie in your lingerie drawer  can let you create a variety of sensational new looks.

It's easy to accent your assets (and hide your flaws!) with camisoles and cami sets with a few quick tips.

To distract the eye from lumps, bumps, or an untoned torso, choose camis in pretty textures and prints.
A lace or mesh overlay, rusching, or colorfully printed fabric are all great way to shift the focus to the style of your camisole bra and away from any figure flaws you want to down play.
---
Stock Up On A Few Cami Styles

Most women have a variety of needs when it comes to their lingerie, and camisole bras are no exception.
Choose basic black and nude versions, silky pieces that look pretty and are an easy fit, stretchy cotton styles for casual wear, and one or two in a color or print that makes you feel glamorous and beautiful.
---
Opt For Beautiful Lingerie That Enhances Your Assets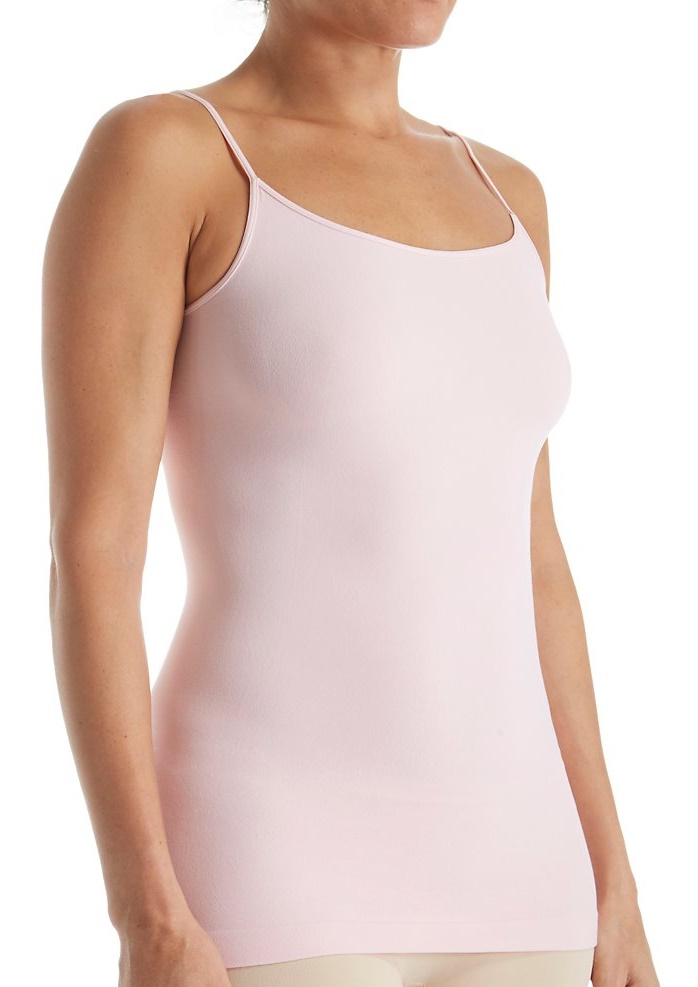 SHOP NOW
The camisole bra is the perfect way to get the support of a bra, the coverage of a camisole, and the body sculpting benefits of shapewear.
Choose a style with slimming panels to tame your tummy, hug your hips, smooth your back and keep your silhouette sleek.
These supportive inserts are usually a spandex combination and are considered a "must-have" by women who prefer a sleek fitted look.
Style Secret
Firm shaper camisoles with an inner tummy control panel are a great option for minimizing a muffin top.
Look for seamless styles in nylon / spandex with a great stretch for a smooth fit and flawless look.
Pick Your Best Intimate Apparel Colors

When choosing a colorful camisole, make sure you pick a shade that flatters your skin tone, and coordinates with the other lingerie and clothing in your workday and weekend wardrobes.
Not only will it serve as a lingerie undergarment, you be able to wear it under your clothing too!

A hue that compliments your coloring will guarantee that you reach for this piece on a regular basis, instead of getting stuffed at the bottom of your lingerie drawer because it just doesn't look right.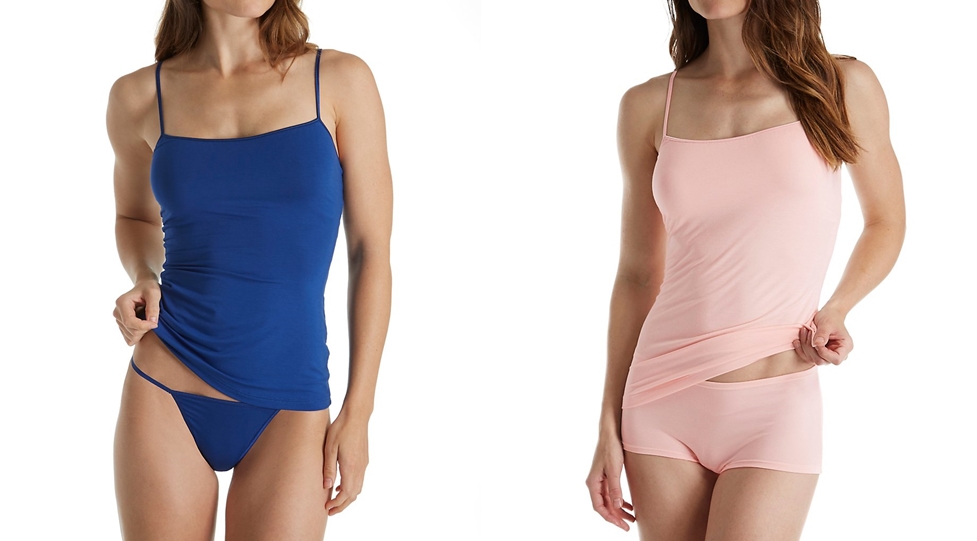 ---
Choose Your Bra Cups Wisely

If you prefer a little more coverage in your bras then look for a bra camisole with molded cups or padded underwire styles.
Many have removable foam cups, which gives you the choice to wear your cami with or without so you can change it up depending on the needs of your outfit.
---
Know Your Lingerie Drawer Essentials

We love bra camisoles for their versatility and variety - they range from practical to pretty, sporty to sexy - whatever you need.
Understand what you're looking for when choosing a cami  –
Is it to wear under clothing or to pair with you pajama bottoms?

As a tank top with a little extra support?

For yoga?

Knowing what you want and how you'll be wearing it will make shopping and choosing the right cami a piece of cake. Many lingerie lovers find the easiest solution is to have several different camisoles tucked into their drawer so they're ready for any occasion.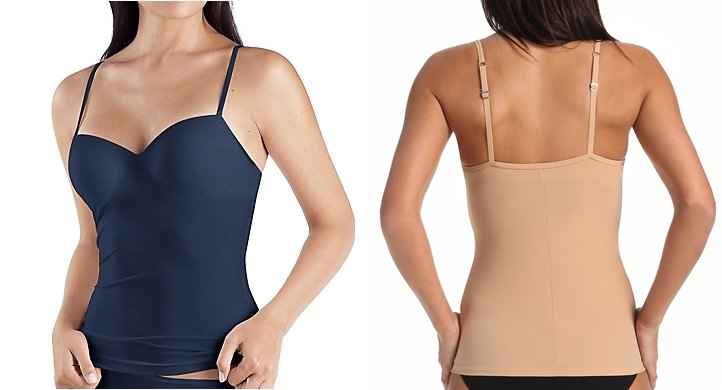 Cotton Camisoles