Brushed Back Satin Nightgowns
*FTC Disclosure - If you make a purchase through a link on this site, we receive a small commission at no extra cost to you.*
Brushed Back Satin Nightgowns - How To Choose The Best Ones

Brushed Back Satin Nightgowns - when it comes to women's sleepwear that's cozy and warm, night gowns in beautiful brushed back satin are at the top our nightwear list.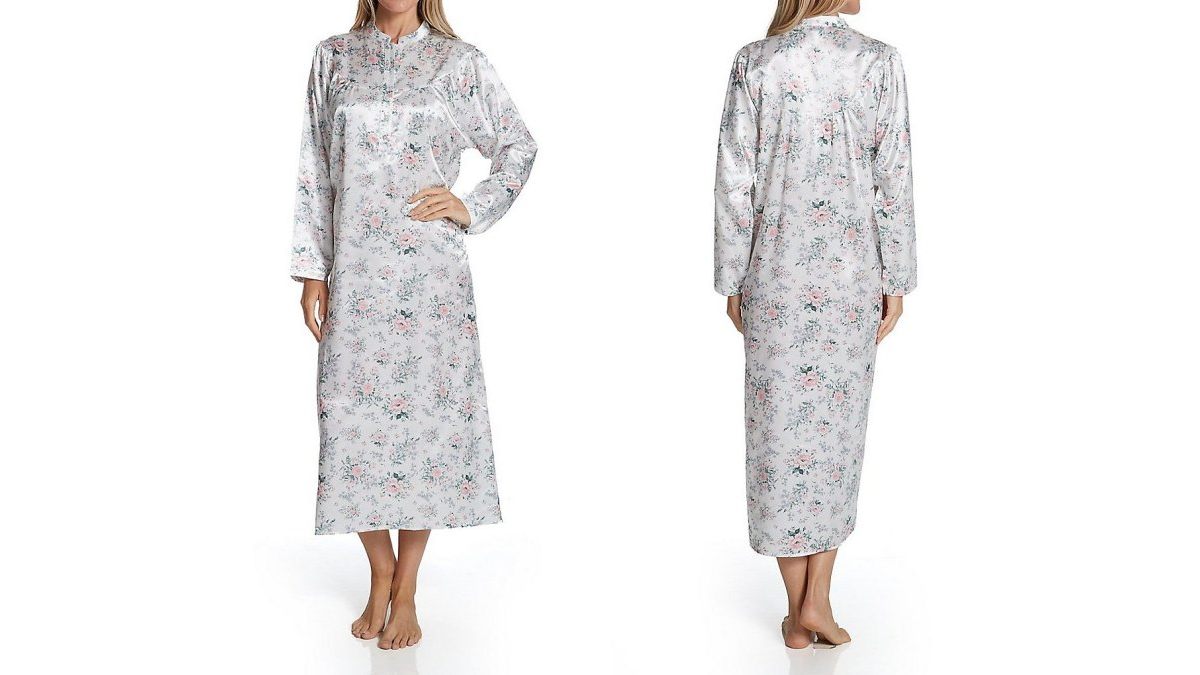 Offering an outer layer of woven satin and an inner layer of warm micro fleece cuddleskin, this sleep wear is designed to keep the warmth in and the cold out.
From luxurious long nightgowns to sensational nightshirts and everything in between, there are a multitude of satin styles and colours for every occasion, size, and shape.
---
Brushed Back Satin Nightgowns - Styles For Different Shapes

Pear Shape – when shopping for a pear shaped silhouette, the most important thing to consider with nightgowns, pajamas, or any kind of sleepwear is balancing a smaller top half with a fuller bottom and hips.
A well-designed style is the key to looking great, so narrow your search to ladies nightgowns with neckline or sleeve details that draw the eye upward.
Details like puffed sleeves, ruffled necklines, appliques, lace, or smocked necklines will keep the focus on the top half of the body and balance out the fullness of the hips, creating a beautiful hourglass shape that's just as poised as it is beautiful.
---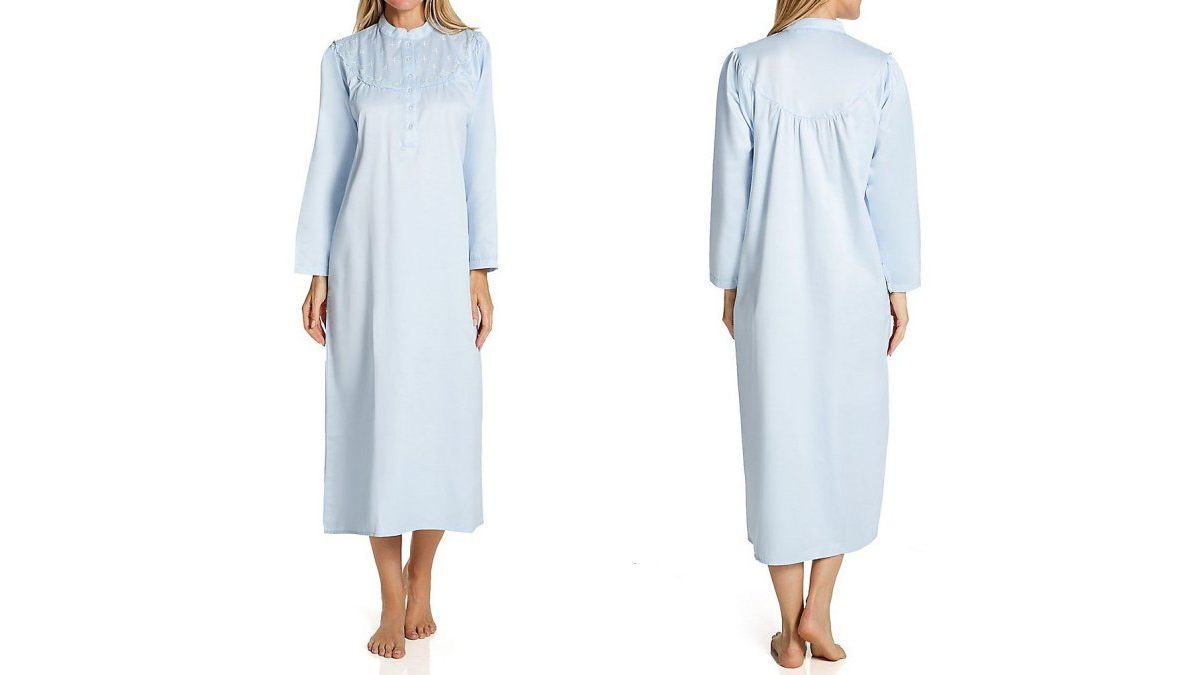 KAYANNA
Curvy Shape  – Full figured women can look amazing in brushed back satin nightgowns. A little known secret - the key to dressing well for women with curves and plus sizes is to not drown themselves in too much fabric or sleepwear sizes that are too large.
With a curvy shape it's easy to commit the faux pas of thinking that one needs to cover themselves in tons of fabric from head to toe.
The reality is far different - showing off those curves, and adding some definition to a silhouette creates a far more flattering look.  It's easy to achieve -
Look for womens nightgowns that show off the legs in a shorter length
Also, scoop neck styles with pretty detailing at the chest and collarbones, and nighties that have definition at the waist, either with a sash or a gathered elastic seam are great choice that create a complementary look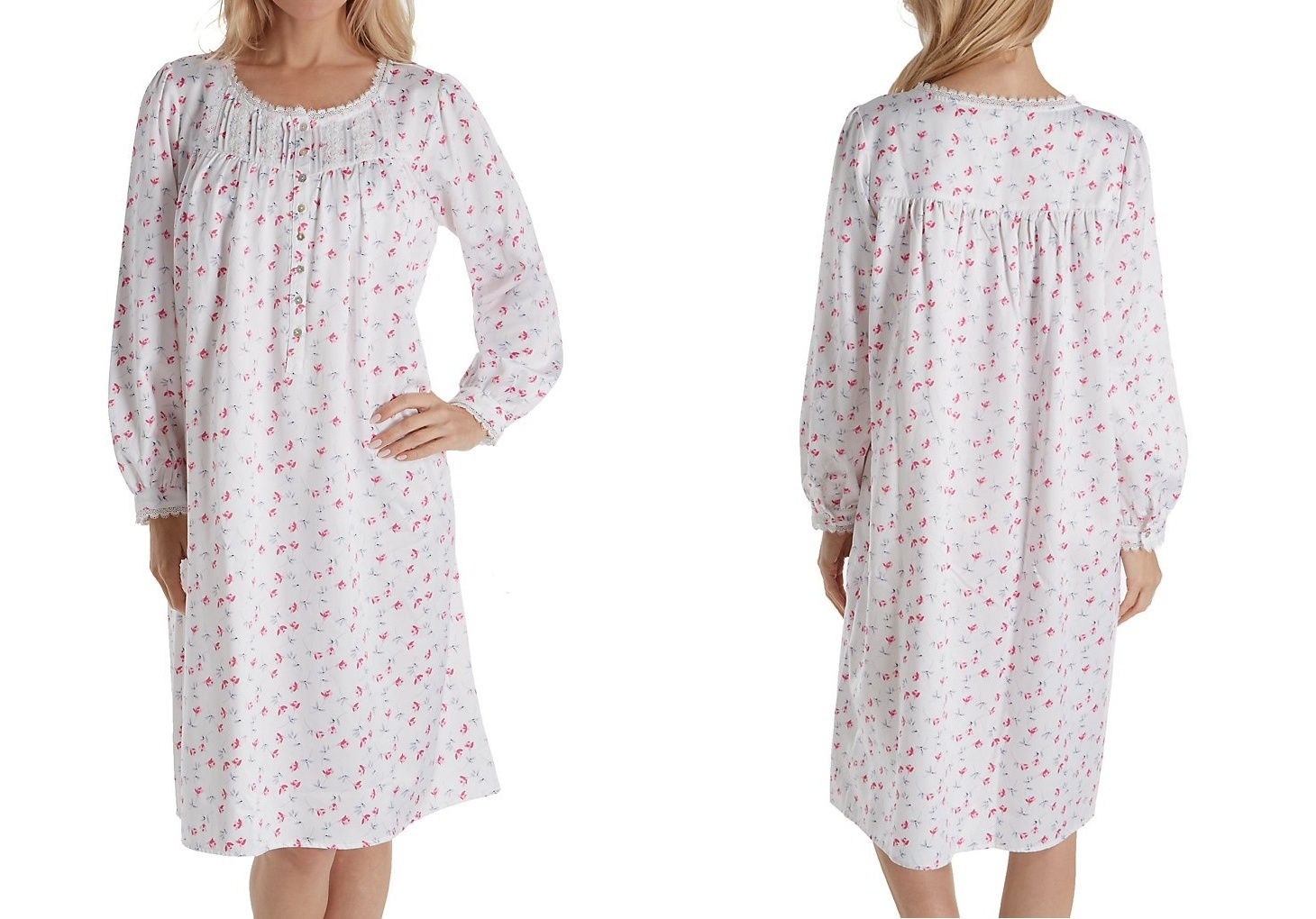 EILEEN WEST
Petite Shapes – from short nightgowns to long floor sweeping styles, petites look fantastic in a great range of nightwear styles.

Again, the trick is not to swath a smaller shape in too much fabric. Petite frames can quickly appear overwhelmed in any nightwear that's too large.
Instead, it's best to focus on elongating the body with shorter hemlines, and styles with dimensions that are proportionate or made for a smaller silhouette.  Anything that draws the eye in an upward motion will make petites look longer and leaner.
Things to avoid -
horizontal details such as stripes
seaming details that visually cut across the body
large prints that can easily overwhelm a small frame
Sleepwear Style & Size Tips
Satin is a tightly woven fabric with very little stretch.  This is important to keep in mind when considering sleep wear sizing.

Hourglass Shapes – hourglass shapes are lucky enough to wear almost any style of brushed back satin nightgowns or sleepwear style that they choose, but there are a few tips to keep in mind that will show off a curvier silhouette to advantage.
nightgowns that are cut on the bias and nip in at the waist

simple nightgowns with a well-proportioned top and bottom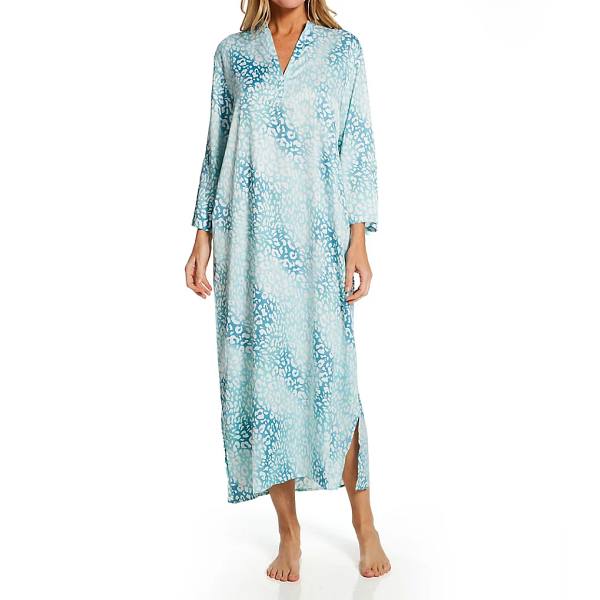 NATORI