Insiders Guide To
Brushed Back Satin Nightgowns
FTC Disclosure - If you make a purchase by clicking a link on this page, we receive a small commission. There is no cost to you, and this does not influence our content. 

---
Brushed Back Satin Nightgowns - If you're looking for sleepwear that's beautiful with a hint of luxury on the outside, and warm and cosy on the inside, this sensational satin sleepwear is the perfect choice for those cold winter nights!
Great for keeping you toasty and comfy, these womens night gowns are luxuriously soft and traditionally feminine intimate apparel.
What makes these long satin nightgowns (also known by the more affectionate term, cuddleskin) so soft, and why are they so popular?
These long nightgowns have a smooth silky exterior with a unique secret ingredient. They have a plush and warm cotton backing on the inside with a warm soft feel.
What could be better? Womens sleepwear that is warm and cosy on the inside and silky on the outside, so cuddly, you'll dream in comfort all night long...no wonder they're so popular during the fall and winter months!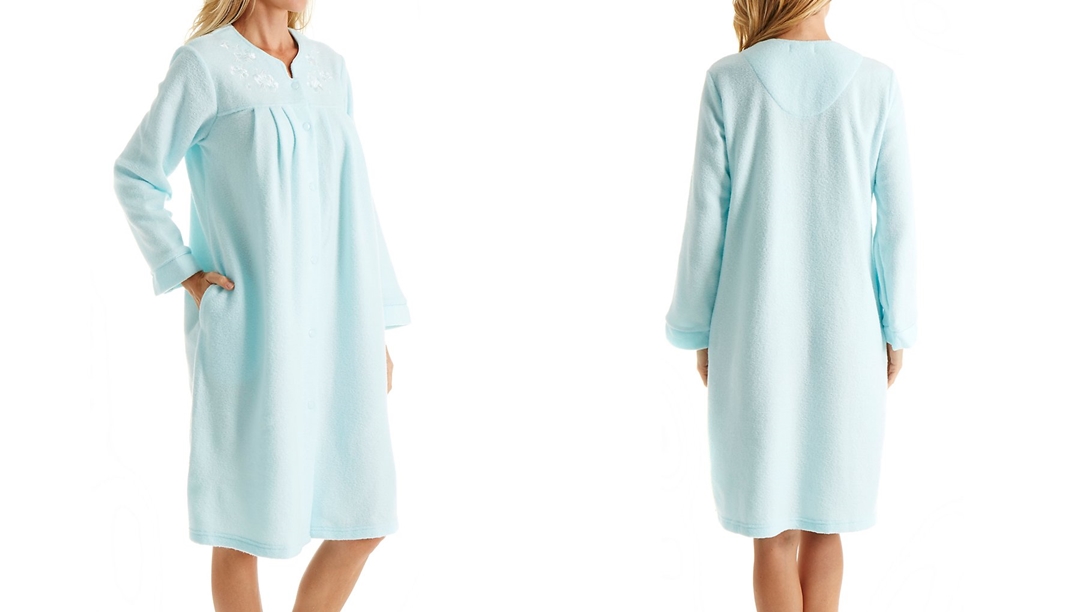 Beautiful Brushed Back Satin Nightgowns
If you're looking for the perfect gift for a person who has everything, consider these warm wear satin nightgowns. Warm, cosy, thoughtful and always in great taste, this romantic nightgown style remains very popular.
Traditional department stores have always been a good place to start shopping for lingerie.
Though, for the best selection, online lingerie stores can't be beat.
And, of course, online shopping for lingerie and intimate apparel on ebay clothing is like having a world of romantic nightgowns and robes at your fingertips!
The most popular and widely known brushed back satin nightgowns are Miss Elaine nightgowns.

Miss Elaine has a rather impressive choice of traditional satin nightgown styles, Victorian nightgowns, cotton flannel nightgowns, robes, womens pajamas and loungewear.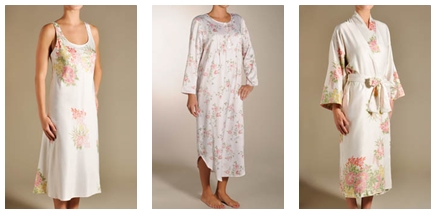 Nightgowns and Sleepwear
Satin Sleepwear Sizes
You'll probably want to choose a satin nightgown in a larger size than you normally wear, even though with other types of lingerie you would typically opt for regular sizing.
Why? A satin nightgown, especially brushed back satin is a very dense fabric, a polyester and cotton blend that has virtually no stretch.
You want to be able to move around and sleep comfortably rather being squashed and it being too tight, puckering or unflattering.
The choices in cuddleskin, brushed back satin and ladies sleepwear have never been so great.
Still not sure? Go ahead and take the plunge...as you cuddle up on those cold winter nights you'll wonder why you waited so long!

Beautiful Lingerie > Womens Sleepwear  > Brushed Back Satin Nightgowns