Bridal Undergarments To Wear
On Your Wedding Day
Bridal Undergarments To Wear On Your Wedding Day - Today's bride has access to an amazing variety of bridal bras, panties and lingerie garter belts to choose from all over the world. When it comes to brassieres, panties, camisoles and bridal lingerie, the sky is the limit!
However, there are several factors that a bride should consider in order to get the most benefit from bridal bras and bridal panties.
Just a few moments of planning can have a huge impact on the way the bride looks and feels on her wedding day.
Bride lingerie and undergarments should not be purchased until the bride has decided on her wedding dress.
Bridal Undergarments To Consider

This is because the cut, fit, and fabric of the wedding gown all play a role in deciding which bridal bra, bridal bustier or bridal corset and undergarments are appropriate.
After the dress has been purchased, undergarment selection can begin. The first item to consider is a crinoline.
These are sometimes called "hoop skirts," and provide layers of tulle and underpinning to give the skirt of a full-cut wedding dress extra circumference.
All crinolines are not created equal; some are rather modest and only provide a few inches of fullness, while others have multiple layers of fabric and plastic hoops that make a gigantic difference in how the wedding dress looks.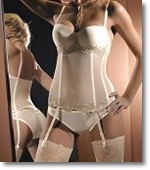 The crinoline must be worn to all dress fittings for precisely this reason; most brides purchase their crinolines from the same boutique as their wedding gown.

Bridal bras are the next bridal undergarments to consider. Many modern wedding dresses do not require a separate brassiere, as they come with included, molded bra cups and a structured torso that provides all of the lift and support the bride needs.

Many such gowns are marketed as having a wedding corset bodice that laces up the back.
Brides whose gowns do not provide this support will need to wear some kind of specialty wedding bra. When in doubt, choose a bra in a smooth fabric in a shade that matches your skin tone as closely as possible.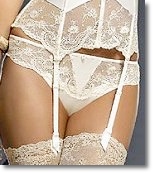 It is important to remember that the bridal undergarments to be worn on the wedding day are usually not the exotic lingerie worn on the wedding night.
This intimate apparel does not have to be sexy or skimpy, it simply has to provide the best look possible beneath the dress.
Very buxom brides may elect to wear a minimizer bra to help their dress fit more comfortably; brides with small breasts may take the opposite approach and opt for padded push up bras.
Because womens bras can significantly change a woman's bust measurements, the bridal bra should be worn to all dress fittings.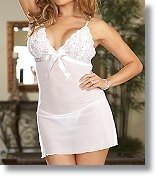 A dress that is tailored while the bride is wearing a basic bralette will probably not zip up completely if the bride tries to wear a push up bra on her wedding day.
The panties worn beneath a wedding dress should be comfortable and made from a breathable fabric.
Even in temperate weather, conditions beneath a wedding dress can get very hot and sweaty. Save the lace and sexy lingerie for later!
Gowns with full skirts can accommodate almost any panty beneath them. Tight dresses present more of a challenge, because the wrong type of panty can create ugly panty lines.
G string panties are useful in these situations, but if possible most brides elect something with more coverage.
A boy-short or tanga panties are an excellent option.
When in doubt about which bridal undergarments to buy, consult the sales staff at the boutique where you purchased your wedding gown.
The sales professionals can advise you as to which wedding underwear will help you look your most beautiful on the happiest day of your life.


Leave bridal undergarments to return to bridal bras

Return to beautiful lingerie