Bridal Nightgowns Are A
Honeymoon Lingerie Must Have
Bridal nightgowns are available in a huge array of bridal lingerie styles, fabrics, colors, and sizes to tempt every lingerie diva.
Brides-to-be have a fabulous variety of sexy nightgowns, classic romantic nightgowns, chemises and more to choose from.
Unlike bridal bras, bridal panties and bridal lingerie that are worn beneath the wedding gown, bridal nightgowns are far more exotic and ornate since they're worn after the ceremony and are intended for private wear.
If, it all seems a bit overwhelming, it really isn't. Brides-to-be have a couple of simple things to consider before deciding what kind of intimate apparel they want to wear on their honeymoon.
The first thing to consider is the bride's taste. Does she prefer simple or exotic? Secondly, does her husband-to-be enjoy?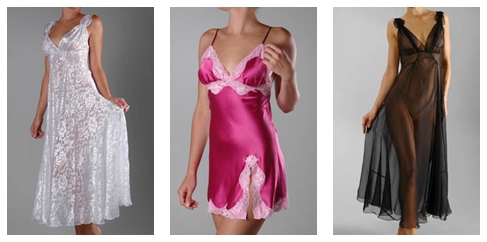 Bridal Nightgowns Are Beautiful

There is no right or wrong answer, it's really all about what a woman feels comfortable in; whether it is a lace and cotton nightgown or a sexy sheer nightgown everything is simply a matter of preference.
The stereotypical bridal nightgowns are fashioned in white or cream fabrics; cream is most flattering on complexions with yellow undertones, whereas white bride lingerie looks better on cooler skin tones.
Intimate apparel fabrics such as lace, chiffon, satin, and silk are extremely popular. A silk nightgown or satin nightgown is completely opaque, but both feel extremely sensual against the skin.
Brides who want to show a bit of skin beneath their night gowns may opt for bridal undergarments made from lace or chiffon instead.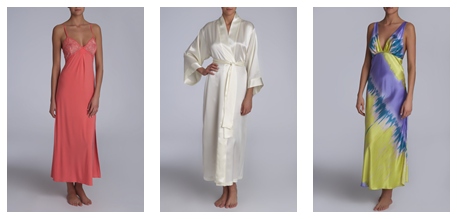 The babydoll nightie is flattering on all body types. Sexy babydolls have thin spaghetti straps and bra cups that are usually lined or molded.
Many have padded cups that bring the breasts together and create fabulous cleavage. The bottom of a classic silk babydoll or satin babydoll is frequently made from chiffon, and may be split up the center or side for a sexier look.
This helps draw the eye upward towards the breasts, which is great for women who may be a bit self-conscious about their stomach or thighs.
Another option for bridal nightgowns are long satin nightgowns that have a huge amount of vintage, silver screen glamour.
Satin lingerie is a universally flattering fabric that makes everyone look sexy; women who are plus-sized may opt for darker colors for an added slimming effect.
Long satin womens nightgowns often have spaghetti straps, but certain styles may have vintage-looking fluttery sleeves instead.
Many satin robes are sold in lingerie sets with a matching or coordinating belted satin robe.

These luxury robes are very useful to slip on when receiving a room-service order or if there is an unexpected knock at the door.
Another popular category of bridal nightgowns is the Victorian style.

Victorian nightgowns are usually made from cool and crisp white cotton, and fall to the floor; some styles even have a short train in the back.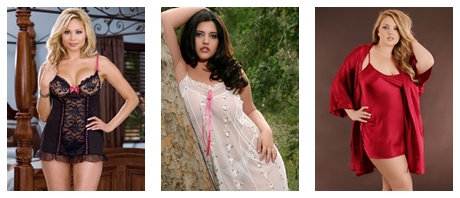 Victorian nightgowns are normally quite modest, although many have adjustable drawstring necklines that can be worn around the shoulders to increase their sex appeal.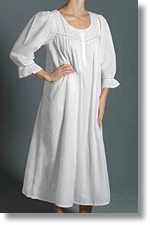 The Victorian style nightgown usually has long sleeves that end with a ruffled, elastic cuff; they may also have lace, ruffles, and buttons elsewhere in the garment.
Other Victorian cotton nightgowns are sleeveless and simple in design; these nighties are excellent choices for very hot nights, and are often sold with a simple white cotton robe for the option of additional modesty.
Brides who will enjoy a honeymoon directly after their wedding often pack a variety of bridal nightgowns for their journey.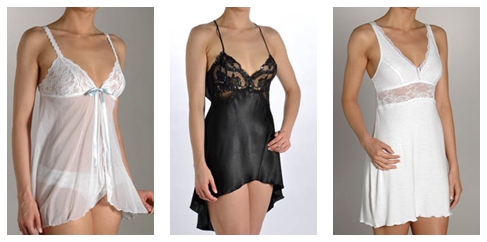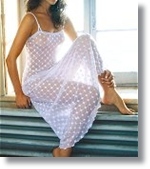 They may choose an elaborate bridal corset and stockings for the wedding night itself, but will often wear sexy babydolls, chemises, and other classic lingerie sets for the duration of their honeymoon.
Many grooms also present their new brides with gifts of honeymoon lingerie which is an excellent opportunity for the groom to show his bride the intimate apparel styles that he particularly enjoys, and for the newlyweds to enjoy them together.