*FTC Disclosure - If you make a purchase through a link on this site, we receive a small commission at no extra cost to you.*
Bridal Bustiers - How To Avoid Spending A Fortune

Bridal Bustiers - Slipping into the perfect wedding dress that you've so lovingly chosen, and enjoying those special moments before you meet your groom on your wedding day isn't just nice – it's absolutely glorious.

Even more gratifying - knowing that the bustier and bridal lingerie you're wearing under your dress did not cost a small fortune.
Without question – weddings are expensive.
Between the dress, makeup, manicure and jewelry – we're not even mentioning the other big ticket items – the hidden costs of getting married can quickly soar over the top - leaving little wiggle room for bridal bra essentials.

No worries. From shopping in advance and which fabrics to choose to where to search, and more helpful tips, here we've assembled the strategic shopping basics.

---
Bridal Bustiers - Shop Well In Advance

Take advantage of retailer's seasonal sales by starting your lingerie shopping well ahead of your wedding date.
Hone in on the styles that suit your wedding dress and those that you want to try, then wait for stores big sales, which often happen semi-annually.
Giving yourself lots of time means you can afford to wait and scoop up a bridal bustier and bridal lingerie when it goes on sale, instead of waiting until the last moment when there may be no discount.
---
VA BIEN
Did You Know?
These slimming undergarments are popular for structured and form-fitted bridal gowns.
The level of shaping and control that bridal bustiers offer is dependent on two major factors: the amount of boning and the type of fabric used.

DOMINIQUE
Choose Synthetic Bridal Lingerie Fabrics
While high-end fabrics like silk and satin are beautiful, they can be eye-wateringly expensive. An alternate that offers fantastic bustiers at a fraction of the price? 
Modern synthetic fabrics - they're a far cry from the stiff, itchy polyester of the past and offer tremendous value.
Examples include ultra soft microfiber, micro satin, and stretch charmeuse - all great choices that offer the special feeling of wearing luxurious lingerie on your special day, without spending a fortune.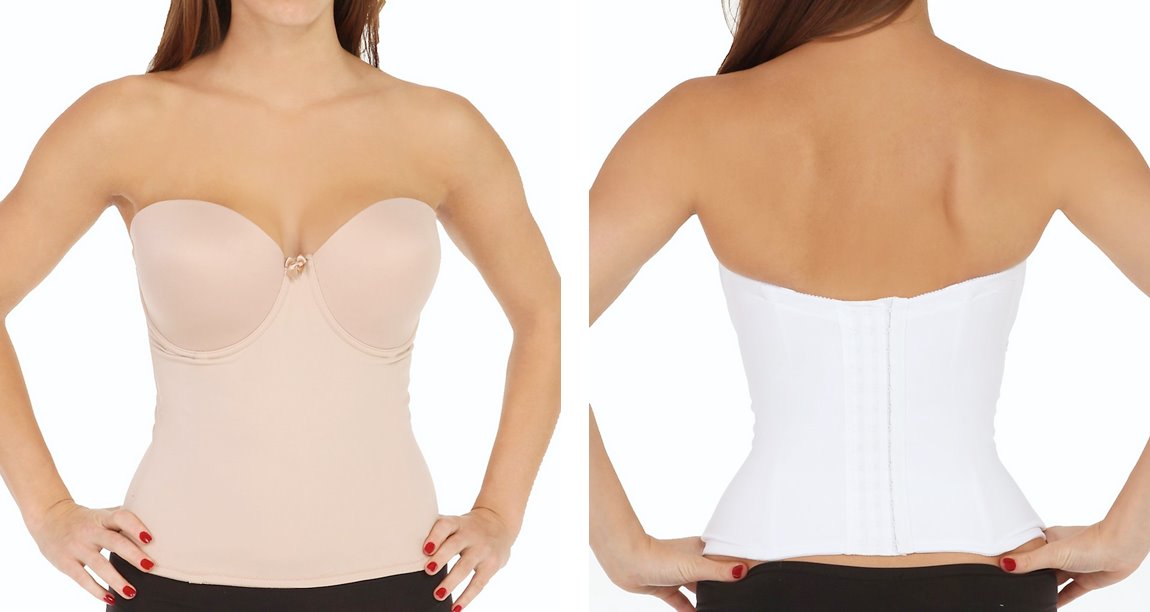 Don't Go Overboard On Bra Accessories
No one is going to see your bridal bustier, except your new husband, and chances are that he won't be looking at it for long.
Skip costly details like hand beading and hand appliquéd lace, which can easily drive the cost of your bustier through the roof.
Instead, save those lavish details for your dress and show them off to all of your guests.
A simple bustier style is a timeless choice that costs much less than an elaborate style.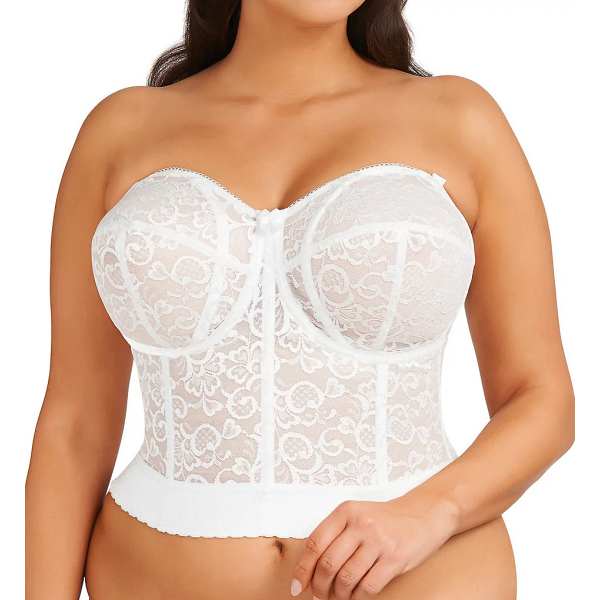 GODDESS
Shop Outside Traditional Bride Lingerie
Did you know that as soon as the word "bridal" is attached to something, the prices skyrocket because retailers know that brides will shell out a small fortune to feel special on their wedding day.
There's a clever way around this.
Avoid over-inflated prices and simply shop the regular lingerie section, looking for whites, blush tones, or shimmery champagne bustiers that have the same romantic and elegant look as bridal lingerie without the outrageous markup.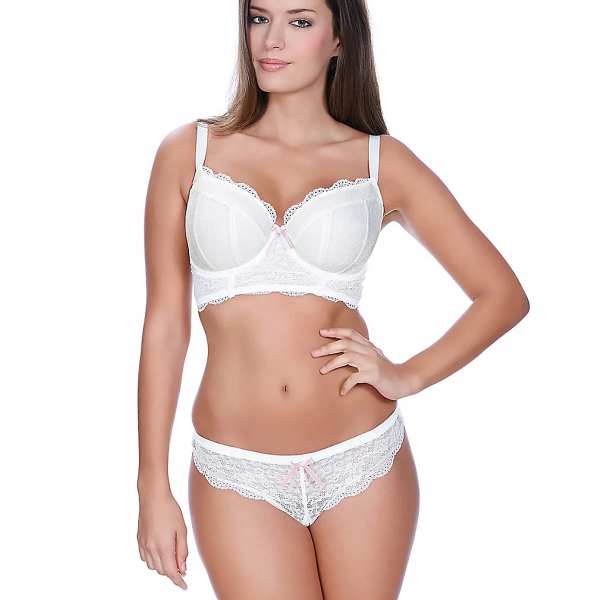 FREYA
Scour The Internet For Intimate Apparel
Be strategic. Hit the stores and try on several bustiers until you find the style and size you want - remember to take a photo of your dress with you. Then,  go home, get online, and search for the same style, size and color at a sale price.
With the Internet at your fingertips you have instant access to retailers all over the world who carry an amazing selection of lingerie brands.  The bonus is finding a store or online retailer offering the bustier of your dreams at a special price.
In addition, pay attention to special promo codes by signing up for sales alerts from your favorite online retailers.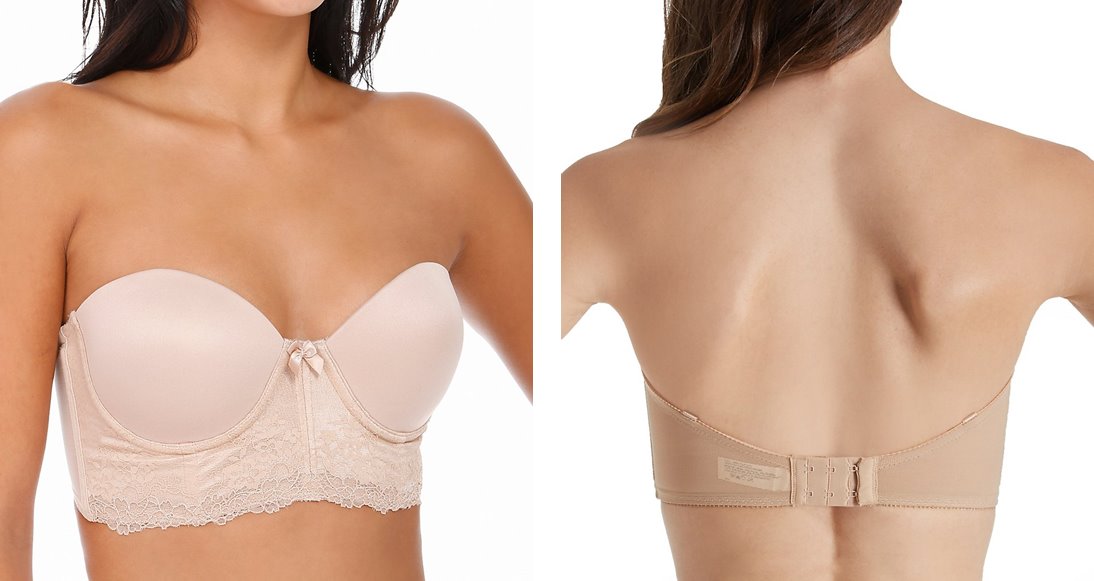 Don't Be A Lingerie Snob
Don't snub department store brands or mass retailers because you're set on wearing designer lingerie.
Many lower priced brands have bridal bustiers that are just as pretty as high-end designers, if you're willing to take a look.
Getting hung up on wearing designer labels means you can miss out on bridal bustiers that are just as lovely and do the job without inflated prices.
Avoid spending an epic fortune on your wedding day lingerie by staying open minded in your search for the perfect bustier.
LONGLINE BRAS