Insiders Guide To Bridal Bustiers
Bridal bustiers are an extremely popular bride lingerie style among brides who want a high degree of shaping and control beneath their wedding dress.
There are many types of bridal bras, bustiers, and bridal corset styles available. So, brides must consider their body type, the style of wedding gown, and the look they want when choosing the different types of bras available to them.
Most bustiers are strapless, long line bras that support and lift the breasts while providing shaping and compression of the waist and tummy.
Longline bras end at the waist. Longer bustier tops that reach the lower abdomen are normally labeled as basques.

Shop For Bustiers
Bridal Bustiers

The amount of shaping and control provided by bridal bustiers is dependent on two major factors: the amount of boning, and the type of fabric used.

Bridal bra styles with a high degree of boning usually provide the greatest amount of support, and this support is very rigid.
Such slimming undergarments and bridal bras are popular to wear under structured and form-fitted bridal gowns that are made of thicker fabrics.
However, control underwear or a heavily boned bridal bustier can feel very restrictive after hours of wear, and may grow uncomfortable by the end of a long and exhausting wedding day.
Furthermore, many modern wedding gowns have boned, structured bodices built directly in; in these cases many brides do not require additional bra support beneath these dresses.
The sales staff at the boutique that sells weddings gowns are often able to give excellent advice as to the type of bridal undergarments that will look best beneath it.
The type of lingerie and intimate apparel fabric used in bridal bustiers is the second major factor to consider.

Lace bras look romantic, but can be scratchy against the skin and visible beneath thin fabrics.
Many brides prefer a stretchy, soft lingerie fabric blend like microfiber that smoothes the skin and is invisible beneath the dress.
Bridal bustiers made from these fabrics often provide a high level of support and control that is less constricting and more comfortable to wear than heavier bustiers with rigid boning.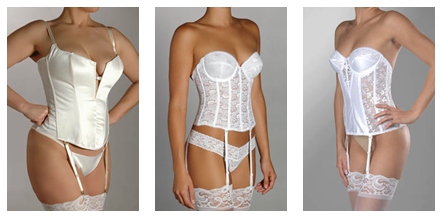 wedding gown is another important component in bridal lingerie selection.
For example, brides whose gowns have very low-cut backs should opt for foundation undergarments such as backless bras that can accommodate the cut of their dress.
It is also important to note that many types of wedding lingerie undergarments are sized differently than other types of lingerie.
Always ask the sales staff about the bra sizes used in their boutique, or consult a sizing chart.
Many women have strong emotional attachments to their clothing sizes and are very reluctant to purchase a different size.
However, there is absolutely no point in purchasing wedding underwear or lingerie that does not fit properly, because it will show through your wedding dress!
Unless you are familiar with the lingerie brand, any potential bridal undergarments, brassieres, corsets, and even panties should be tried on before purchase whenever possible.
If this is not possible, choose intimate apparel retailers with generous return policies so the wedding undergarments can be returned or exchanged if they are not compatible with the cut of the wedding dress.