Why Bridal Bras Are
A Bridal Lingerie Must Have
Bridal bras are specialty brassieres designed to be worn under a wedding dress or gown. These types of bras provide support and uplift.
Bridal bras are also meant to protect a wedding gown from sweat and skin oils, by placing a layer of comfortable intimate apparel fabric between delicate skin and potentially scratchy or uncomfortable dress fabric.

Bride lingerie brassieres are designed to provide all of these benefits while remaining absolutely invisible beneath wedding attire.

Bridal Bras Are  Specialty Bras

Depending on the style of the dress, it's often wiser to wear a nude or flesh-toned bridal bustier and bridal undergarments, as bright white bridal lingerie tends to show through, whereas natural and nude colored lingerie and intimate apparel is virtually invisible.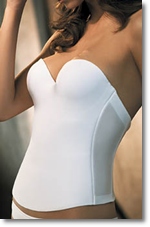 Bridal bras are varied, so what will work best for a bride depends on the bride's body type and the style or silhouette of wedding dress she is wearing.
Brides with small busts who usually wear petite bras may choose to wear a padded or push up bra that will increase the visible size of the bust and create alluring cleavage.
This is particularly true if the bride is wearing a strapless dress, as an enhanced cleavage will help the dress stay up and remain securely in place.
Buxom brides frequently select full bras or a minimizer bra style; these full figured bras compress the breasts and can decrease the bust size by as much as one cup.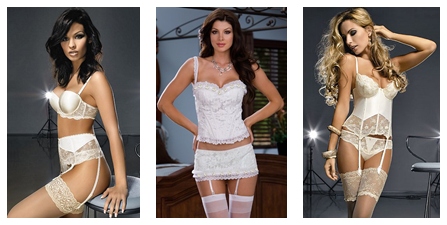 Opting for minimizer bras can help buxom brides have a smoother, more flattering silhouette. Brides whose dresses have a very structured torso or a bridal corset construction are frequently able to forgo wearing a bra altogether, since the wedding gown provides fantastic support by itself.
Ladies who do opt for a brassiere beneath a structured dress may choose a bralette, or a bra that has no underwire. These provide support and shaping but are less constricting than an underwire bra may be.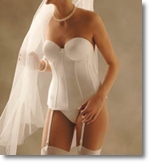 It is essential to pick out bridal lingerie before having the wedding dress altered. Why? Wedding dresses are customarily altered to fit the bride very specifically.
Wearing different undergarments during the fittings and on the day of the wedding can create great problems with fit and the appearance of the dress.
And, a different brassiere on the day of the wedding can even make the difference between a dress that zips up and a dress that does not.
Brides whose dresses are silky and close-fitting must ensure that their bridal bustier or bridal corset and undergarments do not create unflattering rolls and lines beneath the thin fabric.
Thicker shoulder straps and bra bands may help prevent the creation of "back cleavage".
Some brides elect to wear long line bras, which are similar to a wedding corset that closes with snaps or hooks instead of laces. Longline bras and bridal corsets smooth the entire torso to create an elegant shape beneath the dress.
Others may choose an all-in-one panty girdles; these step-in undergarments cover the breasts while shaping the torso, abdomen, and thighs.
However, an all in one panty girdle or body shaper undergarments may present difficulties for using the bathroom comfortably, especially taking into account the many layers of fabric most wedding dresses have.

Leave bridal bras are a bridal lingerie basic
and return to bridal bras

Return to beautiful lingerie