*FTC Disclosure - If you make a purchase through a link on this site, we receive a small commission at no extra cost to you.*
Which Bridal Bras Are The Best For Curves?
Which Bridal Bras Are The Best For Curvy Silhouettes?  We get it. Once you've chosen your perfect wedding dress, it may be tempting to bypass the bra shopping and simply make do with favorite bra.

But weddings and bridal gowns are special - all eyes are on the bride as you walk down the aisle. And, regardless of the dress that you've chosen, you may need a little more than your everyday bra can offer.
Style of course is super important - no one wants anything less than a beautiful bra on their wedding day. But also just as important is great support and structure - it's really the key to creating elegant and enviable curves in your gown.
Here, we take a closer look at five of the most popular bridal bras - for lift, support, structure and style - because looking good never felt so great. 
---
Which Bridal Bras Are Sensational? Let's Start With The Bustier

When it comes to a classic hourglass silhouette, the bustier packs a one-two punch that's hard to resist.
Not only do bustiers and corsets provide structured bra cups that boost the bust from below, they also offer body-sculpting benefits that a regular bra just can't compete with.
Boning and corsetry whittle the waist and shape the entire torso, while the underwire cups and added support underneath the bust gives your curves all of the hugging and lifting you need to flaunt an a beautiful silhouette.
---
Why Bridal Bras Are Important
It's a good idea to choose your bridal lingerie before your wedding dress is altered. Why? Wedding dresses are customarily altered to fit the bride.  And, wearing different undergarments during the fittings and on your wedding day can create great problems with the fit and appearance of the dress.
---
Strapless Bras That Support

Some of the prettiest wedding gowns are designed to show off a woman's most beautiful features - the shoulders and décolletage - and bridal bras are the perfect choice to deliver.
One of the most versatile styles strapless bras that can be worn long after your wedding day. And, if chosen properly, a strapless bra will support your bust even without the lift of bra straps.
Look for strapless bridal bras with boning at the sides, wide bands below the bust, underwire stability, and structured molded cups to contain your breasts and provide ample control from the front, back, sides and below.
---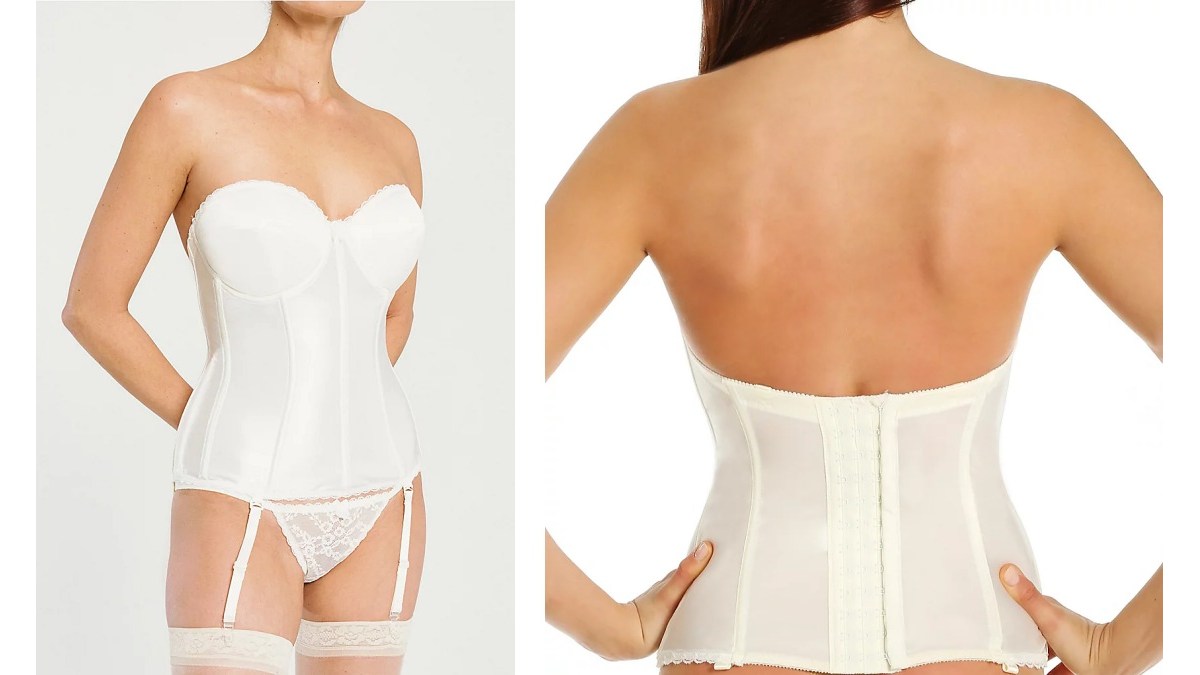 ---
Convertible Bra Advantages

Today's bridal designers aren't afraid to show off their creative flair in stunning gowns with unique and dramatic necklines.
A convertible bra is an excellent option for any configuration or style of dress. We love the multi-tasking strap options of a convertible bra, and plus size figures won't have to sacrifice any of the structure of a great bra.
Your full figure will look fantastic in one shouldered, strapless, crisscross, plunging necklines, or any other one-of-a kind dress design when you slip a convertible style on underneath for maximum support and style.
---
---
Longline Bra Allure

If the full waist coverage of a bustier is too much for you, or won't work with your gown, consider wearing a longline bra.
This glamorous, vintage inspired style is a cleverly designed hybrid between a corset and a regular bra, with a wide cut band that covers the rib cage.
The extra coverage below the bust helps boost and lift a plus size bust from the bottom up, creating the indispensable combination of comfort and a romantic retro style that makes any bride feel extra elegant and beautiful on her big day.
---
The Commentary on Colors

Many brides opt for nude or flesh-toned bridal undergarments. Why?  Traditional white bridal bras are quite bright and can easily show through, whereas skin tone and nude lingerie are virtually invisible.
---
Backless Bra Basics

Whether your gown's back is swathed in a sheer overlay, delicately decorated with lace appliqués, or is cut ultra low, a backless bra will keep you covered and supported so that you can pull off any gorgeous style.
Opt for either a bustier style bra that offers full coverage at the front and only a low cut strap across the back, or choose adhesive cups that cover only the bust.
The trick with any style of backless bra is to look for molded cups with enough coverage and structure to support your curves from the front, and sturdy underwire to hold your silhouette in place from below.
Experiment with several styles in order to find the perfect one that works with your dress and your curves to give you the most beautiful silhouette.
---