*FTC Disclosure - If you make a purchase through a link on this site, we receive a small commission at no extra cost to you.*
Bodysuit Women: 4 Easy Ways To Get What You Want
Bodysuit Women.  Though its popularity may have ebbed and waned over the years, the bodysuit has become a very versatile piece of lingerie that has crossed over into the everyday realm of clothing and shapewear.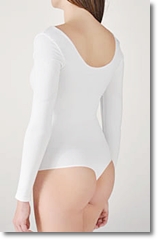 It can be worn for a multitude of different occasions - from office to weekend wear.
This multi-functional womens lingerie is a real workhorse.
It can be worn under business suits, skirts and trousers for a tailored and professional look that is polished enough for work.
And, bodysuits can also be worn under khaki pants, jeans, leggings and skirts for a more relaxed look on weekends.
To get the best look and fit there are a few things to keep in mind. Let's take a closer look.
SHOP NOW
A Bodysuit Women Feel Comfy In? It's All About Stretch

While traditional cotton or lace may seem like an obvious choice when buying a bodysuit, these fabrics on their own sometimes tend to bag, sag or gap – which leads to constant tugging and an uncomfortable fit.
The solution? 
For the smoothest look along with the best possible fit, look for bodysuits that have a comfortable stretch.
The key?  Styles that have a touch of spandex that offer a springy / elastic fit that molds to your shape and best of all, stays in place.
Not sure? Take a quick look at bodysuits or any other close-fitting lingerie that doesn't have spandex and compare it to those that do.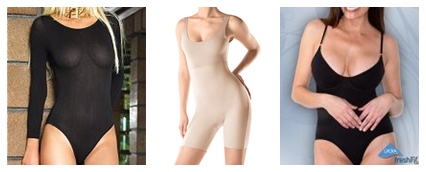 Notice the difference? Those without don't have a snug, smooth fit, plus they tend to gap in unexpected places.
The benefit of cotton, lace, or any fabric with a touch of lycra / spandex is it conforms to your shape and becomes a "second skin", moving as you do comfortably throughout the day.
Essentially, it acts like a gentle elastic and eliminates sagging and gapping.
Did You Know?
Cotton / spandex blended fabrics tend to be more casual while laces, microfiber and newer fabrics like bamboo are dressier.
A Bodysuit Women Can Wear More Than Once? 

Perhaps the most important shortcut in choosing the right style of bodysuit women love is the right neckline. Bodysuits come in a surprising variety of styles that include different necklines and sleeves. Ask yourself -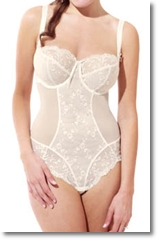 What kind of neckline do you want? A traditional scoop or round neckline is the most flattering and popular style that most women choose. Other basic necklines include square, V neck, and boat neck.
Choosing a neckline is also a matter of taste and your current wardrobe.
For example if you've decided to buy a bodysuit women love for skirts and pants, and you plan to match it with a sweater, blouse or blazer, be sure to opt for a similar neckline.
So, for example, if your cardigan has a round neckline, then opt for a bodysuit with a round neckline. Nothing looks worse than a mismatched scoop necked cardigan over a bodysuit with a square neckline.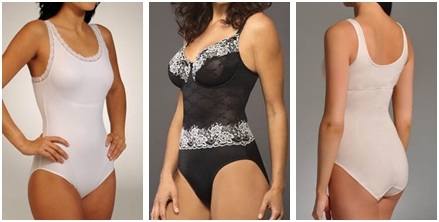 What Else To Consider With Bodysuits?

Finally, while some women prefer bodysuits with a full panty, many find full bodysuits can be quite hot as the day wears on. For this reason alone, a lot of women prefer thong bodysuits over full bodysuits simply because they're cooler.
Thong bodysuits are much like thong panties, they come in a variety of styles that range from slightly covered, similar to tanga panties, to more risque g string that leave the buttocks completely exposed.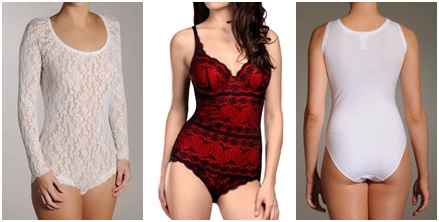 Style is a matter of personal taste, so one particular style of bodysuit is not necessarily better than another.
Keep in mind though that while thong bodysuits are great for summer wear, they may not be appropriate under sheer skirts and pants that might leave you exposed and embarrassed when you least expect it!
No matter which bodysuit you choose, here's a lingerie tip that will keep you comfy:
Opt for bodysuits with covered elastic along the panty. Uncovered elastic tends to be rough; covered elastic will minimize chafing and irritation on delicate skin along the inner thigh.