*FTC Disclosure - If you make a purchase through a link on this site, we receive a small commission at no extra cost to you.*
The Best Bodysuit Shapewear Styles
The Best Bodysuit Shapewear – Sleek, supportive and stylish – a closet is just not complete without the one piece wonder, also known as the shapewear bodysuit.
With innovative fabrics and a growing number of specialty styles designed to offer 360 degree control, modern shaper bodysuits are excellent for smoothing the core and minimizing bumps and bulges.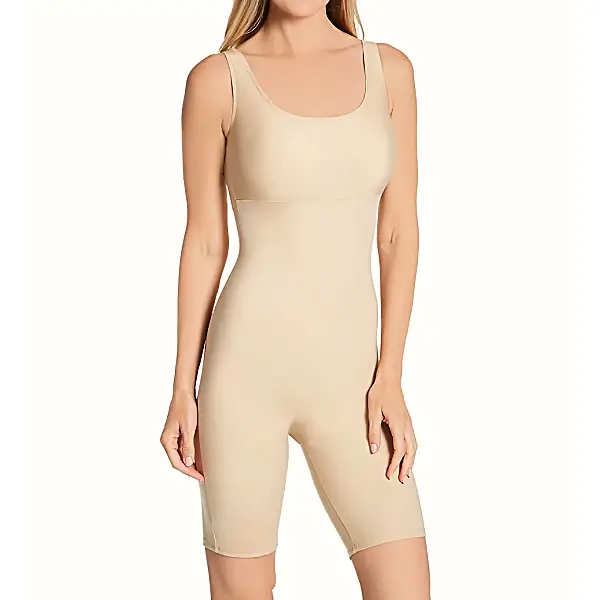 Body briefers are also great for lifting the derriere (rear), and smoothing the hips, thighs and breasts.
Want to know more? You've come to the right place.
Here, we take a closer look at 4 of the best bodysuit shapewear options – from lowback and thongs to seamless and full styles – there's a style for every occasion.
The Best Bodysuit Shapewear Styles
---
Low Back Shapewear Bodysuit
Whether you're strolling farmer's markets on the weekend, attending beachy barbeques, or making an entrance at chic dinner parties, low-back styles call for versatile shapewear that gives you a boost of supermodel confidence no matter what you are wearing.
A favorite of Kim Kardashian, the low back shapewear bodysuit is an on trend one-piece style with a very low scoop or square back that's designed to lay discretely just below your clothing.
---
Did You Know?

For decades, celebrities and lingerie lovers alike have embraced this shape wear favorite.
From the famous Playboy Bunny bodysuits of the 1950's and Jane Fonda's colorful leotards from the 1980's (remember those gruelling workout videos?) to today's high tech styles, over time the bodysuit has evolved into a streamlined shapewear undergarment that is more popular than ever before.
---
A great option for beautiful backless tops and formal wear, shapewear for a low back dress smooths and shapes your core, bust, hips, thighs and bottom. 
It's a versatile style that  can be worn for everyday and special occasions.
Here are a few best bodysuit shapewear tips -
Styles with a low profile silicone gripper along the inner edge help keep everything in place
Mid-thigh length styles smooth the upper thighs for a long and lean seamless look
An open gusset offers easy bathroom breaks
---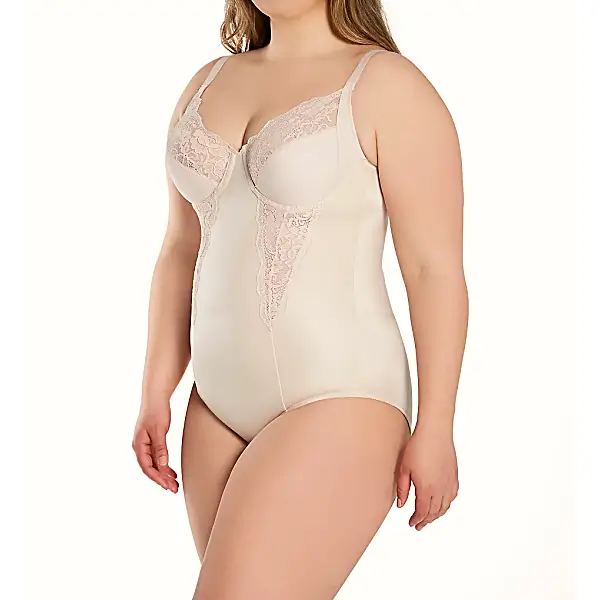 ---
Thong Bodysuit Shaper
Want to look stunning on your wedding day or make an entrance at a formal occasion? A thong bodysuit shaper may be one of the best lingerie accessories to the dress of your dreams.
Designed to be worn under a variety of bridal dress styles and formal wear – ballgown, mermaid, sheath, A-line and jumpsuit – a thong bodysuit is designed for a sleek and chic look.
It cinches your waist, smooths your upper and lower core, and offers a seamless hourglass silhouette.
---
---
Wonder what the advantage is of this super popular "snatched" style?  It's the thong. It helps prevent VPLs (visible panty lines) and creases for a seriously smooth appearance.
Here are a few of our best bodysuit shapewear tips - 
A bodysuit with detachable or convertible straps can be worn with a variety of styles in your wardrobe
A gusset with a snap or detachable closure is best for uncomplicated bathroom breaks
---
---
Open Bust Shapewear
You have a closet that bursting with beautiful A-line, body-con, maxi and everyday dresses and beautiful necklines – you even have a jumpsuit or catsuit (yes, the 1970's called, and sleek retro favorites are in style again).
What's the one shape wear essential that you can wear with all these styles?
The answer - open bust shapewear. Sometimes known as a torsette, this super flexible style smooths the core, waist, hips and rear.
Its signature highlight – an open bust – allows you to pick and choose the bra that you want to wear (demi, push-up, full figure, etc.).
---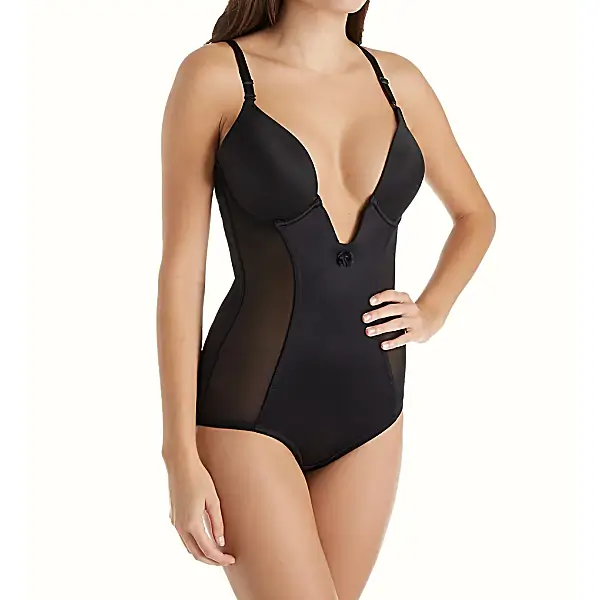 ---
Available in a variety of lengths (from classic short to mid-thigh to longer leg) that provide great thigh and leg shaping, some styles have a bottom or "butt pocket" that comes with removable pads, giving you the option of a curvier "booty booster" derriere.
Best bodysuit shapewear tips - 
Laser-cut leg openings with a silicone gripper elastic ensure a better fit that doesn't ride up
Want better posture? Look for flexible boning to provide lower back support
A gusset with a hook and eye or snap closure offers easier functionality without removing the entire undergarment
---
---
Full Bodysuit Shapewear
The importance of full bodysuit shapewear cannot be overstated.
It's one of those all-in-one fundamentals that has the wonderful ability to work behind the scenes, invisibly sculpting, lifting and slimming virtually every shape – from round and rectangle to pear, inverted triangle and the classic hourglass.
Sleek and supportive, this chic favorite can take you from looking professional and polished at work to dancing the night away with your sweetie in style.
---
---
It's also a wonderful post-surgery control undergarment that provides excellent tummy and back support.
Classic full bodysuits come in an extensive range of necklines –
scooped
v-neck
square
turtle-neck

- and sleeve lengths
sleeveless
cap sleeve
three quarter

and full length

– that can accommodate almost any wardrobe need. Showing fantastic flexibility, they can be worn as a shaper under clothing or as an outerwear form-fitted top under pants (trousers) and skirts.
---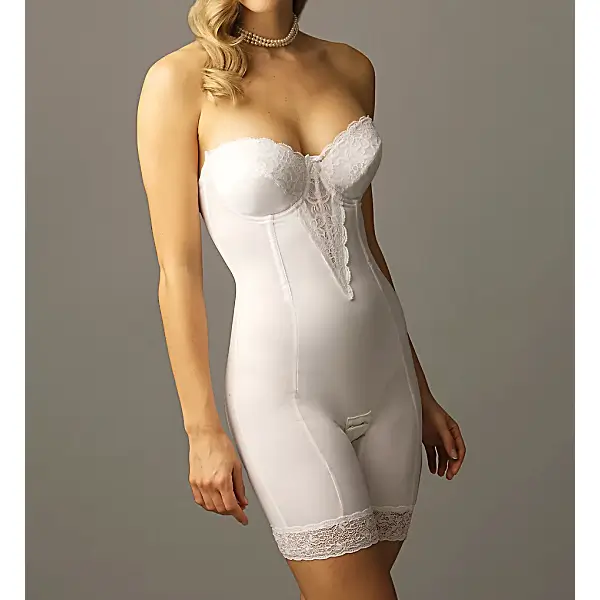 ---
Best bodysuit shapewear tips - 
Straps with covered edges provide a softer, more comfortable fit
For extra waist and tummy control, look for styles that have an inner extra firm control panel
For a smoother look, opt for seamless styles – no lines equals no fuss
---