*FTC Disclosure - If you make a purchase through a link on this site, we receive a small commission at no extra cost to you.*
Bandeau Bras - How to Look Fabulous In 6 Easy Steps
Bandeau Bras - With the warmer months quickly approaching, you'll soon be stepping up your fashion game in beautiful sundresses, tank tops, and summery blouses.
Fresh and fabulous, and yet totally practical, a bandeau bra is one of the best styles for your spring and summer favorites - and always on our top ten list at Love of Lingerie.

Here, we share 6 easy steps to this beautiful bra's success, giving you stellar confidence to go with your flawless style.
Find The Right Bra Fit

First and foremost is fit. A bandeau needs to fit perfectly - it should be comfortable and not too loose or too tight.
If you end up going with a bra that's too loose, you'll be constantly tugging and hitching it up to avoid a potentially embarrassing wardrobe malfunction.

On the flip side, buying a bandeau that's too small means you'll be spilling out of it - sometimes in odd places - and be in danger of letting lumps, bumps, and rolls on your back and sides cramp your style (and silhouette).
Sizing Tip - Don't worry about the size tag on the bra, and instead focus on a comfortable fit that's perfect for you.

Change Room Tips
Take the time to try on a few styles when you're bra shopping. Take a look at wirefree, underwire and wider bra band options.
When you're in the fitting room don't forget to move around to see and feel how well they fit and feel. Not sure how? Here are a few fit tips -

Try leaning forward and down

Raise and cross your arms

Break out your best dance moves!

A bra should be comfy and stay in place when you move 
This will help you decide if the style you've chosen is a good fit, or if you need to try a larger or smaller bandeau bra.
Pick  Pretty Bandeau Bras

Bandeaus need not be all function and no fun. In fact, they're one of the most versatile types of bras that can be worn a multitude of ways.

Want something a little dressier?  Consider bras with special details that you can jazz up with your closet favorites. Not sure where to start? Here are a few suggestions:
pretty lace or mesh details

scalloped detailing along the edges

Carmen's Tip

Keep in mind that spring and summer tank tops and dresses are more often than not cut low so your bra peeks out the sides or top. This is a great opportunity to plus your outfit!

Consider adding a touch of style with a beautiful bra that has a lovely lace insert, or one in a pop of color - a fun and flirty look that you'll look forward to showing off.

Opt For A Style That's Convertible

Like the idea of a bandeau bra but looking for more flexibility with favorites from your closet that you can wear more than once? Consider a convertible bra with removable straps that offers you more than one style.

Known as a behind the scenes miracle in the lingerie world, convertible bras are super versatile and offer more bang for your buck by giving you the option of wearing them several different ways.
One of the great advantages of a convertible style is knowing that you have the perfect bra at your fingertips for whatever you want to wear.
How can you wear convertible bras? As a -

bandeau without straps

traditional bra with straps

halter

criss-crossed at the back
Carmen's Tip
Choosing a style with removable straps allows your bandeau / strapless bra to go beyond the basics, and elevates it to a top pick that can be worn beyond the spring and summer season.
Stock Up On Bra And Panty Colors!

Having a mini collection of bandeau bras means banishing lingerie drawer drama all summer long:
A nude bra is perfect to slip on under light colors and crisp whites for an invisible finish.

A pretty pastel or bold hue makes you feel flirty and feminine, and can be discreetly hidden under dark colors, or shown off under sheer blouses as a beautiful style secret.
A black bra is a must-have for dark colored dresses and will take your bandeau into the fall and winter months too.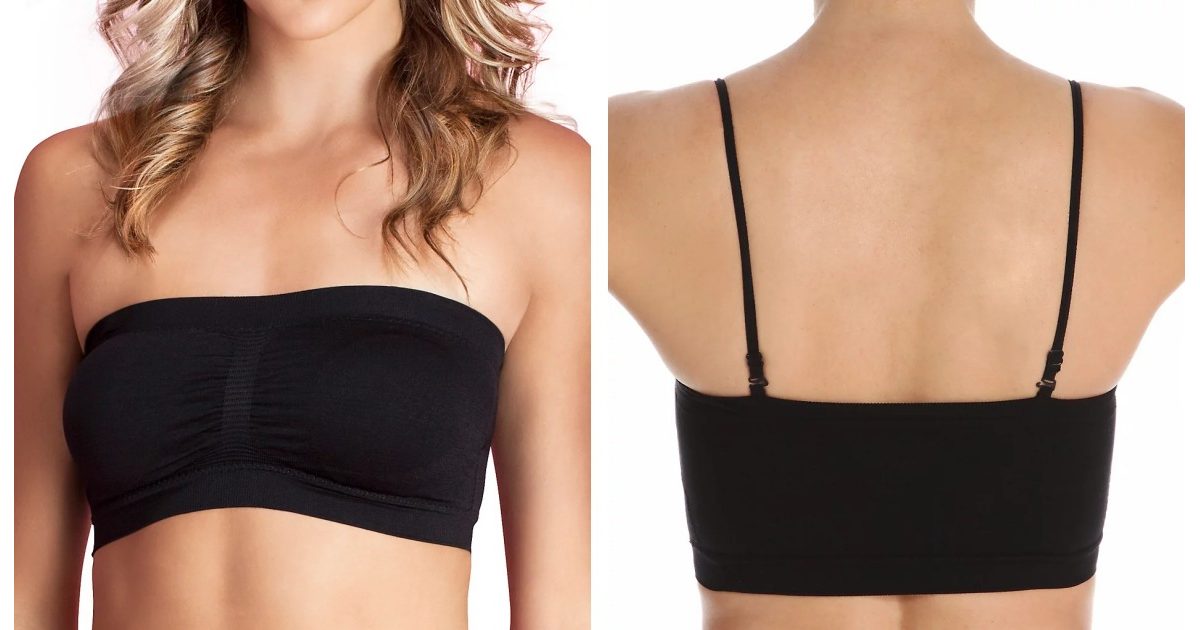 Look For Lingerie Extras

Did you know, not all bras are created equal when it comes to ones that actually stay in place?
Petites may be able to get away with simple wirefree styles that will not move about, while those who are well-endowed may need a bit more structure or support with an underwire style.

Regardless of your bra size, anyone can benefit from a few extra finishes that will guarantee that your bra will stay put and give you the support you need.
What to look for -

lightweight boning sewn into the sides will help keep your bandeau from sinking down
a small rubber grip along the inside of your bra will help keep your bra in place