*FTC Disclosure - If you make a purchase through a link on this site, we may receive a small commission on the transaction - at no extra cost to you.*
Bandeau Bras - How to Look Fabulous In 5 Easy Steps
Bandeau Bras - With warmer weather you'll be stepping up your fashion game in fabulous sundresses, tank tops, and summery blouses.
Keep the focus on incredible style instead of your lingerie undergarments when you stick to a simple bandeau bra to wear under anything and everything in your spring wardrobe.
Here we show you 5 easy steps to bandeau success, giving you killer confidence to go with your flawless style.
Find The Right Bra Fit

First and foremost, your bandeau needs to fit perfectly. If you choose a bra that's too loose and you'll be constantly hitching it up to avoid a wardrobe malfunction.
But buying a beautiful bandeau that's a size too small means you'll be spilling out of the cups and will be in danger of letting lumps, bumps, and rolls on your back and sides cramp your style.
Take the time to try on several bandeaus when bra shopping and don't forget to move around in the fitting room.
Your bandeau should move with you and stay in place when you lean forward, raise your arms, and break out your best dance moves, so make sure to try all of these in the fitting room to guarantee the best fit.

Pick  Pretty Bandeau Bras

Bandeaus need not be all function and no fun.
Choosing a bra that's got those extra special details means you'll love wearing it and will feel pretty and pampered every time you slip it on.
Look for:
beautiful ribbon trim
pretty lace or mesh details
luxurious embroidery
your favorite bright color to flatter your skin tone

to make you feel gorgeous.
Summer's tank tops and dresses are often cut low enough that your bandeau will peek out the sides or top, and a lovely lace insert or one in a flirty shade will be a bra that you won't mind showing off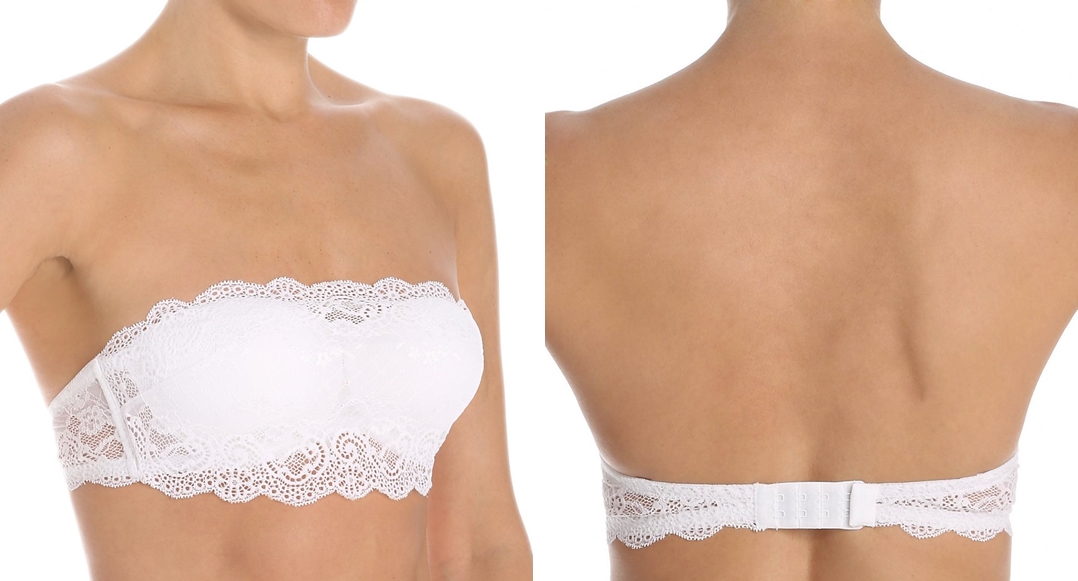 Buy A Bra Style That's Convertible

Not only does a strapless bra with convertible straps give you more bang for your buck by morphing into five bras in one, but it also guarantees a prefect look in whatever style of top or dress you choose.
Take your pick from any number of strap configurations when a strapless dress, racer back tank, or one shouldered blouse calls your name.
Choosing removable straps means that your bandeau bra goes beyond the basic style, and will elevate it to your top bra pick this summer.
Stock Up On Bra And Panty Colors!

Having a mini collection of bandeau bras means banishing lingerie drawer drama all summer long:
A nude bra is perfect to slip on under light colors and crisp whites for an invisible finish.

A black bra is a must-have for dark colored dresses and will take your bandeau into the fall and winter months too.
A pretty pastel or bold hue makes you feel flirty and feminine, and can be discreetly hidden under dark colors, or shown off under sheer blouses as a beautiful style secret.

Look For Beautiful Lingerie Extras

Not all bandeaus are created equal when it comes to staying in place.
Well-endowed women can get away with simpler styles that will stay up over larger busts, while petites need a bit more structure to ensure their bandeau doesn't fall down.
Regardless of your bra size, anyone can benefit from a few extra finishes that will guarantee that your bra will stay put and give you the support you need.
Look for best bras:
with a bit of boning sewn in the sides to keep your bandeau from sinking down
with a clear colored rubber grip on the inside of your bra that will that will keep your bra in place in any situation.