*FTC Disclosure - If you make a purchase through a link on this site, we receive a small commission at no extra cost to you.*
Bandeau Bra - The Looks That You Can Wear All Year

Bandeau Bra - When it comes to bra shopping, there's a lot to be said for the myriad of options - from classic underwire to wirefree bras, there's a style for almost every closet fashion imaginable.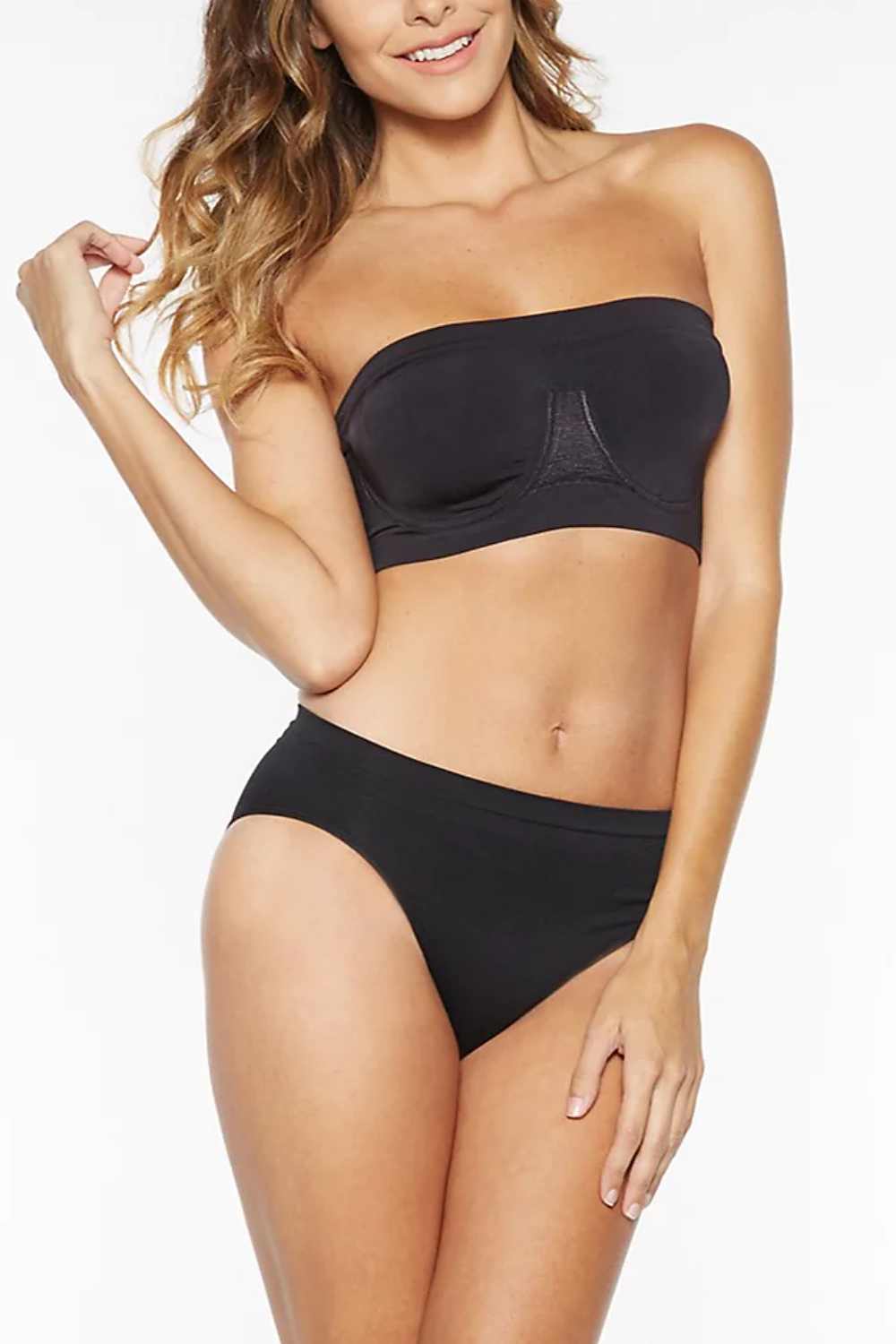 One of our favorites for an on the go lifestyle? Bandeau bras.
Often referred to as strapless bras, they're available in a a great range of styles - from push up and padded to plunge and seamless. 

We love their  sleek and chic lines, and the many versatile ways to wear them.
Under tanks, strappy summer tops, formal dresses, and even at home lounge wear, bandeaus are a lingerie drawer staple that can be worn year round.
Not sure how a bandeau goes beyond a simple summer basic? Glad you asked!  Here, 7 favorite bandeau bra looks that will take you from fall through summer in style.
---
A Bandeau Bra In Bold Colors

Add a much needed splash of color to your intimates when you choose a bandeau in a punchy, electric shade.
Try cobalt blue, turquoise, tangerine, or bright fuchsia.
Pair this bra under black dresses and tops instead of a neutral shade, or try a more daring look when you let a vibrantly colored bandeau peek out from a tank that's cut low in the back or sides.
You'll love the fun pop of color in the bleak winter months, and it will feel fresh and flirty when the weather gets warmer.
---
Fabric Facts
Lightweight cotton bras are far cooler and more comfortable than nylon bras for summer wear and warmer climates?
A great style to take with you when you travel, a cotton bandeau fits better with a hint of spandex.


Best Selling Black Bras

Any time, any place - a black bandeau is a must-have for every woman.
This lingerie drawer workhorse will slip seamlessly under everything from sundresses, to cocktail attire, and racer back summer tank tops.
Basic black is a safe bet under any dark colored clothing, and this beautiful and classic color gives your bandeau the allure that we love in our lingerie. Classic and sophisticated.

Pair a black bandeau with any pair of black panties you already own to instantly create a set that looks like a perfect match.
---
Luxurious Lace Bras

Add a little feminine flair to the basic bandeau shape when you choose a lovely, lacy piece. Or, look for lace trim, appliqués, or all-over stretch lace styles that give your bandeau bra look and feel a whimsical indulgence.
You won't mind a bit when this beautiful lingerie peeks out from under low cut tops and dresses; in fact, you'll look forward to showing it off.
---
Colorful Convertible Bras

Make room in your lingerie drawer for a new favorite: the convertible bandeau. This upgraded style has detachable straps that offer an effortless fit with anything in your closet. Wear it:
with one strap
halter style
crisscrossed straps
original bandeau style
This is also one of the best bras to toss in your suitcase on any trip from winter vacation to a summer getaway.
---
A Neutral Nude Bra

Sheer colors and crisp whites are the perfect excuse to break out your nude bandeau bra for an invisible look that gives you the coverage you need, without compromising the sophisticated style of your clothing.
A nude or neutral color bandeau blends in flawlessly with your figure so you can focus on showing off your fashion sense instead of fussing with your underpinnings.
---

---
The Sheer Bra "Must-Have"

Whisper-thin and featherweight sheer bandeaus are a must-have under your silks and satins.
Avoid thick, structured cups that will show through these flimsy fabrics and take away from a smooth look.
Instead, opt for lighter and smooth fabrics like microfiber and nylon that become totally invisible.
Not only are see-through bandeaus the perfect solution when you need delicate undergarments, but they're as sweet and pretty as they are practical. Opt for:
for a timeless look, or treat yourself to see through pastels for a sweet and softer look that you'll love wearing.
---
---
Beautiful Lingerie Mix And Match

A bandeau bra doesn't have to be all function and no fun. Let your lingerie personality shine through, whether you're a vampy vixen, girlie girl, of classic bombshell. Choose a statement-making bandeau that's rich with mixed materials, trims, and finishes.
A satin style with lace trim adds glamour, a sheer piece with ruffled trim gives a feminine twist, and a black mesh and silk style gives a beautiful edge.
Treat yourself to style with special flourishes for a statement piece that elevates a lingerie basic to luxury status.
---